BENCE ZALÁN (3 ÉVES, BUDAPEST)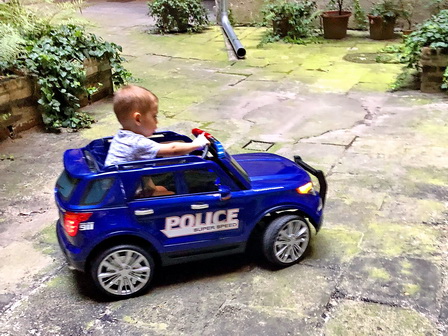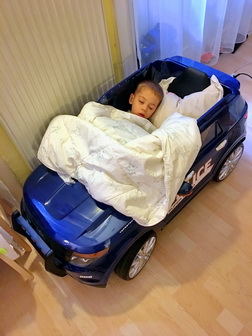 The young Zalán's dream was to invite for a ride his friend from the nursery, Olivia in his own car.
So I went on a nice sunny afternoon to Zalan's family to surprise the little boy.

Earlier that day at the hospital he got some serious treatment, so he was tired and his mood was not too bright when I arrived.
To cheer him up I decided cut my visit short and gave him the police car without much fuss. I thought that he will be less shy with only his family around him.
And I was right as since then he has been racing with the car all around and has taken his little girlfriend for some rides too.
I received pictures from his mother which was taken while he was sleeping in his car, so its has multiple functions too...
We would like to thank Firstmed-FMC Kft. for the support and their representative Málnási Kinga for her personal attendance.

Kinga Málnási
wish-coordinator
Budapest, July, 16, 2018
Archive
2019
2018
2017
2016
2015
2014
2013
2012
2011
2010
2009
2008
2007
2006