2017-03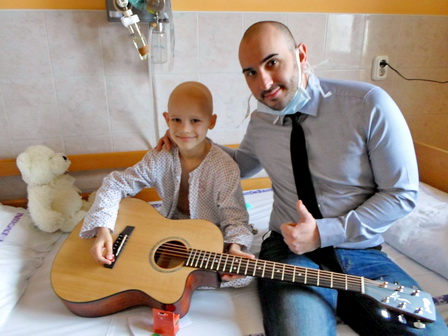 The little girl Kira, who is under treatment at our clinic, asked for a guitar from the Magic Lamp Foundation.
Attila Szitkai, one of our sponsors saw this request on our wishing list and he felt he had to fulfill the little girl's dream. Attila likes playing guitar but he learnt it by himself. Kira, however is very seriously interested in playing instruments, so she would like to have lessons by a teacher.

Attila contacted me and we discussed the type and size of the guitar. Finally we made an appointment at the clinic. He took not only the requested guitar but a tuner, picks and a guitar case as an extra surprise present.

Kira was just about to left for home from the treatment when we arrived, so it was a real surprise. Kira was smiling all the time and she was very, very pleased.

Attila held an improvised show of his guitar knowledge and he also showed how the tuner worked. After having a good time, filled with happiness and joy, we said goodbye to Kira and her mother.
Attila told me that he received power, energy and happiness from the little girl. He would like to give good example to his friends and to encourage them to fulfill the wishes of sick children.




Many thanks for the help of our private supporter, Attila Szitkai!
Andrea Nagy
Wish-Coordinator
Szeged, 1st February, 2017.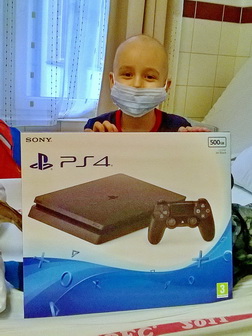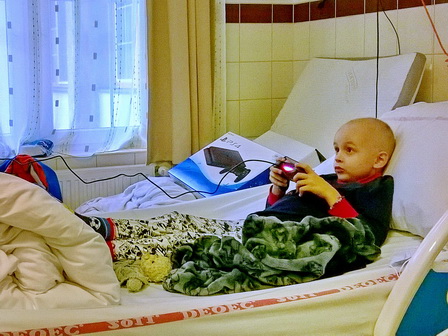 Lackó the 7 years old boy asked for a PS4 play station console. The gift was given in the hospital on Tuesday morning. As soon as the boy saw the large box, he already knew that his present had arrived from the Magic Lamp.
His eyes were shining and I was sure he was smiling under the mask. He quickly opened the box and was surprised because he also got a football game as an extra present. His father installed the game and Lackó could begin to play with it.
He could hardly wait to get home and play the new game with his young brother. Lackó, enjoy your present!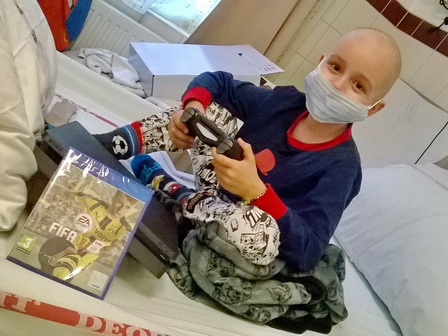 Many thanks for the re-support of PannErgy Nyrt.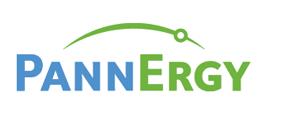 Judit Miholecz
Wish-Coordinator
Debrecen, 07.02.2017.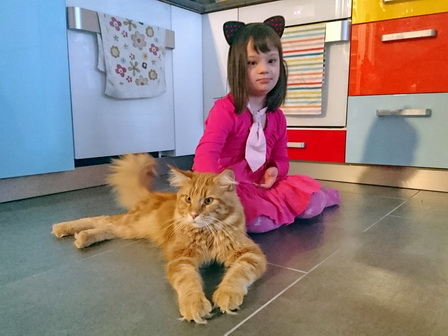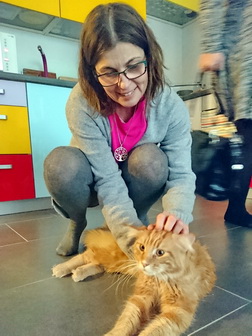 When Fruzsi's reguest arrived at the Magic Lamp Foundation, we thought it would be easy to find a kitten for her. However, it took some time, because firs of all a breeder, Xenia Schultz had to bring puppy Carlos up to become a cooperative, friendly cat.
One of our kind supporters, Szabina Sárecz - who is fond of cats – helped us to organise the first meeting with the kitten. Soon it turned out that Carlos didn't afraid of the children, he could even tolerate playing with him by the kids – at least for a while. A few days later we met again and that time Fruzsi could take the kitten home. Fuzsi's mother often informs us about Carlos, so we know that he is willing to sleep only at Fruzsi's foot, he accepts food only from Fruzsi, and when the girl isn't at home, he is waiting for her at the window. Fruzsi is very happy with the kitten, she is playing with him a lot.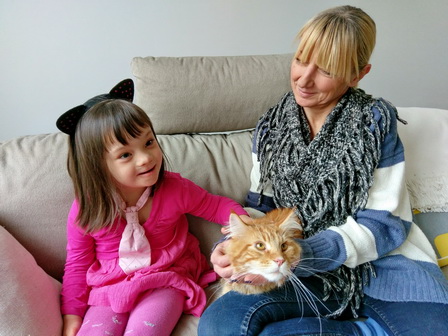 Many thanks to the breeder, Xénia Schultz for her support. Fruzsi's dream came true with her help.
Márta Felkai and Andrea Molnár
Budapest, 25th January, 2017.
Archive
2023
2022
2021
2020
2019
2018
2017
2016
2015
2014
2013
2012
2011
2010
2009
2008
2007
2006
Archive
2023
2022
2021
2020
2019
2018
2017
2016
2015
2014
2013
2012
2011
2010
2009
2008
2007
2006