2007-06
=== Korinna (12, Makó)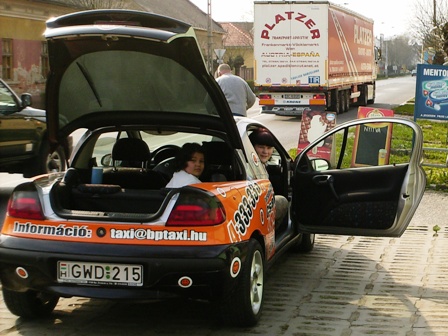 From: ********@freemail.hu> Sent: Monday, April 02, 2007 4:33 PM Subject: Hello!
Dear Wonderlamp, I enjoyed the Irigy Honaljmirigy concert very much and I'm very happy that I had a chance to meet them. I think that my brother had a great time too however he only came to escort me.
It was a real buzz and I think I will never forget it. The concert itself was tremendous not to mention that I could meet the boys, too. I hope they liked my drawing and they won't forget me either.
Special thanks to Mr. Sándor Tihanyi, the marketing director of Budapest Taxi, who fulfilled my wishes. I will never forget this experience.
Thank you, Wonderlamp.
Korinna Odett
Thanks to the members of Irigy Hónaljmirigy, our manager, Pite and Budapest Taxi.
2007.03.17.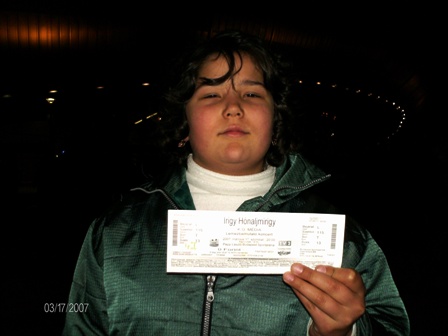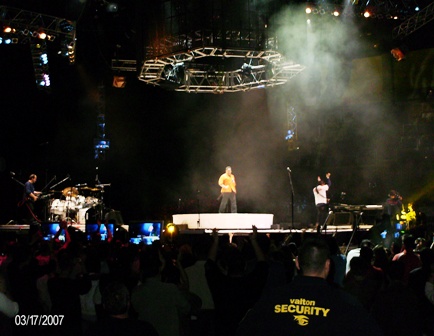 === Anett Tiszafüred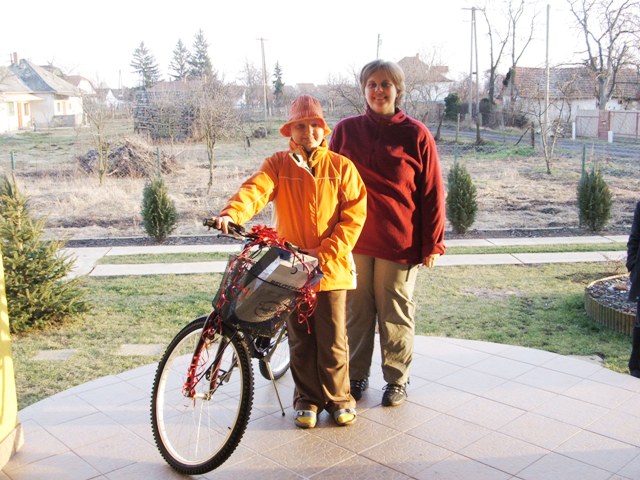 Is your job boring? Is your boss swinging the lead, too? Don't hesitate. Take your bike and don't stop till Tiszafüred.
Thanks to the beautiful sunshine and a young lady who wished for a bike yesterday we had a ride to Tiszafüred. On a bike that is equipped as it is supposed to: with a bell, a little basket, a water bottle and a red posy.
Anett, the new owner, didn't know anything about it. Not like Mrs Major, Anita the old owner. She offered the bike that she bought when she got her first salary so that she could go to work more easily.
And now she shared her memories with the 12-year -old young lady. In return for it Anett promised to take a good care of the nice mountain bike. We hope that riding in the fresh air you'll get well soon, Anett.

Rita CSINADY
Ildikó PALÁSTI wish-coordinator
Tiszafüred, 2007.02.05.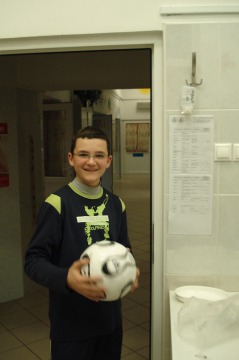 Albert wished a FIFA ball of the football world cup in 2006, and football dress dedicated by Roberto Carlos, the wolrd famous Real Madrid player.
The whole family is footbal fun, Albert was playing football regularly, but he had to suspend it for a while because of his ilness. He did not suspect anything when nurse Angelika asked them to come to the hospital to to see someone... When Albert glimpsed the football, he was struck dumb, he cuddled it in a minute and for our request he kicked the ball (he was more than willing to do it...). He was very happy the whole evening and he did not get exasperated from the operation next morning. The football dress part of the whish is pending, its organisation is under way.

We would like to thank Ms. Virág Kis, our well-wisher that she offered the football to Albert.
Ms. Tünde Flandera
Wish Coordinator
November 14, 2006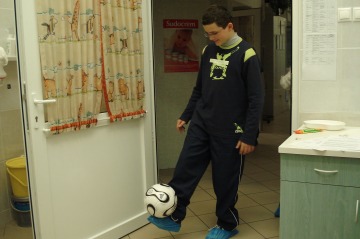 ... Second step: the dress
Thanks to the good connections of Sporttime Magazine, the dress arrived with the Madrid flight of MALEV Hungarian Airlines an the 18th of February, 2007.
With luck, Albert's father was here in Budapest, so he could take home the dress the next day. (He silently admitted, that he has never thought, that the dress will ever come...)
The pictures speak for themselves...
Éva Patzauer
managing director, Wonderlamp Foundation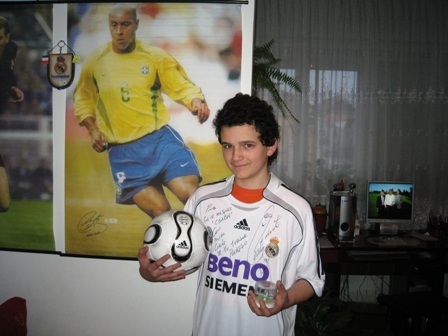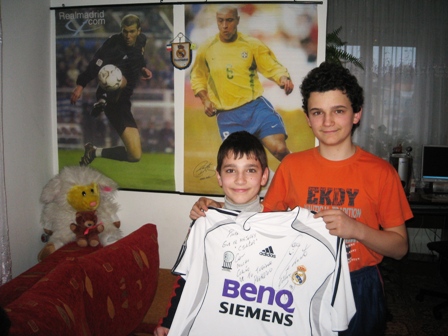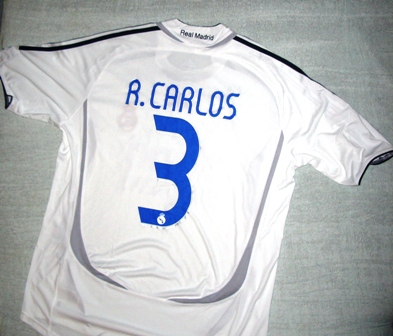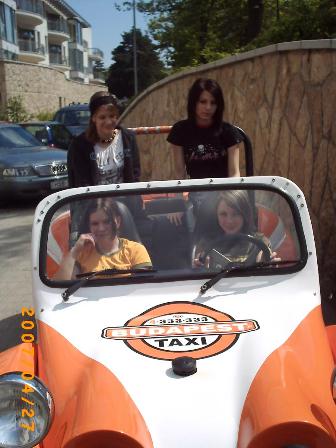 Niki lives near Gyöngyös with her parents and sister. Because of the treatment she spends most of her weekdays in Budapest therefore she has rarely got a chance to see her best friends. Her friends still do their best to make Niki happy and have a chance to spend the most possible time with her. Niki's wish was also connected to her friends. She wanted to spend a whole day in Budapest Amusement Park with them.
The big day finally arrived and Niki's friends got up early to be together with their best friend by noon. The journey to the hospital, in itself, was an adventure as we were traveling by the "open buggy" of Budapest Taxi to pick Niki up. The girls enjoyed the drive very much, they liked their hair being blown by the wind. They also appreciated the men's look of jealousy who even offered exchange for the car. And the girls of course. First we went to McDonalds where the kids had lunch. Cautiously, because they knew that otherwise they would easily have problems with their stomach in the park. During lunch they were excitedly planning what to sit on since all of them had been in the amusement park a long time before.
We arrived at the Amusement Park promptly at 2 pm with our special vehicle. Mr. Karoly Huszar, the marketing director of the park, was already waiting for us. We got our armbands and it was time to have fun. Niki, her sister Alexandra and her friends Enikő, Erika and Peti started the rides together. Being a bit faint-hearted at the beginning we started with the Wonder Cave where we encountered John, the valorous. Later, of course, we ventured some more adventurous games. They sometimes resulted in some dizziness but it always made us even more curious about the following game.
Niki's parents also came with us. However they tried some games didn't dare to take on a "dodgem fight" with us. Cotton candy and popcorn were supposed to refresh us. Some more surprise was awaiting for Niki: the newest CD of her favorite group. She and the friends were very happy with it. When the adventure came to an end the kids hit the road home with a lot of new experiences. We hope there was enough to speak and laugh about on the way.
Let us say thanks to Mr Károly Huszár and the employees of the Budapest Amusement Park.
Also thanks to Mr. Sándor Tihanyi, the marketing director of Budapest Taxi. Not to mention our escort and volunteer who dared a ride on the roller-coaster.

Eszter Szatmáry , Viktória Krekó
wish-coordinators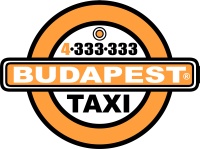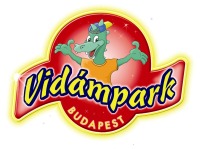 / 4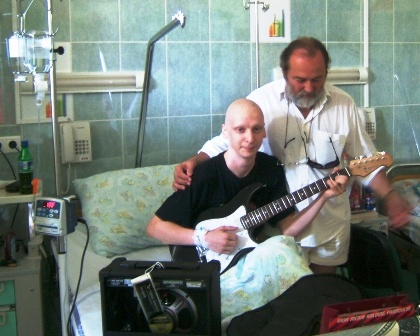 Hunor moved to his relatives to Dunaújváros from Csíkszereda so that he can be cured in Budapest.
He doesn't only love but also can play the guitar very well. He had dreamt about having an own electric guitar and amplifier for a long time. His favorite group is Omega. He knows all their lyrics by heart and some years ago he went to their concert with friends in Csíkszereda. We thought he would be very happy if we visited him with György MOLNÁR, the lead guitarist of Omega Red Star group.
He was just as much surprised as we hoped for. Hunor unpacked the guitar and amplifier immediately but he was even happier that it was György Molnár who handed him the present. They spent nearly an hour together while they were talking about old songs and concerts. As Hunor turned out to be a devoted fan Mr. Molnár played some old Omega hits for him. On the new guitar of course. Hunor is preparing to play his new guitar with his band as soon as he gets well
We'd like to say thanks toBaSys Magyarországi Kft for giving a discount price on the guitar and amplifier.
Special thanks to György Molnár for visiting Hunor in the hospital.
Budapest, May 24, 2007

Marta FELKAI
wish-coordinator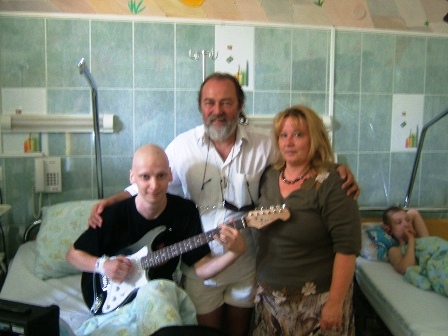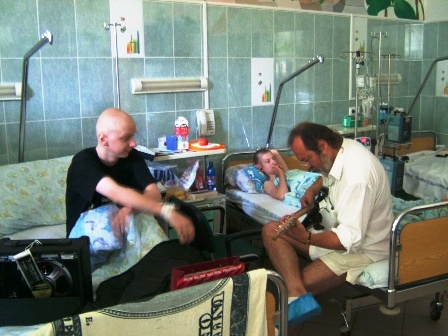 The mother of Ákos contacted "Csodalámpa" concerning his son who is paralysed and can leave the flat only with the help of his parents.
He wanted to have a laptop to be able to keep in contact with the 'outside' world and which would give him some activity and would give him the possibility to get news and communication.
The wish came true on the 18th of June 2007.
Ákos was unbelievable happy for the present and he could hardly wait his father to open the box of. (unfortunately he can't hold anything by himself) We could feel who much he was waiting to start the computer.
/ 5


It was an unbelievable for us to see how a laptop gives the happiness and the contact with the society for a 16 years old teenager...
Ms. Erzsébet Zsombori and Ms. Andrea Kakóné Gál
Kecskemét, 18.06.2007
We are very greatful to the pupils, their parents and teachers of the American International School in Budapest, that they have helped us to realise another "wonder". '''
/ 5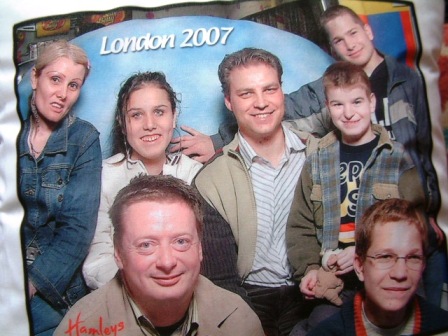 From: **********@freemail.hu] Sent: Sunday, May 20, 2007 11:09 AM To: info@csodalampa.hu Subject: Beszámoló
My wish was a sightseeing tour to London and it came true very quickly. My mother and I were very excited about the trip as we had never flown before. We found both the take-off and the landing really interesting. We had some adventures at Heathrow Airport. During the four days we spent in London we saw many beautiful, wonderful things. This experience cannot be described, it must be seen in person. I would like to thank the volunteers of Wonderlamp and the sponsors, without whom all this would not have been possible.
Kind Regards, Ivett ********, and her mother.
2007.05.14
We would like to thank MALÉV - Hungarian Airlines, the staff of the Hungarian Cultural Center and the Hungarian Embassy in London, the Budapest Taxi, The British Tours, and the management of Londoni Magyarok Association, that they made it possible for us to fulfill Ivett's wish.
We owe special thanks to our private sponsors, who spared no pains or time provided Ivett and her mother with accomodation in Hungary and in London, drove them around, and even gave Ivett a special souvenir, like the management of Gyöngyös Mézes.

Éva Patzauer
managing director
Wonderlamp Foundation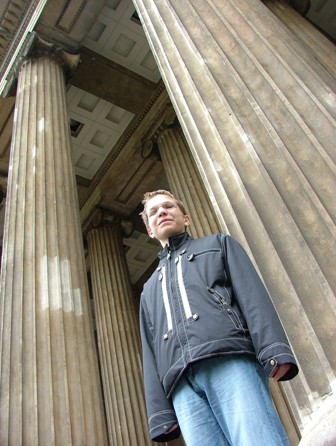 From: ***** Dávid *****@radnoti-szeged.sulinet.hu Sent: Sunday, May 27, 2007 8:12 PM To: info@csodalampa.hu Subject: Londonról

Dear Organisers In Hungary and in London,
Thank you very much for this unforgettable excursion and sorry for writing so late. I was very happy to hear that my wish was going to come true- I could travel to London.
I had been amazed by London and England long before I had the chance to see everything with my own eyes; once there, I really liked London Eye, the British Museum, the Museum of Science and the Museum of Natural History, the sightseeing tour by British Tours - it was a bit hard to understand the English guide but I still got the main points and most of the puns. At the British Museum I could see how proud the British are of their treasures. The city is beautiful, people are polite and nice. The funniest situations were when we suddenly bumped into Hungarian people at places we really had not expected to see them.
Once again I would like to thank all sponsors and organisers for this unforgettable experience.
Many thanks, Dávid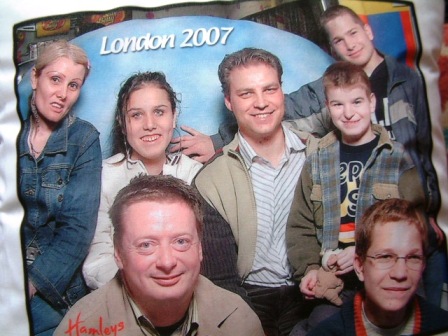 We would like to thank MALÉV - Hungarian Airlines, the staff of the Hungarian Cultural Centre and the Hungarian Embassy in London, Budapest Taxi, The British Tours, and the management of Londoni Magyarok Association that they made it possible for us to fulfill Dávid's wish.

We owe special thanks to our private sponsors, who spared no pains or time provided Ivett and her mother with accomodation in Hungary and in London, drove them around, and even gave Dávid a special souvenir, like the management of Gyöngyös Mézes.

Éva Patzauer
managing director
Wonderlamp Foundation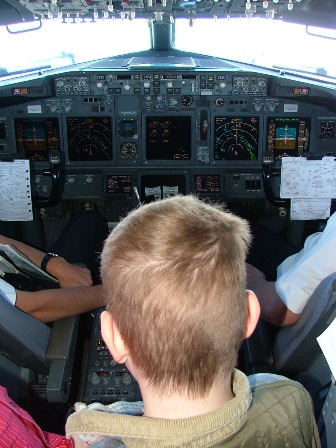 From: ****** Csaba *****@wla.hu Sent: Tuesday, May 22, 2007 8:08 PM To: info@csodalampa.hu
Subject: 2007. Londoni élmények

Dear Wonderlamp, Évi & Gábor,

First of all, thank you very much for fulfilling the wish, the dream of our sick child.
Csabika's wish was to see the sights of London - Big-Ben, London Eye, the Thames, Tthe Museum of Sciences and the dinos within. In addition, he also wanted to see the cockpit of a Malev airplane...
We can say that his wish has been fulfilled and will always with him as a nice memory he will talk about with everyone, every time.
On arrival at the airport he talked about his experience to his mother and sister for several hours (at 11 p.m.), and he only stopped because it was very late at night.
Our programme in London was the following: We arrived at Heathrow and were taken to our hotel where the kids could have a rest after the excitements of the flight.(Csabika was allowed to enter the cockpit of the Malev flight and he was shown in the air how the airplane was operating). He really liked it, could hardly say a word, just stood there for minutes... He was simply stunned by this experience.
After the short break on Monday the team (three sick children and their companions) left to see Croydon. This part of London was full of interesting things from the red double-deckers to the people, whose way of speaking was also very interesting... We checked out the department stores and, of course, bought some umbrellas as it was raining continuosly. A real London cab took us to the hotel after our first supper together, and the evening ended with some conversation.
Next day we went for a sightseeing tour with British Tours. A guide and a very kind bus driver kept showing us the sights, we could hardly follow their instructions what buildings to look at on the right or on the left. We felt quite tired at the end. As traffic in the city is very heavy we decided to take a walk to the British Museum, which is wonderful and enormous. This was also a wish by one of the children (David).
After the visit to the museum our very nice guide (Susan) showed us to a pizzeria, where the hungry little team had some nice pizzas. Then we returned to Hotel Bedford to relax after this busy day. Later in the day we left again for some stroll in town and the team also tasted a real English speciality, fish and chips, at a very nice restaurant. Another day was over and none of us needed to be lulled at night...
For the next day we were expecting even more things to see. With the help of the Hungarian Cultural Institute and the Hungarian Embassy we had the chance to visit the Museum of Natural History, the Museum of Science, the London Eye, and then we took a boat on the Themse where our guides, Anikó and Ildikó also gave the kids some London souvenirs, a dressed-up lion for each of them.
For the last day we left Madame Tussaud's, which was Ivett's wish. Unfortunately, the elevator was out of order so we could not enter the building. For compensation we took the little girl and our other children to the greatest toy shop in London, Hamleys. The kids and ourselves were just swept off our feet by the range and size of this wonderful store.
Our time was over even though the children kept saying how much they wanted to stay.
Then off to the airport, on to the Malev flight, where the crew was again very nice to us and we were again let into the cockpit, which was a thrilling experience for Csabika.
I would like to thank all the kind people who did so much for this wonder, especially the two of you, Évi és Gábor.
I will let everyone know that there are people in this world who fulfill children's dreams!
Thank you, and kind regards, Csaba and his family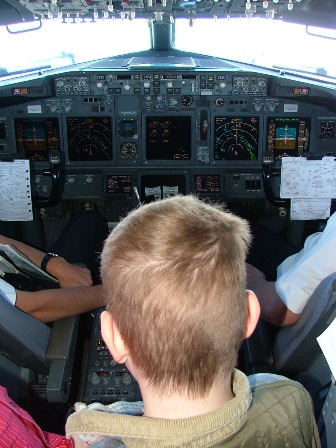 ''We would like to thank the staff of DDB Hungary, Malev - Hungarian Airlines, the Hungarian Cultural Center and the Hungarian Embassy in London, Budapest Taxi and The British Tours, the management of Londoni Magyarok Association, that they made it possible for us to fulfill Csaba's wish.
Special thanks to the pilots of Malev, who showed Csaba the cockpit, thus realising his long-time wish, and to the management of Gyöngyös Mézes for the small souvenirs.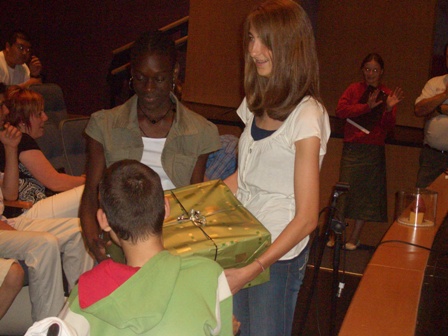 Erik is 16 years old and he is suffering from muscular dystrophy. His wish was a real laptop. He needed it partly to facilitate his studies, and partly to open a window to the world with the help of the Internet.

Erik's wish was one of those we could fulfill thanks to the support of the pupils and teachers of The American International School of Budapest.
Unfortunately, Erik's sister, Ivett is also ill. Ivett's wish was a sighstseeing tour in London, which we had been able to fulfill just a few weeks earlier. We were a bit worried after the trip that Erik would be sad, thinking that we had forgotten about him.

Erik was with us together with his parents and siblings at the last general assembly of the academic year at AISB, on 4th June. After some maneauvering he managed to park his wheelchair right in front of the stage. From there he watched the children dance and listened to their music with twinkling eyes.
Suddenly they started to talk about the Wonderlamp Foundation. Lots of children were running to the stage who had been working with us on this wish from the start by organising a "sponsored walk". Then the major part of the audience also stood up and joined them, those who had been 'walked for us', thus raising funds for the laptop.

All of a sudden Erik heard his own name and a big box was put on his lap by two girl pupils from the upper classes. In his surprise he fell short of words...
We hope that, by favour of the pupils, we could give many happy hours to Erik and his family.
Many thanks to the children of the AISB, their parents, and their teachers for helping us do another wonder.

Eszter Szathmáry
Éva Patzauer
Marc Lavoie and the pupils of AISB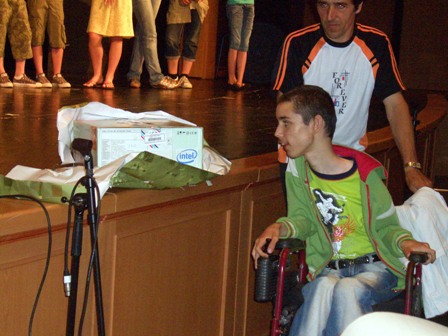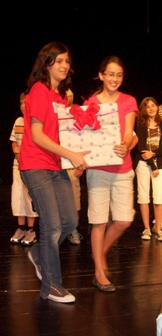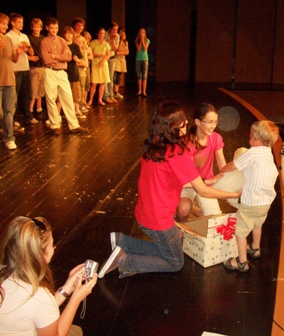 Csongor's long-time wish was a dog. His parents kept saying that once he felt better and the doctor allowed it he would get one indeed, so there was no need to worry. But Csongor did not give up, he asked again and again when the big day was to come.
He chose the breed he wanted a long time ago: he opted for a Golden Retriever and even gave a name to it, Döme.
We heard about his wish in February and soon we talked with his parents and doctors about the "when and how".
In the meantime the pupils of The American International School of Budapest asked us to let them realise this dream. After great preparation we chose Döme, for whom our voluntary, Eszter drove all the way to Győr...
Csongor, of course, kept browsing the Foundation website and sadly asked his mother many times when he would receive the dog. Then the big day came, 4th June, when Csongor was invited to the AISB to take part on the last general meeting of the academic year.
Without his knowledge, Döme, the puppy arrived also on time, hidden in Marc Lavoie's room...
Csongor knew only that many of the pupils here were working hard on making his dream real. Boys and girls, older and younger were dancing and playing music on the stage, the ceremony was on its way - he really liked it.
In the second half of the ceremony teachers and children suddenly started to talk about the Wonderlamp Foundation.
They talked about Csongor and Erik, whose wishes they wanted to fulfill right there. Then came a wiggling box decorated with paw traces and a red bow, containing Döme himself. Not even the schoolchildren knew exactly what was hiding in the box, so when the 2-month old puppy climbed out of it we just heard a big 'Aaaah'in the theatre hall...
We hope that the attached photos talk for themselves.
We thank the pupils of the AISB that they helped us make Csongor so happy. And special thanks to Mr. Lóránt Nagy, who raised Döme to become such a 'well-mannered' dog.
Eszter Szathmári
Éva Patzauer
Marc Lavoie and the many of children from AISB
2007.06.04
Archive
2023
2022
2021
2020
2019
2018
2017
2016
2015
2014
2013
2012
2011
2010
2009
2008
2007
2006
Archive
2023
2022
2021
2020
2019
2018
2017
2016
2015
2014
2013
2012
2011
2010
2009
2008
2007
2006