2006-03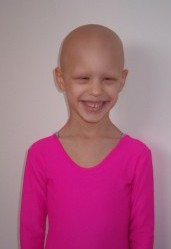 Blanka regularly used to attend ballet lesson in the kindergarten. She simply loved those lessons. Due to her illness and her medical treatment however, she was forced to give up ballet, and moreover, she is not allowed to go to the kindergarten either. She missed the ballet lessons very much and expected our help in it.
Blanka's wish was first fulfilled on the 9th of March 2006, when - with the help of ballet artist Tibor Kováts - she could experience a fantastic "home" lesson by Orsi Balogh.
They started from the very beginning, with the basic steps:
"Let' turn into dwarfs!"
"Walk with an apple on your head!"
"Toes and pipes..."

Blanka did a very nice job during the lesson, therefore at the end she received a few stickers from her teacher.
Thank you Orsi for the lesson!
Orsi has promised to continue teaching Blanka, and we are eager to give an account of the little girl's progression.
We express our thanks to Orsi Balogh and Tibor Kováts ballet artist.

Afterglow:
Blanka and Orsi work together every Thursday - if the treatment schedule of the little girl makes it possible. Blanka has made a nice progress due to the regular ballet lessons and she received a ballet bench from her teacher. Have a nice time together!
Anikó Sulija
István Piacsek
coordinators
3 May, 2006


5. kép:
9. kép:
12. kép:
13. kép:
19. kép:
Archive
2023
2022
2021
2020
2019
2018
2017
2016
2015
2014
2013
2012
2011
2010
2009
2008
2007
2006
Archive
2023
2022
2021
2020
2019
2018
2017
2016
2015
2014
2013
2012
2011
2010
2009
2008
2007
2006