2012-12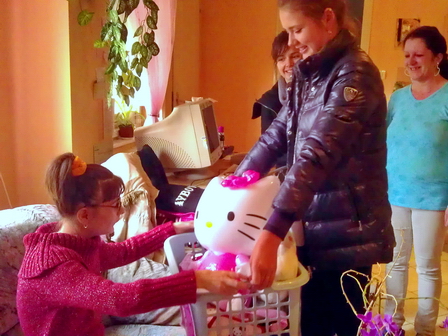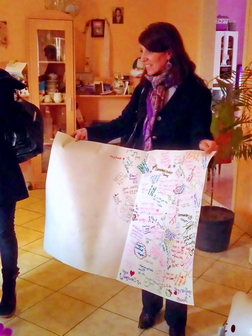 The 11 years old Evelin wished for an LCD TV.
Evelin's eyesight was very bad, but from now on, she can enjoy her favourite cartoons on a big screen.
On a sunny Wednesday, we went to grant her wish, accompanied by two teachers and three students of the
International American School
. The family was excitedly waiting for us when we arrived to Tét.
Henrietta, Evelin's mom showed us around their nice little house and garden. Evelin had no idea why we were there, and she was surprised breathless, when we gave her the present.
Evelin loves Hello Kitty, so the children from the American School brought her a big box of Hello Kitty toy. Evelin was so happy with her new things; she was just sitting on the couch, watching them with a huge smile on her face.
But it wasn't over yet! The children gave her a huge Hello Kitty cake with an enormous sparkler. Evelin's mom quickly got plates and cut the cake, so we could all have a slice. Everyone enjoyed themselves, the kids were eager to find out everything about Evelin, so they came with a long list of questions, and Evelin and her mother took turns on answering them. Sadly, we had to say goodbye shortly, because the students had to get back to school.
We want to thank the International American School, for helping us grant Evelin's dream.

Andrea Molnár
Wish-coordinator
22.11.2012, Tét
Archive
2023
2022
2021
2020
2019
2018
2017
2016
2015
2014
2013
2012
2011
2010
2009
2008
2007
2006
Archive
2023
2022
2021
2020
2019
2018
2017
2016
2015
2014
2013
2012
2011
2010
2009
2008
2007
2006