2014-05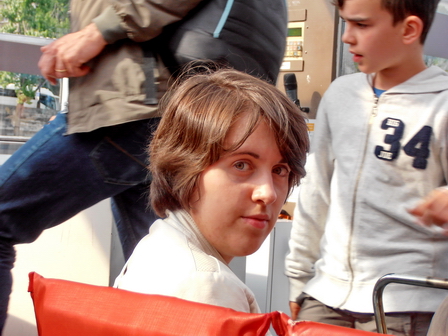 Our small team,
Bence
,
Janka
, Kati, their accompanying parents and we (two representatives of the Magic Lamp Foundation) met at the airport in the morning of 24th April 2014. It could be seen from the first moment that we would create a good team, and it was proved by the four eventful days that we spent together. Even the flight and the accommodation at a hotel were a great and new experience for the youngest girl, but the lively bustle of the Charles De Gaulle Airport after a pleasant flight was amaizing for the others too. We stayed at Hotel Pavillon Nationale.
After a quick lunch we set off to explore the wonderful sights of Paris. It was a new and exciting experience for all of us to discover the "underground" world of Paris, namely to find the way among the 14 metro and the 5 RER lines.
The most outstanding event of the first day was a cruise on the Seine river to see the main monuments of the city center. (Notre Dame, Musée d' Orsay, Petit Palais, Grand Palais), then we looked at the Arch in the Étoile Square.
Second day our team was divided into two parts. Janka, Bence and their parents went to discover the attractions of Euro Disney, so the children's great dream came true during the all day journey when they could meet characters and heroes of fairy tales, play with interesting and exciting games, and admire the special attractions of the park, as the famous Castle.
Kati, her mother and I went to discover the beauties of Versailles. We were not only impressed by the beautifully furnished rooms of the palace, the fountains and sculptures of the park, but also by the Little Trianon Palace, and Marie Antoinette's world.
On the third day many sights were still waiting for us. During our walk we visited the Notre Dame, the Sainte Chapelle, we went up to the Eiffel Tower by elevator, from where - despite the drizzling rain – beautiful view of Paris could be seen. In the afternoon we visited the Louvre, we were walking in the Tuileries Garden and in the Place de la Concorde.
We had already got a lot of beautiful and unforgettable experience by the morning of the fourth day when we were waiting for departure and waving goodbye to the French capital.
We thank for the help of our sponsors E.ON Hungária Zrt. and Morgan Stanley Magyarország Elemző Kft. to make the dream of Kati come true.


/ 4


Éva Batári and Erika Ugrai
wish Coordinators
Paris April 27, 2014
Archive
2023
2022
2021
2020
2019
2018
2017
2016
2015
2014
2013
2012
2011
2010
2009
2008
2007
2006
Archive
2023
2022
2021
2020
2019
2018
2017
2016
2015
2014
2013
2012
2011
2010
2009
2008
2007
2006