2008-07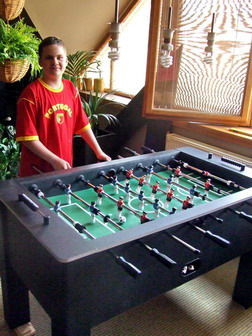 The great football fan Levente's wish was a real wooden table soccer. He was going home with his parents, when suddenly they decided to have a coffee.

In the pastry shop there was a big football shaped cake and a big box waiting for Levente.

Levi has got two brothers, so they will have lots of fun with the soccer. After 5 months spent in the hospital, they are together again, and they can play with it any time.

After the transplantation Levente is not allowed to go to public places, that is why it is important that table soccer will provide entertainment for him.



We wish Levente lots of successful soccer tournaments!
Ivett Varga, Tamas Radics
Wish coordinators
This wish has been granted with the support of

Many thanks in the name of Levente too!
/ 8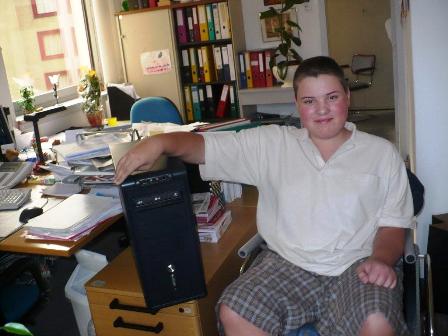 In Hungarian we use frequently the phrase: I don't find words or I don't find my words to how great our surprise is.
That was the right phrase to use in case of David who came to visit us, the Csodalámpa Alapítvány- on his wheelchair to receive his new computer.

He was so surprised and happy about his new computer that we could not hear his voice.
Finally we could get know that he likes the computer games and he knows all of them which can be played on the computer. These games give him a chance to kill time. His recent computer was too old and he could not play on it anymore. That was the reason why he asked a new from us.

In our office Dávid decided that in the future he is only going to win, and not only with the games...




Diószegi Aramie
wish-coordinator
11th of July 2008
Budapest
The wish was fulfilled with the support of the
International Women's Club
.Thank you in the name of Dávid as well!
Archive
2023
2022
2021
2020
2019
2018
2017
2016
2015
2014
2013
2012
2011
2010
2009
2008
2007
2006
Archive
2023
2022
2021
2020
2019
2018
2017
2016
2015
2014
2013
2012
2011
2010
2009
2008
2007
2006