2010-07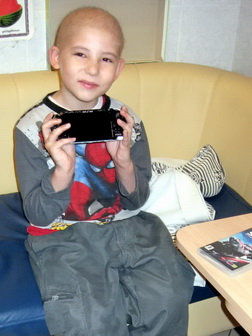 Little Robi likes video games and he is specially keen on PSP games. However Robi hadn't got a PSP on his own, so if he wanted to play with it in the hospital, the little room-mates had to lend him a game. During our conversation he could hardly wait to tell me that he would ask for a PSP game from the Wonderlamp.


We were meeting several times in the hospital as the little boy was keen on the afternoon tale events. Every time we met, he hoped that I came to give him the expected present. Today, when I went to the hospital and sat down by Robi's bed, the little boy looked at me with big, wondering eyes. He didn't understand what I was doing at the Tűzoltó Street Hospital early in the morning, since the afternoon tale events usually started much later. Then he suddenly stood up and asked me with a playful smile whether I really came to see him.
We went to the hall and that time I already let him know that his desired dream – a beautiful and serious PSP – had just come true. Robika asked me excitedly whether it was really true, whether he really got the PSP. When I gave him the present along with the motor-game as accessories, he cuddled it and his face shone with happiness. He was touched and he could only say: "I have already got it, it's so good that from now I can play with my own PSP and I can play as much as I want."
We wish you Robika to take pleasure in your present.
Thank you for the support of

Zsuzsanna Sipos
Wish co-ordinator
Budapest, 08. November, 2010.
Archive
2023
2022
2021
2020
2019
2018
2017
2016
2015
2014
2013
2012
2011
2010
2009
2008
2007
2006
Archive
2023
2022
2021
2020
2019
2018
2017
2016
2015
2014
2013
2012
2011
2010
2009
2008
2007
2006