2011-03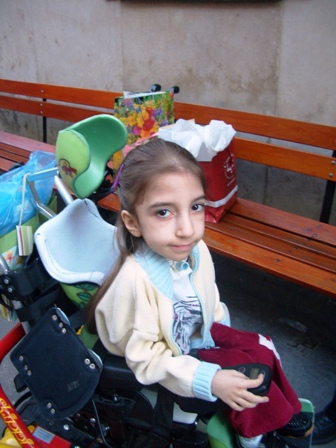 Dóri is a big Megasztár fan, she followed the entire show, her number one favourite is Enikő Eszenyi, but she also likes "Uncle Pici", "Uncle Fridi" and Tomi as well and made drawings for all of them.

Her big wish was to meet Enikő in person once. Knowing that the actress was rehearsing Romeo and Juliet for Saturday's premiere she/we did not even dare to hope that this meeting can take place so soon. Dóri could not believe when she was told that they have got an invitation to Vígszínház on Thursday with her father. There was an exited preparation before the meeting. Dóri did not have any sleep the previous night, she prepared presents on Thursday morning and of course she paid attention to the make-up and the dress too.

In the late afternoon it was a real lady who got out of the cab and got along so naturally with the army of actors and theatre workers surrounding her. She, as a VIP guest, entered through the actors' entrance and smiled to everyone from the start, but Enikő got the biggest smile. After visiting the changing rooms and got through the labyrinth of corridors we were led to the stage. It wasn't an everyday experience to see the theatre from the "other" side of the auditorium, to see the covered seats as the room flooded in a mysterious light. It was Romeo (Kálmán Varjú) who waited for us when we entered and then the rehearsal continued.

Dóri did not miss a word from the director's instructions, requests; she listened and watched anxiously how the actors test the new ideas of Enikő, how they follow the technical and projecting instructions of the colleagues. Suddenly, Dóri sat on the laps of Enikő to have a better view and in order to tell as co-director her opinion on the upcoming play. There was a moment when she/we thought that the lights were playing with us when it turned out that the nice man walking towards us on the stage was Gábor Presser, "Uncle Pici". If you the joy could be multiplied, well this was in this moment. It was not only Dóri's eyes and her face that were shining, but the whole girl.




/ 8


"Uncle Pici" handed out a dedicated LP, Túl a Maszathegyen to Dóri and in exchange she gave one of her drawings to her another favourite. They talked a little bit, then everyone focused on the rehearsal again, of course it was about the musical part. After a while the actors took a break, because everyone got tired in the big work. There were cookies and lots of small surprises waiting for Dóri in the director's room, where as being rich in experiences she had a happy feast of pogácsa and deep conversations with Enikő. All employees of the Secretariat had a look in, actors came and went, and everyone had some nice word to Dóri.
Who had the greatest pleasure and an unforgettable experience during the fulfilment of this dream is hard to say, but it is for sure that few can tell that they met their favourite on a real "world premiere".
We thank to Enikő Eszenyi, Gábor Presser, secretary of art Margit Czobor and all the actors,
colleagues of Vígszínház for this unforgettable afternoon.
Éva Patzauer
Wish coordinator
Budapest, 24th March 2011.
Archive
2023
2022
2021
2020
2019
2018
2017
2016
2015
2014
2013
2012
2011
2010
2009
2008
2007
2006
Archive
2023
2022
2021
2020
2019
2018
2017
2016
2015
2014
2013
2012
2011
2010
2009
2008
2007
2006