2011-01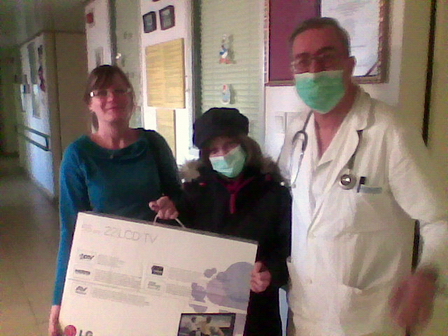 Rita's wish was an LCD TV.
We managed to surprise Rita before Christmas. She was in the hospital and she did not know about our coming.
Rita could not say a word when we arrived with the present. She went to hospital only " for a blood test" so they went home immediately after the control and Rita could watch programms on her TV that day. (Her grandparents did not believe that Rita' wish would be fulfilled. We said them we always did our best to fulfill the wishes. )
Thanks to "Media Mark" of Szombathely for their support. We hope Rita can enjoy the TV programs for a long time.
Many thanks to the kind students of The British International School of Budapest for the great pleasure they gave to Rita.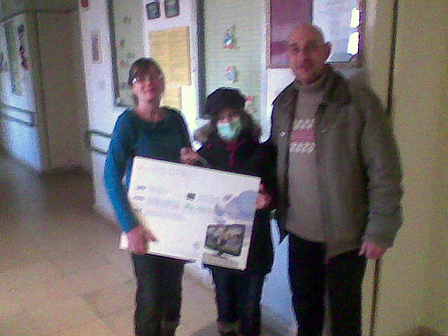 Huszárné Török Katalin and Magyarósi Miklós
Wish-coordinators
Szombathely, Dec. 23, 2010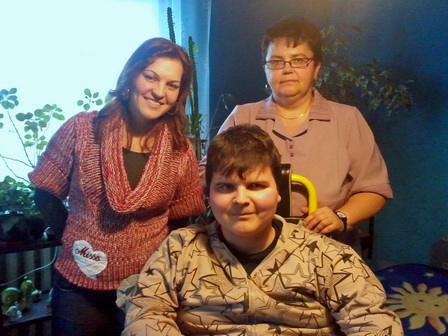 Gabor's wish was like the other teenagers to have a new "wonder mobile phone" SAMSUNG Galaxy 3.
We wish you that all of your dreams should become true in ten days as this wish.
One of our kind supporters the family Márkus had read about this wish on our website and he had brought it. He gave this present to Gábor personally before Christmas. The boy was very happy.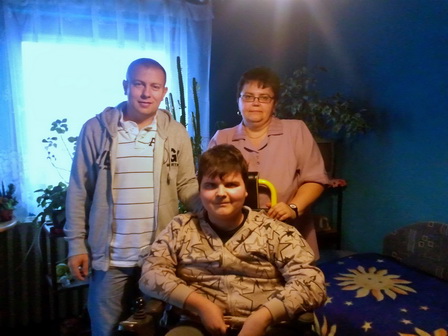 We are grateful you dear family Márkus and we thank you
for the presents you always buy the kids before Christmas.
Joli Bakonyi
Wish–coordinator
21.12. 2010.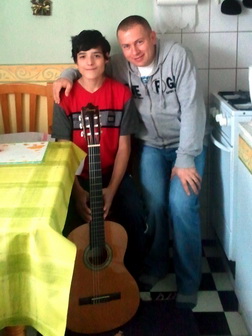 Bendegúz is a teenager whose hobby is music. He decided to learn to play the guitar.

But he did not think his dream would become true in a short time. This present is due to the family Márkus who is one of our supporters.

They got the guitar nearly in one day and they undertook the long trip to Nagykanizsa before Christmas time.

The guitar was a really great surprise for the boy who had had fever for a long time.
"Do you like the guitar?"- I asked him. He answered rapidly:
" It is much better than I wanted"
Thanks to family Márkus for the unselfness help and extra thanks why they
always realize more kids' wishes before Christmas every year.
Joli Bakonyi
Wish-coordinator
22.12. 2010.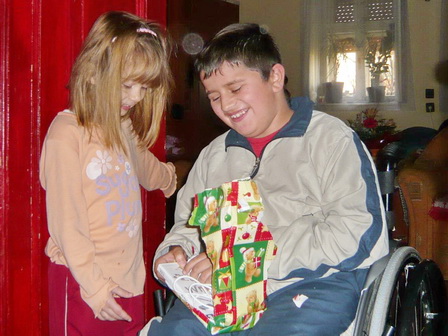 Zsolti wished to have a Wii game he had seen with his friends and he had tried to play with it.
We could realize his dream with one of our kind supporters' help. When we had arrived he did not suspect why we were there. Seeing the big present box his face broke into a smile. His little sister helped him with unpacking the box. He started to play within a short time after putting the game together.
It was a good feeling to see how happy Zsolti was.
Best wishes to the all family!!!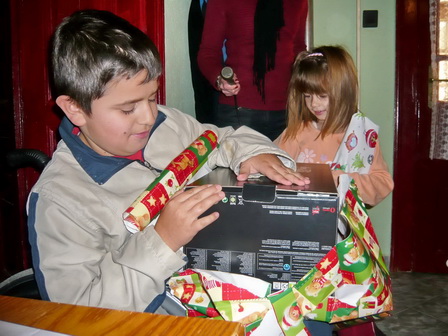 Thank you our private supporter for your unselfish help!
Albelné Benkő Beatrix
Wish-coordinator
Öcsöd, 07.12. 2010.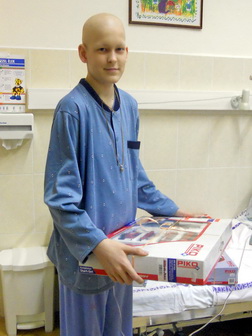 Máté had been wishing for a railway model. This wish was easy to fulfil thanks for the offer of a kind person.

I saw how happy he was when I met him in the hospital. He said he was going to build the table himself. He received the train and the accessories with great joy.

We wish Máté all the best. Enjoy every minute with your model train, Máté.
Thank you dear Éva Szabadics for your supporting!
Georgina Beregi
Wish coordinator
Budapest, 15.12. 2010
Archive
2023
2022
2021
2020
2019
2018
2017
2016
2015
2014
2013
2012
2011
2010
2009
2008
2007
2006
Archive
2023
2022
2021
2020
2019
2018
2017
2016
2015
2014
2013
2012
2011
2010
2009
2008
2007
2006