2008-10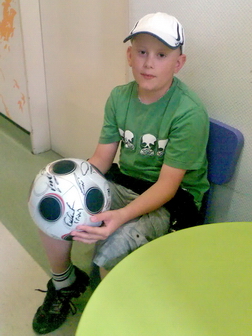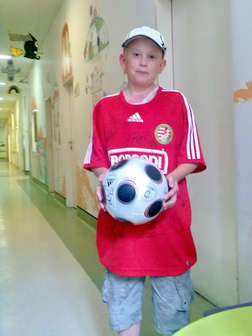 Martin's wish was a dedicated football. He received it with the help of the Hungarian National Team together with a dedicated football shirt.

He was very happy because he did not know that besides of the unpleasant medical control he will have such a surprise on that day.

He dressed up immediately, but he did not play with the ball. He promised he will put it on his shelf as a precious gift…



Thank you for the help of Tamás Szekeres and to the Hungarian National Team.
Joli Bakonyi
Wish coordinator
11.09.2008.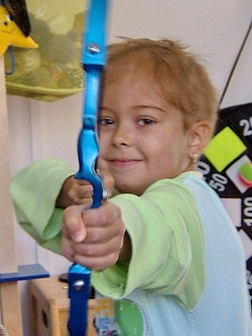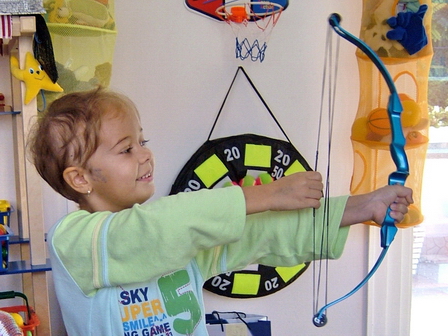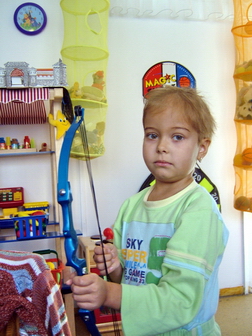 Boglárka is a 5 year-old young lady who goes to an archery course with her Dad.
She would like to receive a spiral bow which she can use and practice anytime she wants. Luckily we found a beautiful blue spiral bow for her size.
We gave this to her when she was in the play house, just at the right time! She was really surprised and very happy about this.
Dear Boglárka, we wish you good health and luck in archery!
Thank you for
Balázs Ballon
(O Graphic Studio) who helped us that this wish came true.
Jolan Bakonyi
Wish-coordinator
13.10.2008.
Marci is 11 years old today. He came out of the sterile transplantation box 4 weeks ago. His dream was to fly on his birthday.

We started to organise it immediately, but we have very limited time. On that morning it was heavily raining in Miskolc, but our God and voluntary chaplain and was with us…

By 4 pm our Csodalampa team from Miskolc was there dressed in the Csodalampa shirt. We brought a book about flying, a cake, firework and number 11. We were waiting for Marci and his Dad. They arrived but Marci still did not realise that he will fly.
/ 8


They took off and we waved to them.
The plane flew towards the hospital where Marci were. On the balcony nurses waved to Marci who was driving the plane alone.

They flew towards Marci's house and his Mom, sister and brothers waved at him. When they got back to the airport Marci received the cake and the book and also a birthday singing.

He was really touched and he could hardly say:


- Thank you!


But in this single word and in his sparkling eyes there was everything we needed to know how he felt. :))
Zsuzsanna Csonka Tatár, Gábor Nagy, Nikoletta Kovács

Attila Gecse, Bodnár Jánsoné, Tamás Bónis, Natalia Osztermann

volunteers

25. September 2008. Miskolc
Ps. These moments make worth for working to Csodalámpa!
Archive
2023
2022
2021
2020
2019
2018
2017
2016
2015
2014
2013
2012
2011
2010
2009
2008
2007
2006
Archive
2023
2022
2021
2020
2019
2018
2017
2016
2015
2014
2013
2012
2011
2010
2009
2008
2007
2006