2010-04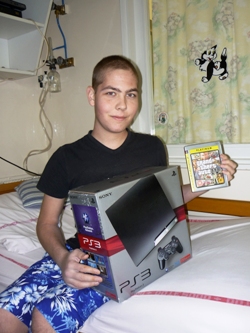 János has recently been admitted to the Children's Haematology and Oncology Department of the Debrecen University. The diagnosis got him down and he also had a hard time with the initial treatment.

I was thinking how I could cheer him up and Wonderlamp occurred to me. I told him about the Foundation which was soon followed by a wish. A PS3!

Good luck with it, Jani!
Many thanks to E.ON Hungary Zrt for their support!

Krisztina Szilágyi
wish-coordinator
19 April 2010. Debrecen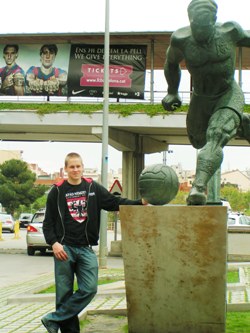 Balázs wished to watch an FC Barcelona game with her sister, Marcsi. After lot's of arrangements and despite of the volcano's activity we finally got to Barcelona. On the first day we visited the stadium and the Barca museum, both of these were great experiences for all of us especially for Balázs. We also bought some hooters and scarves and planned the following day while having our dinner.

Saturday morning and early afternoon we made a tour in the city and visited Park Guell, the Sagrada Familia, La Pedrera, Casa Batlo and Casa Amattler. After that we arrived to the stadium among the first visitors. After a while the stadium was full, the atmosphere was beyond expression and the big game started. Finally Barcelona won so we were really happy.


After these beautiful days we really didn't want to come home and we think Barcelona also wanted us to stay as our plane was delayed…

After the game we went to the seaside Balázs also had a little swim in the ice cold water. It was a great experience to see the joy of the 2 kids. We said goodbye with the hope of seeing each other again but in mind we are still in Barcelona.
Many thanks to CIB Bank for their support!

Erzsébet Veres
wish coordinator
Barcelona, 23.-26.04.2010.
/ 4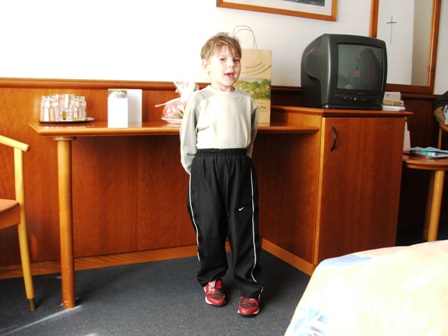 Patrik is a lively, smiling kid who has thought a lot before making this wish. He has never really been on holiday with his mother, so it was with anxiety he prepared for this holiday in BOBO-land! Huge efforts were made to make this dream come true.


The Family Care Center in Hódmezővásárhely helped with transportation, many thanks for that.
Patrik and his mother spent three unforgettable days in this child-paradise and returned filled with memories.



We thank to Hotel Kolping for the accommodation. With their help we were able to make the dream of a small child come true for the second time.





Joli Bakonyi
Wish-coordinator
Alsópáhok, 21.04.2010.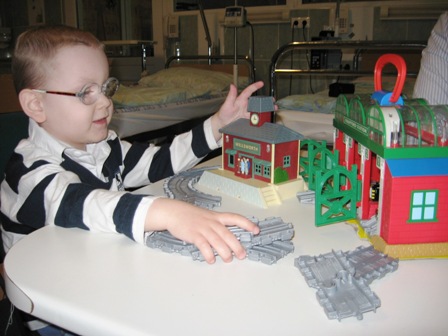 Little Kornél is a real artist, he is fond of drawing, he likes tales and music, so during our discussion I thought he would ask for a drawing set or a CD from the Jinn of the Wonder Lamp. I was really surprised that his wish was a serious Thomas railway station.
The always playfully smiling little boy accurately explained what the railway station should be looked like, what kind of people should be waiting for the arriving trains. He also told us that after the poor engine got tired during its long journey, it should have a rest in a good place where it wouldn't get wet and it could sleep a lot.


Jinn tried to find out whether such a real, complete Thomas railway station with a service area could be bought. It turned out soon, that Kornélka gave us a professional description of the toy, he had longed for. So the engine and the small train could leave the toy store. Along its way passengers were taken up and finally the train arrived with a loud hooting to Tűzoltó Street Clinic, where the elegantly dressed Kornélka spent his one-day medical treatment.


It was a big surprise when the little boy saw the present. Certainly, all passengers greeted the new, young station-master. Thomas engine hooted a big in honour of the new manager, and then it could push along with the passengers to the next station.



Afterwards little Kornél, as the manager of the whole railway company, thought that Thomas had got tired because of the long journey, so it was high time to have a rest. He pushed the engine in the engine-shed and said good night.


Soon after I also said good bye to the small boy, who had got a little bit tired because of the treatment and the playing. On departure I asked him for a kiss but he looked at me with his playful smile and told me that he was out of it, it had been taken by the cat. It happens… all right, I will ask for some extra kisses next time.
We would like to thank to PannErgy Nyrt for their support, since with their help another child's wish could come true.

Zsuzsanna Sipos
wish coordinator
Budapest, 20th April, 2010.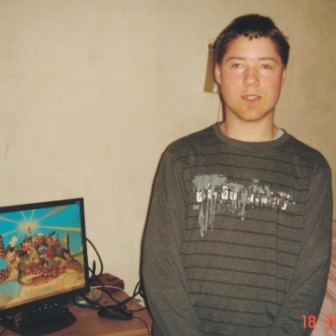 We saw Daniel and his sister as they were standing on the road and waiting for us. The big gate was open and they were waving, that we should park in. By the time we parked the whole family was standing outside and smiling because they knew Daniel's wish had arrived, the computer. The children helped to carry the computer in. They fixed the brand new machine together next to an old, small efficiency methuselah.

Daniel was over the moon when he saw the huge LCD monitor, and he tried it out straightaway. Because he has not got internet access yet, he asked me to say thank you to all the founders. The parents promised Daniel as soon as the internet is available in their street, he will also have access to it.

We also suprised Daniel with the Wonderlamp t-shirt. He said this was going to be his favorite shirt, and that he's going to wear this for the medical checkups as well.

Today it was especially good to be a member of the Wonderlamp Foundation. To see the big happiness of not only Daniel but the whole family was incredible. That computer is in the best possible place ever, the family because of their bad circumstances could not have afforded it.
Tünde Bezdánné Végh and László Szabó
wishcoordinators
18.04.2010. Kaposújlak
Thank you for the help and support of the EON Hungária Zrt.!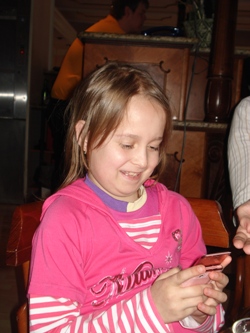 On 15 April 2010 Angéla received a sparkling phone set from Wonderlamp. It does sparkle like a jewel and is as much as good for skiing but this only turned out later.

While Ági Tatár wish-coordinator and Angéla's mother were doing the paperwork in the phone shop, Angéla was having a salad (not to salty, of course, because of her kidney) with tea. She could hardly wait to hold her present! She spoke about her kitty that is so white that it cannot be seen in snow and told that the most she would like to listen to music on her new phone.

Angéla was awesome; she showed the shop assistant how to put on the phone cover, saw through the menu, took pictures and had a great time.

We somehow managed to walk over to a nearby pastry shop without Angéla taking her eyes off of the screen of the new pink phone! That was where she learned that there was a skiing game on the phone! Her mother and we watched her face changing while she was having a jump on the snowboard slope or fell in the snow. But the most uplifting moment was her calling daddy on the new cell.

We hope that this phone matching a princess will be health-giving!





Many thanks for Ildikó Mátics Závecz to make a big smile on this little girl's face.
Lilla Kapás, Csilla Kapás and Ágnes Tatár
wish-coordinators
Szeged, 15.04.2010.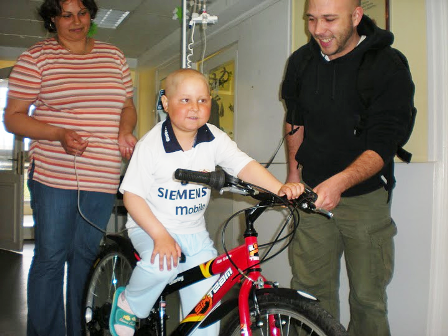 Today a bike with safety accessories was given to Ricsi by us. He was very happy. As he admired with bright eyes out of the ward, while we were wheeling the bicycle in the corridor, he immediately knew that his wish had come true.
Although handover took place in the hospital and Ricsi was on infusion, it couldn't stop him testing the new bike on the spot, right in the corridor. His mother running after him with the infusion tried to keep pace with the young sportsman.
Besides the bicycle, the safety accessories and some small presents, we also gave Ricsi a photo of the members of Vodafone Hungary – Systems to see the team who provided money for the presents.
Thank you for the opportunity and your assistance to choose the present and organize the handover. It was the first time that we could see happiness of a child due to the fact that our team fulfilled a wish but we hope that happy smile of Ricsi will be followed by other grateful faces.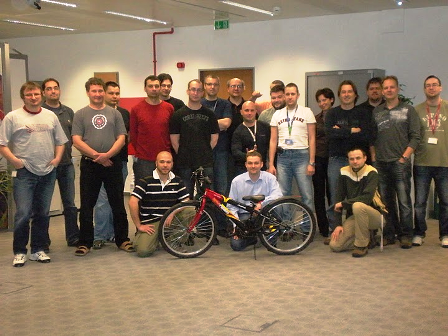 Thanks to this team for helping us to make a smile on a child's face again.
Team of Vodafone Hungary – Systems
Miskolc, 14.04.2010.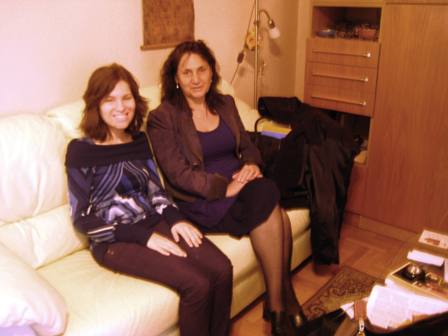 We had a meeting with the German teacher at Klaudia's home in the afternoon on 9th of April. I had arrived earlier in order to meet Klaudia and her family. She was enthusiastic and very excited. It was a sign of her kindness that she was waiting for us with her own making sweets.

Nowadays Klaudia's hobby has been making pastries. She has serious plans for the future but due to the disease her mobility is rather limited at the moment. In this situation it is a big help for her that she has an opportunity to improve her foreign language knowledge at home.

First meeting became the first language lesson and the schedule was discussed for the next months - lessons will be on Wednesdays and Fridays.

After the meeting on Friday we got the information from the parents that teacher had been very satisfied with Klaudia. This pep and encouragement do well to Klaudia.




Thank you for the support of E.ON Hungária Zrt
with which we could put another smile on a child's face.

Ildikó Tomaj
wish coordinator
Budapest, 09.04.2010.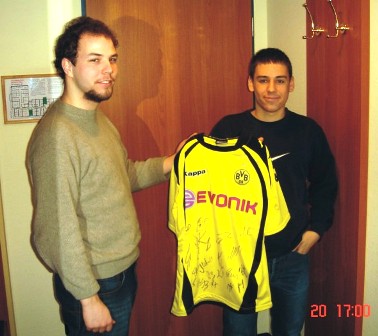 On the evening of March 20th 2010 Donát's wish came true at last. He could fly to Dortmund (Germany) to watch live a football match of Borussia Dortmund.
On Friday we flew from Budapest to Dortmund. It was a beautiful day so we had a great view of the city from the sky.
When he arrived he went for a walk around the city. There are lots of local fans of the team so we were not surprised that there were Dortmund relics in lots of shops. By the time we arrived at the hotel Donát had a real yellow and black Borussia Dortmund scarf. Later on we decided to eat a pizza and as I realised that this was Donát's favourite food we headed to a nice italian restaurant. We went to bed quite early as we were tired from the trip and we had to save our energy for the big day. Saturday we had breakfast in our four star hotel and then went sightseeing. Though there was a slight drizzle it did not bother us while we wandered downtown and walked along the cute tiny streets.
We saw lots of fans and even more shops with Dortmund's gifts. When we got hungry we ate a kebab at a restaurant where all the other customers were Dortmund fans. Nearly the whole city was preparing itself for the game. Before we headed to the stadium I "had to" hand over to Donát the present of the German Wünsch Dir Was eV. foundation. The name means "wish something"; they are doing the same as Csodalámpa and they have already helped us on previous wish grantings in Germany.
They not only gave us 3 tickets for the game but they sent a Dortmund football strip which was signed by all the players of the team.
Donát was really surpised by the present and he wore it proudly during the game.
At the stadium there was a huge queue outside but we passed it pretty quickly and took our place on the east side, a little bit left from the goal.
There was a frantic ambiance and 80.100 spaectators were following the game live in the stadium. Dortmund was playing against Leverkusen which team is only one place ahead in the ranking, so we hoped to have a really exciting game.
There were no goals in the first half though the game itself was really exciting. The second half was more interesting as Dortmund - with the Hungarian Hajnal Tamás playing - scored 3 goals right in front of us. Donát will always remember the fans and their happiness as Dortmund won.
On Sunday morning we relaxed and after lunch we headed to the airport. We talked a lot about the game we saw the night before and we can say that we have unforgetable memories from the game.





Szabó Máté
wishcoordinator
Dortmund,2010.03.20
This wish was granted thanks to the generous support of CIB Bank Zrt. and the Wünsch Dir Was eV.. We would like to thank you in the name of Donát too.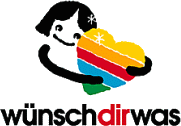 Archive
2023
2022
2021
2020
2019
2018
2017
2016
2015
2014
2013
2012
2011
2010
2009
2008
2007
2006
Archive
2023
2022
2021
2020
2019
2018
2017
2016
2015
2014
2013
2012
2011
2010
2009
2008
2007
2006