2011-11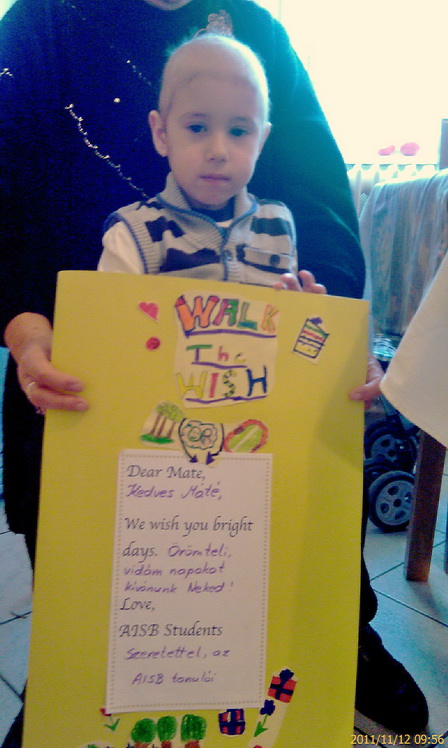 Máté wanted an outdoor playhouse from the Csodalámpa Foundation.
On Saturday, November 12 2011, I arrived with
Kim
and
Theresa
, two fantastic teachers of the American International School, to Máté's family, to fulfil his wish.
The family greeted us with big excitement. The table was already set, pogácsa, sandwiches and cookies were waiting for us. Theresa and Kim presented Máte with a card and many colourful paintings that the students of the American School prepared for him. Then the box was brought in. Máté first was looking suspiciously at the big box, he did not want to believe, that it was hiding his dream house. But then he became excited when he saw the colourful pieces, even grabbed a screwdriver to help his father and Theresa with the assembly.
The house was ready soon, and Máté enthusiastically took possession. He was happily running in and out of the house and waving out of the window.
We were watching him to play for a while, but then it was time for us to leave. We said good-bye sadly to Máté and his family, but the memory of his happy laugh will always remain with us.
We would like to thank to the teachers and students of the American International School
and of course to the parents of the students for making this wish come through.

/ 6


Andrea Molnár
wish-coordinator
Budakeszi, 12-11-2011
Péter's wish was a guitar. He has been studying the guitar already for several years and "outgrew" his actual instrument. Laura, a nice supporter offered her guitar with pleasure to him. We scheduled the meeting for Monday morning at the Clinics in Tűzoltó Street. I looked forward to meeting Laura and the guitar. I could see that she is excited as well. After a short checking we approached towards Péter while trying to hide the guitar. I saw a short, joyful smile on Péter's face and he was moved while waiting us to get to him. And suddenly the new, big guitar was in his hands. He also received some sheet music and song booklets from Laura. The Foundation completed this present with a small guitar made from marzipan that also was received with great pleasure by Péter.
We thank for Laura Kékuti for the nice gesture.
Péter is using this instrument with happiness, music always helps you through the difficult times.
Éva Havasi
Wish Coordinator
/ 2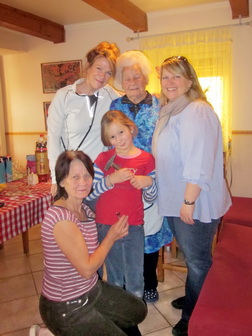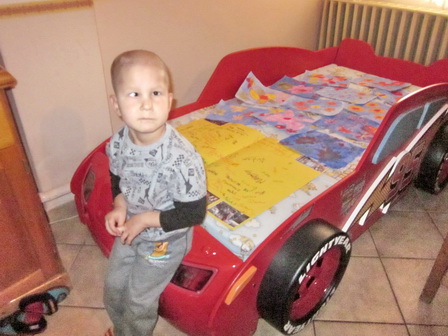 The four-year old Feri asked for a car-bed from the Csodalámpa Foundation.
On Sunday, November 13 2011, I arrived with Kim and Theresa, two fantastic teachers of the American International School, to Törtel, to the Tóth family, to fulfil the grant Feri's wish. The family greeted us with big excitement. Luckily Feri had no idea why we were there.
When we wanted to start putting the bed together it turned out that there was a small problem: the box was too big to fit through the door. We had to figure out a plan to distract Feri so we can carry the pieces one by one inside, and put the bed together without him noticing.
The solution was a quick shopping trip to the nearby grocery store. When he got back, the bed was already standing assembled in his room. It took him a few minutes to realize that his wish had come through finally and from now on he would be sleeping in his own car- bed. But soon he was happily playing with the headlights and jumping up and down on the bed.
Theresa and Kim presented Feri with a card and many colourful paintings that the students of the American School prepared for him. Feri took them happily, and spread them on the top of his brand new bed. In the meantime lunchtime arrived, and we were invited to join the family for Sunday lunch. But after the delicious lunch it was time for us to leave. We said good-bye sadly to Feri and his family, but the memory of his happy smile will always remain with us.
We would like to thank to the teachers and students of the American International School
and of course to the parents of the students for making this wish come through.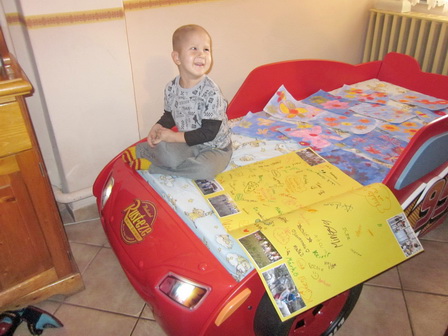 Andrea Molnár
wish-coordinator
Törtel, 13-11-2011
Róbert (10 years old, Gyomaendrõd)
From: K*** E***
To: csodalámpa@t-online.hu
Sent: Thursday, November 17, 2011 7:20 PM
Subject: köszönet
DEAR CSODALÁMPA FOUNDATION.
WE WOULD LIKE TO THANK YOU FOR THE WONDERFUL PRESENT, THAT WAS ROBI'S LONG TIME WISH THAT HAS COME TRUE.
ROBI 10 YEARS OLD AND ASKED FROM THE CSODALÁMPA AN XBOX 360. ON TUESDAY WE WERE "DUE" FOR AN MRI OF THE ABDOMEN AT THE PEDIATRIC CLINIC IN SZEGED, AND THAT COMPENDSATED ROBI -TO SAY THE LEAST - FOR THIS UNPLEASEANT EXAMINATION
AFTERNOON ARRIVED FROM BUDAPEST THE REPRESENTANTS OF THE AMERICAN INTERNATIONAL SCHOOL OF BUDAPEST: TWO STUDENTS, SÁNDOR DANI AND FÖLDI MARCELL WITH TWO TEACHERS.
TO ROBI'S GREAT SURPRISE AND HAPPINESS THEY GAVE HIM THE MUCH AWAITED PRESENT AND GAVE HIM ALL THE EXPLANATIONS AND INSTRUCTIONS HOW TO USE IT. THE VISITORS HAVE BEEN VERY FRIENDLY AND THE MOOD WAS VERY GOOD.
WE WOULD LIKE TO THANK ANDREA LENGYEL FOR HER ASSISTANCE AND WE HOPE THAT SHE WILL BE ABLE TO GRANT WISHES FOR MANY MORE CHILDREN.
MANY THANKS FOR THE STUDENTS AND TEACHERS OF THE AISB AND FOR CSODALÁMPA.

F*** ROBI AND HIS FAMILY

Another wish came true.
Klaudia has wished for a pink Barbie house and a Ken doll, to make her days brighter while she was still being sick. She already has a Barbie doll at home, but the house and the boy doll were still missing from the set.
We did not hesitate to make her wish and dream came true.
After checking with her aunt, I visited her today afternoon at the department of haematology of the Debreceni Klinika and to her biggest astonishment I brought the present with me.
At first she didn't realize that I was there to make her wish came true. After understanding it she started to unwrap the present without hesitating. I gave a hand since she couldn't manage by herself. There was a cannuale implanted in one of her hands because of the infusion treatments. After opening the doll house she started looking for the accessories with great joy and curiously searching for what belonged where.
I know that this present will make her days in the hospital beautiful and help her in recovering. After a short conversation I said goodbye to them and wished her strength and stamina to heal.
Zsolt Bodacz
Wish-coordinator
Debrecen, 23.11.2011.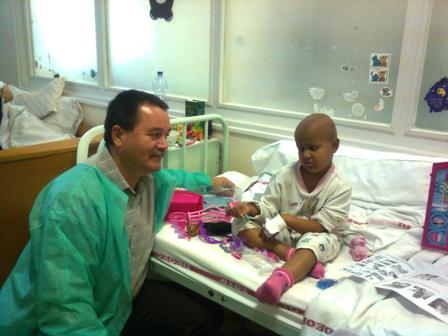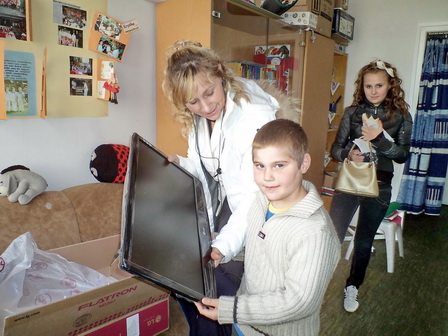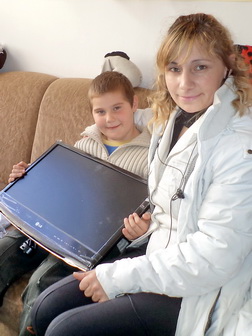 István has been treated at the GYEK since he was little. He had been dreaming of many different things, but finally he decided that his main wish was for a flat screen TV.
We saw each other at the hospital many times and every time, he was looking at me with expectant eyes - "will she say anything" he was probably wondering. But I just kept smiling and didn't say a word about what he wanted to hear.
The other day, they came in for a checkup, and I happened to be there too. I told them to pop in to my office for a little chat. And there, in the middle of the room, was a huge box, with no little mouse inside, but István's wish, his present: the flat screen TV! He jumped into his mother's arms in his happiness and he nearly started crying. He couldn't believe it was really his and that he was allowed to take it home.
Dear István,
We wish you a lot of happiness and pleasure with your TV and first of all: a full recovery.
Thanks to the pupils and teachers of Eötvös József Gimnázium for making István's wish come true.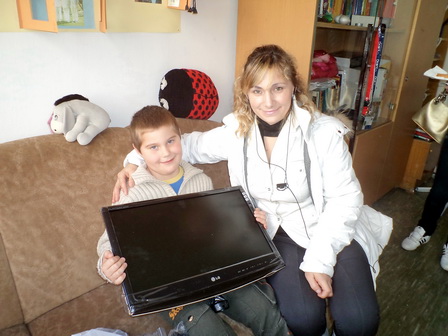 Zsuzsanna Tatárné Csonka
wish coordinator
Miskolc, 17 November 2011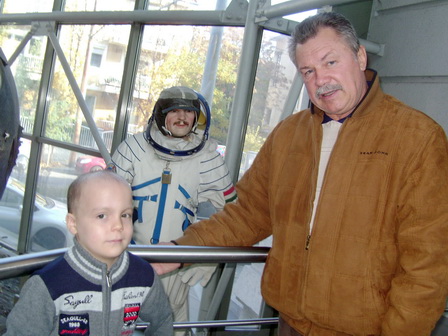 We must admit that when fulfilling wishes even we, the coordinators have once in a lifetime experiences. Such was when Ádám met Bertalan Farkas, Hungarian astronaut.
Ádám knows everything about flying, space research so we took him to the Museum of Traffic where we observed the capsule in which our astronaut travelled. Zsóka Kerényiné Ferenc showed us around then "our Berci Farkas" arrived who by the way let us call him by that name. He warmly welcomed Adam and his parents and started talking about his –even for us, adults- very exciting adventures.
We were astonished by how interesting questions Adam had and all had been answered: there were hungarian foods in the space like pork cheese. The sleeping bags were tied to the spaceship at nights because of the lack of gravity and the sun set and rose 16 times during 24 hours...
After the chat came Attila Szabo the chief museologist who showed us the exhibition on the history of aviation. Adam also got some original spacefood as a present and a certificate signed by Bertalan Farkas and Valerij Kuszabov.
We appreciate the help of the Hungarian Space Research institute's delegate, Ferenc Horvai,
and the director of the Museum of Traffic, dr. Mihály Krámli and all their co-workers.
/ 4


Márta Felkai and Zsuzsanna Sípos
wish coordinators
Budapest, 9. november 2011.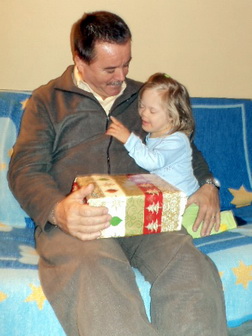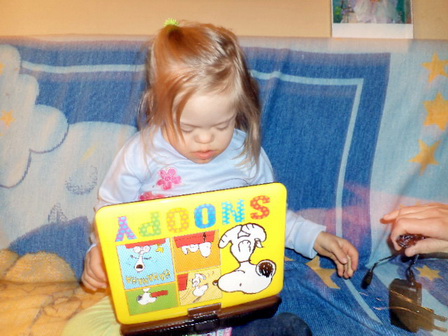 We made an unwell girl happy again.
Fanni asked for a portable DVD player from the Magic Lamp.
Our team, as always, walked the walk, and made her wish come true.
Me and my wife, Ildiko, we set off and at the prearranged time, in the afternoon of the 20th of Novermber, we visited Fanni and her family. Despite she was not aware of our arrival prior we got their door, she greeted us with love and happyness. When she learned why we were there, she huged and kissed us endlessly.
After a quick learning curve with the device, we inserted one of the DVDs comming with the player, and watched the tale. Fanny received the gift with great pleasure and she enjoyed Snowhite and the seven dwarfs with her siblings.
We are sure, that this gift went to the right place for Fanni still has a long way in front of her before complete recovery.
Saying goodbye took a long time because Fanni could not stop kissing us whilst her eyes shined happily.
Dear Fanni, we wish you get better as soon as possible, and you will have great time with the DVD player.
We'd like to say thanks to our friends for their help again.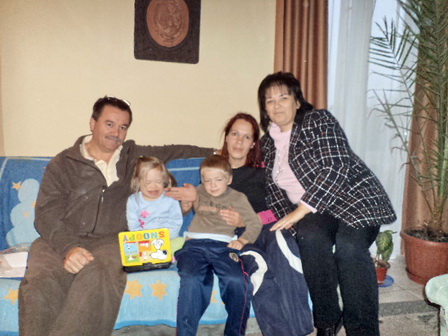 Mr. Zsolt Bodacz and Mrs. Zsolt Bodacz, Ildikó
wish coordinators
Ostoros, 20/11/2011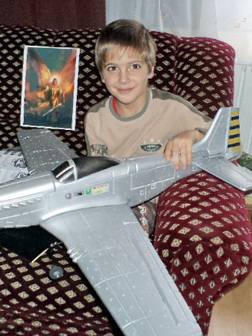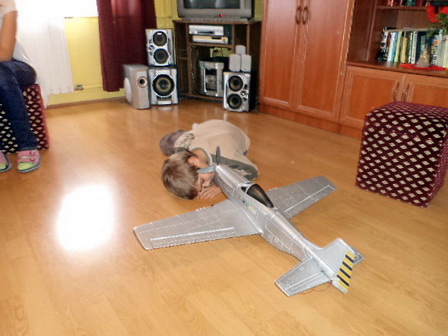 An other wish has been fulfilled.
Balazs asked for a remote controlled airplane from Csodalampa.
As soon as we saw it among the wishes, we decided to fulfill it. Just as previously, we invoked our small team to attain the financial part of the present. After performing a little search, I found it on the internet and we ordered the toy for him. We had arranged the day of the delivery with Melinda, his mother, and on the 20th of November in the forenoon hours we arrived with my wife, Ildiko.
Back then Balazs did not even presume that his wish was going to be fulfilled. After the introduction, when he found out that his dream came true, he became really happy and he was gladly holding the remote controlled airplane in his hands. As his father was working, i assambled it for him and we discussed that a friend of his, who had handled such a plane beforehand, was going to help him in learning how to controll and handle it.
Yet a couple of days should go by that he can put it in practice, but he is really glad about it till then.
All in all we shared his joy togehter with my wife as we managed to put a smile on his face despite the though surgery.
We agreed that as soon as he learns how to control the plane, he will send pictures to us. After a little chat we said goodbye, wishing all the best and a quick recovery for him.
Thank you for our private sponsors' offer.
/ 2


Mr. and Mrs. Zsolt Bodacz
Wish-coordinators
Szécsény, 20. November 2011.
Who would be able to write a better report about this special occasion, then Kinga...
Meeting the Holy Father - Rome, November 2, 2011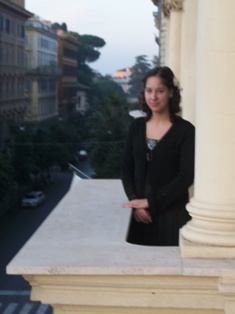 We left early in the morning on the regular Malév flight to Rome. Already, the trip taking us to Rome was excellent as we sat in the cockpit, and the pilots took the time to explain how the plane works. We actually stayed in the cockpit until the plane landed. Our hotel in Rome was a gorgeous hotel in the center of the city, where we received fantastic service. The room itself looked like something from a storybook, breakfast was delicious, and the hotel even surprised us with a few treats!
Not long after arriving to the hotel, we headed into the city to see St. Paul's Basilica, the Papal Basilica of Saint Mary Major, the Basilica of St. John Lateran, the Colosseum, the Saint Stairs, the Spanish Steps and in the evening the Trevi Fountain. I was completely overcome by the sights.
The following morning we left for the Vatican, and after waiting in line for a long time, we made it into the hall for the Pope's blessing. There were seven thousand people (!) in the hall, and I had the honor of sitting in the very first row, since I had a white entrance ticket.
I've saved the ticket and will cherish the memory for as long as I live.
I anxiously awaited the arrival of the Holy Father. When He stepped into the room, I felt an incredible feeling in my heart as it filled with gratitude.
People greeted the Holy Father by cheering, and that's when I knew my dream was going to come true!
During the audience, the Pope was addressed in several languages and in the name of several organizations. There were groups that even greeted the Holy Father by singing a special song or playing instruments. It was a festive occasion giving me a huge boost.
Following the Papal blessing, the approximately 20 people sitting in the first row were allowed to personally greet the Holy Father. It was deeply touched that I was given this special opportunity meet him directly.
/ 6


I kissed the papal ring and exchanged a few words with him, then he drew a cross on my forehead and blessed me after which I gave him my personal gift of a small piece of handwork. I recieved a beautiful rosary from the Holy Father. Several pictures were taken of the meeting; we ordered several copies of the prints. I am overjoyed that these pictures were taken, because they will always remind me of my personal meeting with the Holy Father.
The next day we visited the Vatican Museum and St. Peter's Basilica. Everything was stunning as I caught a glimpse of ancient Rome. I was thrilled that we could spend three sight-filled days in Rome, and the weather was perfect! My escorts were very nice and granted every wish I had!
The Holy Father's blessing is a gift for a lifetime, which I likely would not have received had I not been sick!
Thank you to everyone involved in making my wish come true; I will never forget this experience, it will always fill me with joy.

Kinga




We are grateful for the many ways of support, enabling us to fulfil Kinga's wish. We would like to express our sincere thanks to Mr. Adrian Gray<b/>, to Monsignore Kurian Mathew Vayalunkal, to the management of the Westin Excelsior Hotel and the Malév Hungarian Airlines. Many thanks to the kind members of the Malév Duna Club, whose donantion of their bonus miles made possible Kinga's flight.



Niki and Vilmos Benkő
wish-coordinators
Rome, November 2, 2011
We met Zsolt at the Orthopedic Clinic of Budapest.
The plural is correct, az Csilla and Ben, representing the students and teachers of The American International School of Budapest were with me.
Zsolt's wish was a netbook, and his wish was one of the 9 chosen by the student participants of the 6th Walk-the-Wish. The "Walk-the-Wish" is a sponsored walk, organised by the AISB in order to sponsor some "Csodalámpa" wishes.
Zsolt was operated only two days before our arriving. The next day we have asked his mum, wether we could come so near to the operation, but she said yes. Then we gave her a very difficult task: she should keep our coming secret...
Zsolt, knowing nothing, watched TV when Csilla entered his ward with the netbook. We told him who we were, why did we come, and that to grant his wish, 800 student and teacher has joined forces...
Thanks to his mum we could surprise him. After some happy chatting Csilla helped him with the unpacking and the first steps of the setup, as Zsolt could only use one hand, the other being bandaged. He seemingly could manage quite well with the new computer and even the many setup questions of the first startup wasn't a problem for him.
/ 5


Ben has brought a sweatshirt of the AISB as an extra present and we were lucky, as the size passed exactly.
Even the nurse on duty turned up, and seeing Zsolt and the netbook, joined to our happiness.
Some more chatting, photos, then we said our goodbyes to Zsolt and his mother, wishing him a fast recovery.

We would like to thank in the name of Zsolt the students and professors of American International School of Budapest for this wonderful present.
Gábor Patzauer
wish-coordinators
Budapest, November 9, 2011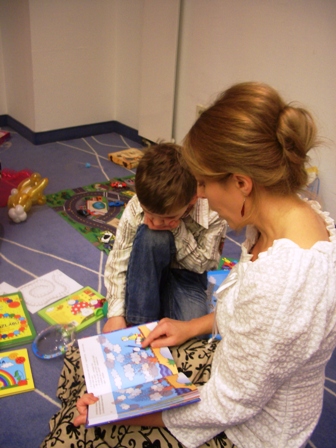 Peter was thinking and thinking about what to wish, because there could be so many things ... Such a big boy has many many dreams, but only one wish can be fulfilled by the magic lamp of Csodalámpa.
Her mother, Adrienn said that they were talking a lot and suddenly he just realized that he would like to meet his favourite fairy tale writer, Ms. Erika Bartos "mother of" Bogyó and Babóca in Budapest.
The authoress had already fulfilled a "Csodalámpa" wish, therefore sometimes she visited our web site to know whether she could make someone happy again. So she was quicker than we, when she contacted us.
All of us were looking forward to the meeting, and Peter's special wish was that he could also take her little sister, Sophie with him.
It was a beautiful day we spent together. Our dear sponsors, employees and managers of the Budapest Art'Otel offered one of their meeting rooms for us. It was cosy furnished, there were a lot of tasty snacks, cookies, gummy candies, cocoa, and many, many Bogyó and Babóca story books and other toys.
Peter and Sophie didn't know where to look, what to do, particularly when Erika arrived with a lot of story books.
They were talking and telling stories together for several hours. They were also talking about Peter's favourite tales from the series. Then we looked at the pictures of the gift calendar for 2012, we tried to find out from which books the pictures came from. We were also listening to new stories about how Erika's children could feel when they took their family car to the car- wash for the first time.We had a look at the rainbow and we were singing together, then we got to know that Peter's "most-most-most favourite" story was about the rum cake...
We got tired during the long playing and talking when a fine meal came and to our great suprise the pastry-cook of the hotel made a real Bogyó and Babóca fancy cake. Of course, Peter had to take it home.
/ 5


Our dear friend, Ildikó was folding beautiful balloon figures for Sophia and Pete all day, and of course she didn't forget about Erika's children. Ladybirds, a giraffe, a turtle, a lion and a rabbit also joined us while we were listening to the stories.
Unfortunately this day and our meeting came to an end but it turned out that Pete made a farewell gift to Erika and her family.
It was a beautiful drawing making on his own: a father tree, a mother tree and children trees. Even two small dolls made of cotton yarn were given to the authoress as a present.
Everybody was very happy and felt that time had passed very quickly. We hope that Peter and his family will remember this meeting for a long time. Once it could happen to meet them in one of the story books of the authoress ...
Éva Patzauer
wish-coordinator
November 11, 2011
Many thanks to Ms. Erika Bartos for her kind assistance in making Peter's dream come true and we are very grateful to the authoress who has fulfilled again a wish of an ill child.
We would like to thank the managers and staff members of the Art'Otel who all were about to make that day a beautiful one. We would also like to thank Ms. Ildikó Kis, we all were delighted at her wonderous balloon figures.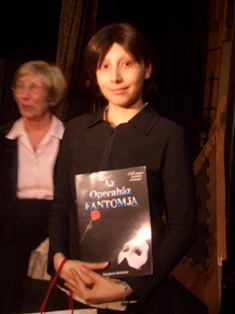 One of Kinga's greatest wishes was to see a live performance of the "Phantom of the Opera".
Being a life-long fan of musicals, she was aware of the many exciting performances held in the capital's theaters. She had heard of the high praise received by the "Phantom" from friends and for her this musical felt like a natural choice.
So, it was with great anticipation that we got ready for Kinga's attendance. We also wished to surprise her with something special and not normally available to public spectators. Together with the theater directors we arranged to provide Kinga with the opportunity to meet the three main characters after the curtains fell.
Kinga and her family enjoyed the performance enormously with the experience enhanced by being in the privileged position of viewing it from the director's box.
During the break we were happy to tuck into the tasty drinks and snacks which were served and feeling suitably refreshed we looked forward keenly to the second act.
After the numerous and thoroughly deserved rounds of applause Andrea Mahó greeted us warmly, as 8 years previously Gábor had also the same wish therefore Andrea was already familiar with Csodalámpa.



As a souvenir we presented the actress with a copy of the report from that previous visit. Neither "Raoul" nor the "Phantom" were left empty-handed either - thanks to the expert confectioners of Szamos Confectionery all three were presented with reproductions of the famous mask crafted from marzipan together with a red rose.
/ 4


Kinga was in turn presented with the original mask from the play as a gift from the theater.
We feel confident that this wonderful evening will have given strength to Kinga on her journey to recovery as well as encouraging her to become a lifelong fan of theater.

Eva Patzauer
wish-coordinator
Budapest, the 28th of October 2011
We would like to thank the directors, actors and staff of Madách Theatre for their help and support in making Kinga's wish come true.
Archive
2023
2022
2021
2020
2019
2018
2017
2016
2015
2014
2013
2012
2011
2010
2009
2008
2007
2006
Archive
2023
2022
2021
2020
2019
2018
2017
2016
2015
2014
2013
2012
2011
2010
2009
2008
2007
2006