2013-09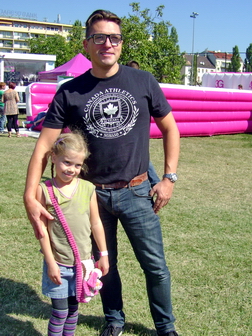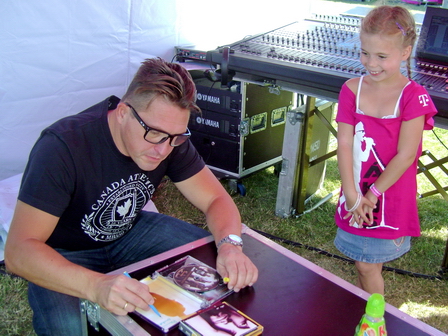 Panni is a little girl who has been fan of the famous Hungarian singer
Ákos Kovács
for years. She knows his songs by heart.
Although she has already been at a concert of Ákos, she wished to see the musician at close quarters and to talk to him about his everyday life. With the help of his manager, Ms. Kriszta Fiák we could take part in the sport event of the
Telekom Children's Day
where she had an opportunity to meet personally the star at the band's sound-check prior to the evening-concert.
Ákos greeted Panni very kindly and they were chatting about everything. For example they were talking about the real "cheering" at a concert and about the meaning of three raised fingers: "I love you". Panni has just started school and since she is very fond of drawing, she brought a gift book with her, in which she made many colour drawings about how she had imagined the star at the stage as well as among his family. The pop star was deeply touched by the gift of the little girl, and they were looking at the pictures one by one together.
Of course, Ákos did not come with empty hands, he brought a huge gift bag to his little fan. It was full of CDs, DVDs, posters, a very nice photo book, colour pens and notebooks. So the little girl from Nagykáta was very happy. Finally Ákos had to go to prepare for the evening concert. Later on, Panni enjoyed cheering the concert sitting on his father's neck.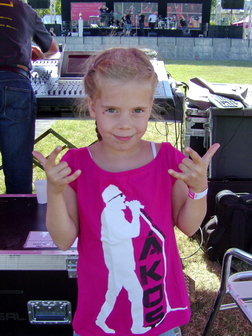 Many thanks to the singer Mr. Ákos Kovács and his manager Ms. Kriszta Fiák for making Panni's dream come true.
Márta Felkai
wish-coordinator
Budapest, Sept. 07, 2013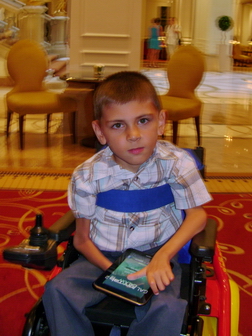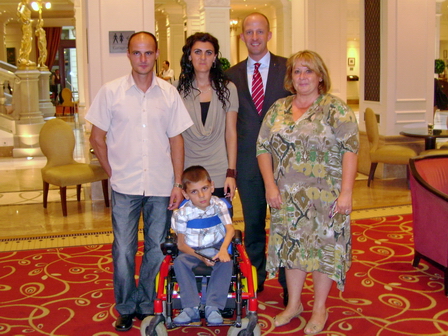 Yet another wish granted at Corinthia Hotel Budapest!
Csabi is a brisk little boy who loves football, knows all famous football players, and loves to play Internet games. It is true that he couldn't really kick the ball because of the wheelchair and that's why he asked Magic Lamp Foundation to present a tablet to him on which he can play as if he were on the football field.
Besides football he likes swimming, so the management of the Corinthia Hotel Budapest offered him a two-day stay at the hotel where he and his family could also use the spa and wellness center.
Spending 2 days in Budapest, Csabi enjoyed the hospitality of this beautiful hotel, and it was a good opportunity to get the desired tablet, so from now he can play his favorite games during the long wait of the cures.
We wish to thank the management of Corinthia Hotel Budapest for hosting Csabi and his family for 2 days.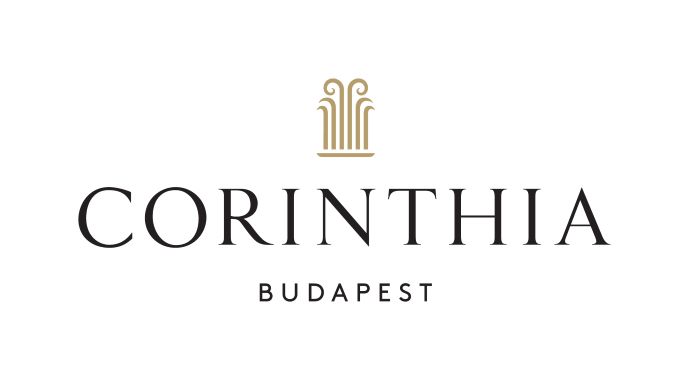 Márta Felkai
wish-coordinator
Budapest, August 29. 2013
We would like to thank the Magic Lamp Foundation and Corinthia Hotel Budapest for the opportunity that Csabika could spend two wonderful days at the hotel and we also wish to thank for the Tablet which was given as a present.
Regards: T***r family
Archive
2023
2022
2021
2020
2019
2018
2017
2016
2015
2014
2013
2012
2011
2010
2009
2008
2007
2006
Archive
2023
2022
2021
2020
2019
2018
2017
2016
2015
2014
2013
2012
2011
2010
2009
2008
2007
2006