2014-01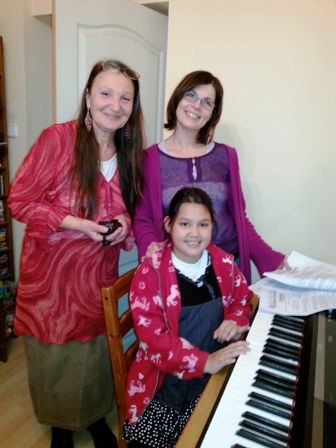 Georgina wishes for an electric piano from the Magic Lamp. Gina has been studying music for a while, but now she would like to take her studies more seriously and learn to play the piano.
Gina and her little sister had been waiting for us with a great excitement. When we arrived with the huge box, they happily danced around us, then enthusiastically helped to unpack the piano. After the piano was put to its place in Gina room and plugged in, she sat down quickly to try it out.
After that the two girls entertained us with an impromptu concert of their favourite songs.
We wish Georgina to find great enjoyment in her new piano.
Many thanks to Mr. Bruce Marshall for his donation given on the
Budapest Bonfire Night Party for Charity

and to the Kalmár Sport Kft. and the Dancing Queen Group for their support
that made possible to grant Georgina's wish.

Andrea Molnár
wish-coordinator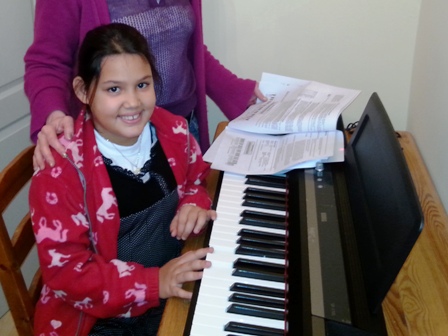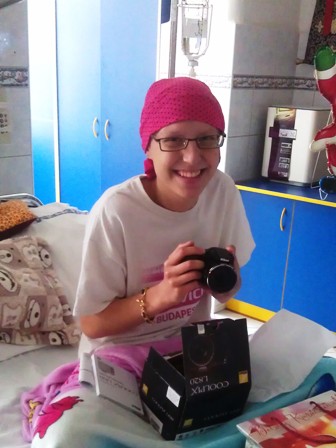 Barbara wished for a professional camera from Csodalámpa. Although she wants to be a dentist, she also loves taking pictures and would like to become a nature photographer. Barbi had been eagerly waiting for her camera. We wanted to surprise her and we showed up unexpectedly in the Tűzoltó utca hospital but of course we could not fool Barbara. She knew right away why we had come. Her eyes lit up that her dream finally had come through.
She excitedly opened the box, turned on the machine right away, and soon the first pictures were taken. We wish Barbi lots of success with her future endeavor as a photographer, and hope that in a few year we can see her photos at an exhibition.
We would like to say a special thank you to the leaders and members of XpatLoop, the largest Hungarian expat community for organizing the Budapest Bonfire Night Party for Charity and with the money raised at the event making Barbara's wish come true.

Andrea Molnár
wish-coordinator
Archive
2023
2022
2021
2020
2019
2018
2017
2016
2015
2014
2013
2012
2011
2010
2009
2008
2007
2006
Archive
2023
2022
2021
2020
2019
2018
2017
2016
2015
2014
2013
2012
2011
2010
2009
2008
2007
2006