2008-09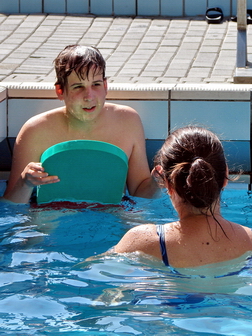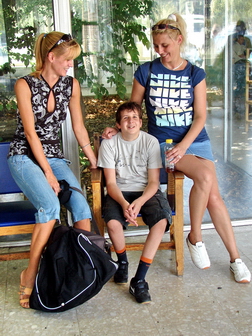 The dream of an adolescent boy
It happened like that, Dani who has already tried some sports but swimming has dropped out of his life up till now.
And then suddenly he gets swimming lessons from an excellent coach in the swimming pool.
The boy who's up till now just till ankle ventured to go into the water enjoys this kind of movement. It didn't show that he missed some lessons because of summer holiday.
It was good to see this pair, coach and pupil, among jumping and dabbling children around them. The devoted training of aunt
Eszter
and Dani's application can be exemplary for a lot of us.
We'll never forget that smile when the coach lauded Dani at the end of the movement-rows.
Dear Dani, we wish you a lot of power and insistence to full recovery and we also wish all of your dreams come true!
Anikó Sulija & István Piacsek
wish-coordinators
Budapest, 8th September 2008.
/ 4


This wish has been granted with the support of

. Many thanks in the name of Dániel too!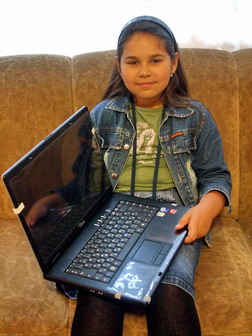 It was Roxana's old dream, which came true by Csodalámpa in the past day. We gave her the laptop she wished in the Children's Hospital in Miskolc.

We received Roxana's wish though the Internet, she placed it on our website with the help of her mother. She'd never hoped that it would take such a short time to our foundation to make her wish come true.

She looked us with real enthusiasm in her eyes while the box was handed over to her and when she took out the laptop from it she screamed: My wish came true! So soon! I wouldn't have believed it!

Roxana spends lots of time in the hospital that's why she thought such equipment would help her to kill time.

She told us that from next year on she will have IT lessons in the school and she will be able to practise for the lessons as all her classmates who has a PC at home.

We hope this computer will give lots of happy moments to Roxana and we wish all the best to her.
Törökné Zita and Kónyáné Tímea
Wish coordinators
Miskolc, 20.07.2008.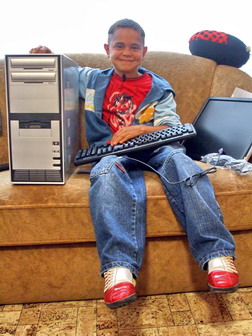 We asked Roli to visit us to make his wish come true - a PC.

He was really happy about it and at the first moment he could not believe that his wish came true.

Dear Roli,
We wish you should have lots of fun with your new computer.





Tatárné Csonka Zsuzsanna
Wish coordinator
Miskolc, 24.07.2008
Archive
2023
2022
2021
2020
2019
2018
2017
2016
2015
2014
2013
2012
2011
2010
2009
2008
2007
2006
Archive
2023
2022
2021
2020
2019
2018
2017
2016
2015
2014
2013
2012
2011
2010
2009
2008
2007
2006