2013-07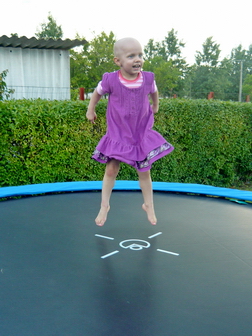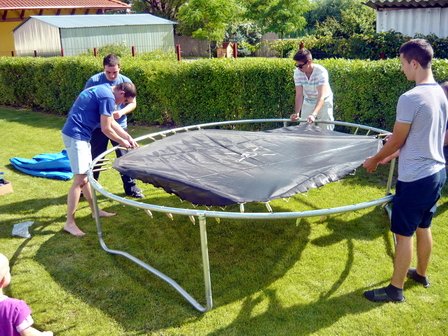 Rami has stayed the same vivid, active little girl as she was before her illness and the treatments. As her parents say she has always been full of life. Her wish was a trampoline, because she loves jumping up and down.
When we arrived the little girl was quite surprised, but when we asked her about her wish, she came back quick with the "right" answer. By the time the assembly started she was very friendly and took us in her confidence.
As her wish was fulfilled with the help of Morgan Stanley, two young men of the company, Ádám Hegedűs and Rudolf Réti, were also helping with the assembly. Rami also took an active part in the assembly process...
The trampoline was not quite ready when the girl took charge of it, though I was quite worried that she might fall off.
But fortunately no! As you can see on the picture she turned out to be as good at it as a grasshopper.
The weather was nice to us for a while, but then a short rain came. And since Rami was tired from all the jumping and because she had missed her afternoon nap, she fell asleep fast. After the rain we installed the safety net and tried the trampoline ourselves, to make sure of its safety.
This was a memorable afternoon in Kistelek for everyone involved.
Many thanks to the manegement and staff of Morgan Stanley Hungary Analytics Ltd for their support.
/ 4


Andrea Lengyel
wish-coordinator
June 11 June, 2013, Kistelek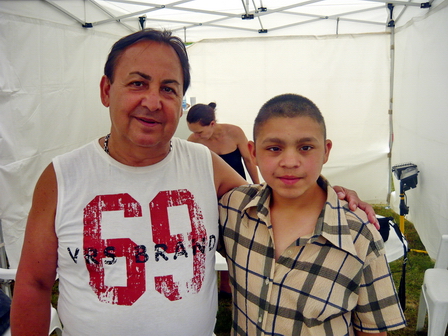 Sanyi is a big enthusiast of revelry music [a speciality of Hungary which is usually played at weddings], so he asked the foundation for the opportunity to meet Adam Fasy and to talk to him for a little while. Unfortunately we couldn't fulfill the wish last year as Sanyi got a new kidney and we had to postpone making the dream come true because of the surgery. The big boy from Lokoshaza is well now, so it was possible to organize the big event.
We waited for the evening excitedly and even though we got soaked from the heavy rain, our mood remained bright. Adam Fasy was giving a concert during the Rose Festival in Szoreg near Szeged and he was delighted to meet us. Following the nice chat Sanyi was given a dedicated CD and a small recipe book by Mr. Fasy and his daughter. After the concert had begun, Sany and his family were enjoying the music show from the first row.

We are very grateful to Mr. Adam Fasy and the show organizers for making Sanyi's dream come true.
/ 4


Marta Felkai and Andrea Lengyel
wish-coordinators
Szoreg, June 22th 2013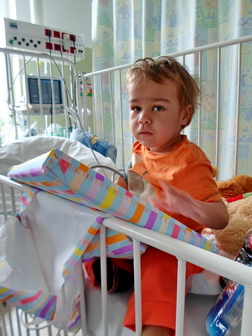 Little Robi is 3 years old and due to his illness has to spend a lot of time in hospital, lying in bed.
He loves watching and listening to fairy tales and so his wish was a DVD player.
When we arrived and he saw us with the wrapped-up gifts, he immediately reached out his little hands and wanted to get out of bed but he was not allowed. So he started un-wrapping the gifts in his bed and got down to playing with the Matchbox cars he was given as an extra gift with the DVD player.
Robika, enjoy the toys and the lovely tales!

We would like to thank Emese and Janos, who made this happen!
Judit Miholecz
wish-coordinator
Debrecen, 2013. 06. 05.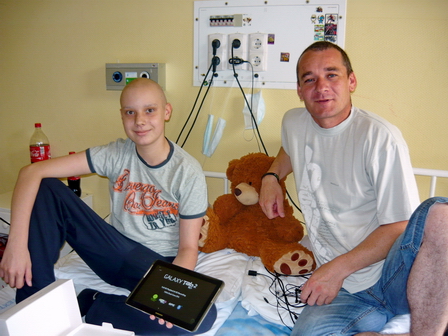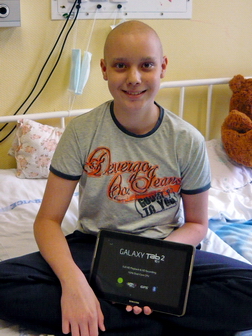 Thirteen year old Dominik, who is being treated by GYEK in Miskolc, wished for a lot of things... Ultimately, he asked for a tablet.
The quiet, unassuming adolescent never asked when the big day will come, but instead waited patiently until the genie of the Magic Lamp granted his wish.
Domi was lying in bed, watching his favorite movie, when I knocked on his door with the package containing the tablet in hand.
"How are you?" I asked.

"Well!" he replied quickly.
I continued with,

"I think you'll be even better if I give you what the Magic Lamp sent!"
And then Dominik's face flushed, his eyes got round, and he smiled from ear to ear out of delight.
It was so great to see how happy he was!!!!
Many thanks to the Bunge Növényolajipari Zrt. for their support!
Zsuzsanna Tatárné Csonka
wish-coordinator
Miskolc, May 10th 2012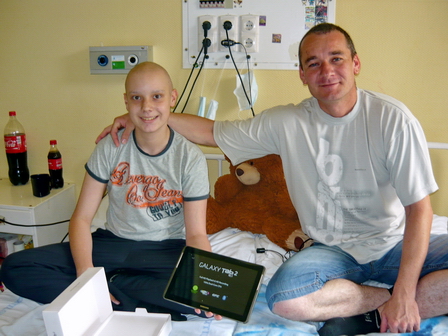 Archive
2023
2022
2021
2020
2019
2018
2017
2016
2015
2014
2013
2012
2011
2010
2009
2008
2007
2006
Archive
2023
2022
2021
2020
2019
2018
2017
2016
2015
2014
2013
2012
2011
2010
2009
2008
2007
2006