2009-02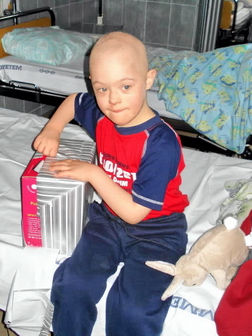 Bálint was already very excited when I asked him whether I was in the right ward if I was looking for Bálint. As soon as he got a glimpse of the large box he started to crow with delight and kept on asking: what is in it, what is in it?

Certainly he had to see it for himself so the wrapping disappeared in pieces within a few seconds and the beautiful, portable DVD player emerged from its hiding-place with the help of mommy.

Mommy was prepared of course and we put the favourite CD into the player and the ward was filled with Christmas music, since this is Bálint's favourite. Nurses also hurried to the ward to see the reason for the gaiety, Bálint was singing loudly and exclaimed happily:


- Thank you! Thank you!


All of us who were part of this event rejoiced with him.

God bless you all! – Bálint's grandmother said good-bye gratefully.
Tünde Flandera
Wish Coordinator
17.02.2009
This wish has been granted with the support of Kovács Gábor Művészeti Alapítvány Many thanks in the name of Bálint too!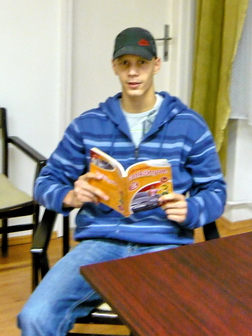 Laci takes the secondary school as a private pupil. If he goes well he can also go to school and attend lessons. He likes machines and motors.

His wished to learn car driving. He could start the lessons for the rules of the road and first aid training in November and he passed this part successfully.

He had a little break in his study as he had to participate on treatments and examinations…
Early February he could already attend the practical lessons, he tried city driving.

If everything is all right he will attend the exam on Thursday (19.02.2009).
We wish you, Laci good success.





Thank you for the help of Vasi ATI !
Huszár Béláné
Wish-coordinator
17th February 2009
P.S.: Laci has passed the driving test successfully. Congratulations!
Archive
2023
2022
2021
2020
2019
2018
2017
2016
2015
2014
2013
2012
2011
2010
2009
2008
2007
2006
Archive
2023
2022
2021
2020
2019
2018
2017
2016
2015
2014
2013
2012
2011
2010
2009
2008
2007
2006