2013-04
The very special wish of Gergő was to meet English-speaking children and to learn English. Let's hear his own words: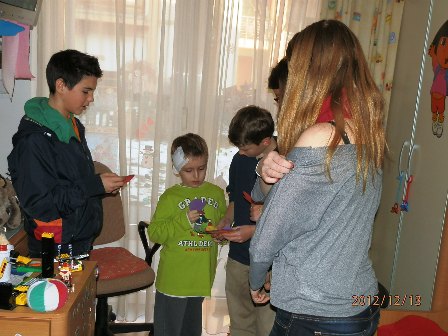 Why do you like to learn English?

-I have never think about it. Actually I don't know. Talking English is funny.
How did students of the American International School of Budapest teach English?

- Playfully. Sometimes on Skype, sometimes face-to-face. For example, it was funny to play the game of "Rock, paper, scissors" in English or "Simon Says ..." circle game or the English name of the word cards showing on Skype. I was interesting to match the words and the pictures in the illustrated Hungarian-English dictionary.

I use the plush wolf – that I got for Christmas - every time when I sit down to watch TV, I take it in my lap. We haven't played the board game yet, but I would be happy to try it with you...
Why are you interested in meeting children of different nations?

- To make me understand with many nations.
Are the students of the AISB (American International School of Budapest) different from you?

-No, they are not. The only difference is that they can speak many languages.
Have you found anything interesting among the AISB' students?

- At the international festival I tasted many delicious food and I specially liked the almond- apple pie, which we bought at the Russian stand. Students of the school were happy and they enjoyed dancing. I was most inspired by fun and delicious food.
Could you return their kind attention?

-Yes, I said thank you for hosting me at the festival and for the gifts I had got at their visit.
What do you think the children could learn from you?

- How elaborately I speak, that's all I can.




Many thanks to the students and teachers of The American International School of Budapest for realising Gergő's wish!

Archive
2023
2022
2021
2020
2019
2018
2017
2016
2015
2014
2013
2012
2011
2010
2009
2008
2007
2006
Archive
2023
2022
2021
2020
2019
2018
2017
2016
2015
2014
2013
2012
2011
2010
2009
2008
2007
2006