2019-12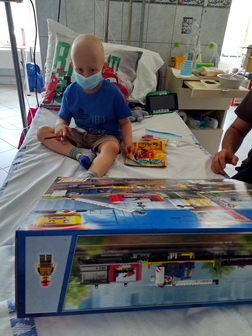 Máté likes to play with LEGO blocks, so no wonder that his wish was a LEGO train.
As he has been treated these days at the 2nd Pediatric clinic of the Semmelweiss University we decided to visit him there. We were told, that the boy is very shy, so we just simply put the huge box on his bed.
Shy or not, he reached immediately for the box quite excited. He promised us that at home his very first "action" will be to assamble the train and the rails.
Seeing the pictures we know for sure, that the present was a real hit with Máté. We wish him a complete recovery!
We would like to thank our private supporters, among them the students of, their parents and teachers of the American International School of Budapest for their decade long support!

Eva Patzauer & Bea Ratimorszky
wish-coordinators
Budapest, October 24, 2019
Archive
2023
2022
2021
2020
2019
2018
2017
2016
2015
2014
2013
2012
2011
2010
2009
2008
2007
2006
Archive
2023
2022
2021
2020
2019
2018
2017
2016
2015
2014
2013
2012
2011
2010
2009
2008
2007
2006