ATTILA TAMÁS (10, MISKOLC)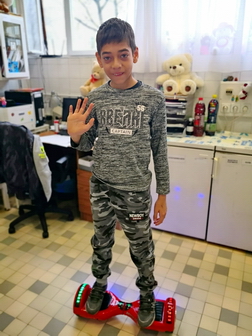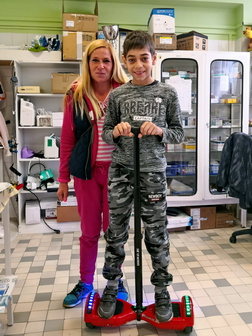 Attila was in hospital a lot this year and his condition got worse. I asked him, if he could have a wish what would it be? What happened next, was a tremendous moment for me, one that I will never forget. His wish was simply; to heal!
After both her mother and I started shedding tears, we put ourselves together and continued the conversation. Finally, we found out he had another big wish, and that would be a Hoverboard.
When the new vehicle first arrived to me, I agreed with Attila's mom so that we don't tell him about fulfilling the wish. The next day, Attila only knew that there would be a blood test. I did not tell that his wish would be fulfilled as I thought the surprise would be bigger.
He was very surprised that we had fulfilled his wish so soon and immediately unboxed it. We quickly assembled the electric miracle so he can try it: he sped up and down in the corridors of the hospital.
Then he gave the board it to me to try: I already had difficulties with getting on, but Attila was thrilled and very happy with his gift.
We thank our private sponsors, including the teachers, students and parents of the American International School of Budapest, for helping us to make Attila's wish come true.

Edina Nagy
wish-coordinator
Miskolc, November 7, 2019
Archive
2020
2019
2018
2017
2016
2015
2014
2013
2012
2011
2010
2009
2008
2007
2006