VERONIKA (12, BUDAPEST)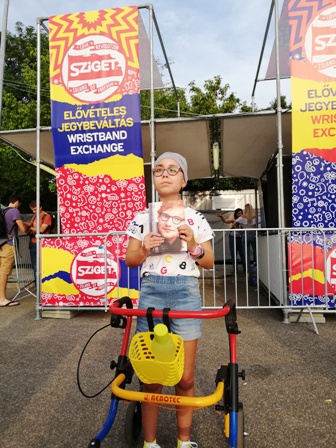 The seemingly simple question of what you wish for, asked by the Magic Lamp volunteers, is actually not that easy to answer when you can only make one wish.
Veronika also had to think about it for a bit who or what her wish would be. Naturally, the pondering did not last long, she wished to meet her favorite and role model, Ed Sheeran.
As His Excellency Ambassador Iain Lindsay knows the mission of our foundation well and has already helped turn several wishes into reality, we asked for his and his colleagues support with this wish. We organized and kept our fingers crossed for several weeks waiting to hear if it would be possible.
Prior to her serious medical condition, Veronika was an active gymnast and dancer on a high level. She has already liked Ed's music back then and kept listening to his songs during her treatments. She knows most lyrics by heart, which I was able to witness as I sat next to her during the concert.
She went into the meet up well prepared. She had her questions ready for Ed and practiced her English so she could talk with him.
The meet up took place on August 7 before the concert at the Sziget festival. I don't even know who was more excited, her or me. Roni had all her questions written down and practiced her English until the last minute so that everything would go smoothly. I was only worried if there would be enough time for her to ask all the questions. Needless to say, she spoke to the singer, who welcomed her warmly, with amazing confidence.
Veronika also made a blue bracelet as a gift, which Ed put on immediately and we saw that he kept on wearing it during his performance. For me, the most touching moment was not even when they took a picture together or hugged each other, but when Roni said goodbye with the following words:
- Meeting you was an experience for a lifetime and I will always remember it. I hope that it was the same for you and that you will remember me as well.
The reply was another hug from the bottom of his heart and a sincere smile.
/ 5


I believe that this experience will greatly help Roni to recover faster. I am grateful for having been part of another Magic Lamp wonder and for meeting you, Roni. Get well soon!


In Roni's name, we would like to thank Mr Ed Sheeran and his manager, His Excellency Iain Linday, the British Ambassador to Hungary, the staff at the British Embassy as well as the management of Sziget and our supporters, without whom this dream could not have become reality.
Eva Patzauer
wish-coordinator
Budapest, August 7, 2019
Archive
2020
2019
2018
2017
2016
2015
2014
2013
2012
2011
2010
2009
2008
2007
2006