2018-11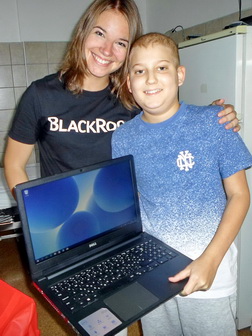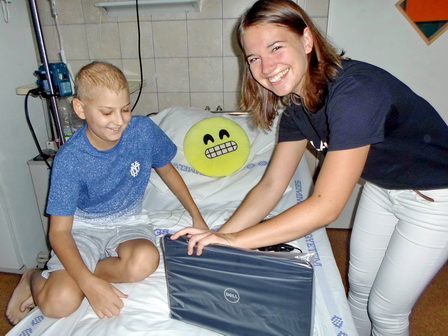 Barnabás had been wanting a laptop for a long time. Now, that he has to spend a lot of time in the hospital, he was especially happy that Magic Lamp would make his secret dream come true. We surprised the teenager in the Tuzolto Street Children's Hospital. This time Anna Erdelyi from
BlackRock
played the genie. When Barni saw the charming young smiling lady, I am not sure what surprised him more- that such pretty and young genies exist, or the big box that she was holding. Very happy and slightly embarrassed, he gave her a big thank you kiss to Anna. It all happened so quickly that it was impossible to catch this sweet moment on camera.
The box was opened quickly, and there it was, the very elegant black laptop. Anna helped Barnabás to set up the machine. It turned out that he was quite an expert, too, and soon the two youngsters were deeply immersed in a serious discussion.
By the time everything was set up, Barni got tired. So we said goodbye to him and told him not to worry, the laptop still will be beside his bed when he wakes up the next morning.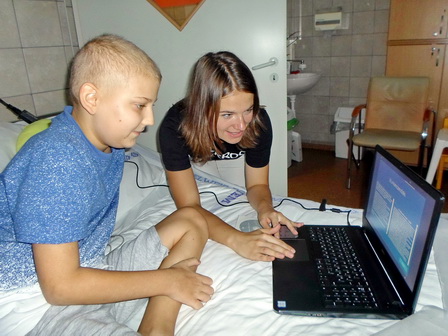 We would like to thank BlackRock Budapest, and Anna Erdelyi, representing the company for making Barnabás's wish come true.

Zsuzsanna Sipos
wish-coordinator
Budapest, July 10, 2018
Archive
2023
2022
2021
2020
2019
2018
2017
2016
2015
2014
2013
2012
2011
2010
2009
2008
2007
2006
Archive
2023
2022
2021
2020
2019
2018
2017
2016
2015
2014
2013
2012
2011
2010
2009
2008
2007
2006