2009-05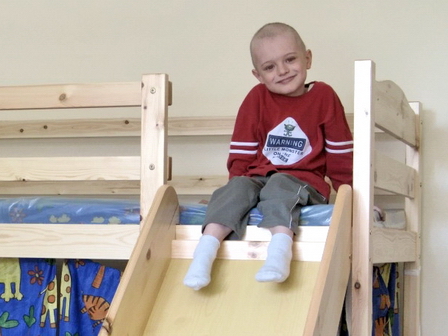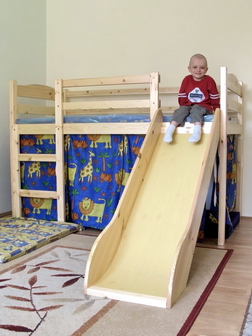 A big day at the Haematology Dept. at the Pediatric Clinic in Miskolc...
Four wishes has been granted on that single day by Wonderlamp!
Tóbiás (Toby) and Viktor got PC-s, Józsi (Joseph) a PSP, Petike (Peter) a large big bed with a built in slide. Plus the latter boy had this birthday on that day.
It was a big surprise for all of them, as we kept all the preparations secret.
Toby
was told, that he should come to the Clinic for some medical checking.
Viktor
has already given up almost all hope, that he ever will be the owner of a PC...
Józsi
waited so much... he hoped that maybe today will his wish fulfilled by Wonderlamp.
Petike
(Peter) would not believe that on his birthday, he can sleep in his new "highrise" bed and use the slide, that came with it.
Dear Tóbi, Viktor, Józsi and Petike!
We all wish you lots of happiness and a físt recovery when using the presents!
Tatárné Csonka Zsuzsanna
regional leader
Miskolc, 21/05/2009
We would like to thank the teachers and pupils of theAmerican International School of Budapest, that they supported the granting of the special wish of Peter!

Dear Wonderlamp Foundation!
We would like to express our sincere thanks to the Foundation and to the supporters the wonderful present, that my son strated to use with unimaginable joy. He was climbing up and sliding down the whole day and even the small cubicle is already full with his thing.
wishing you all the best: Mrs. Mariann *****
Archive
2023
2022
2021
2020
2019
2018
2017
2016
2015
2014
2013
2012
2011
2010
2009
2008
2007
2006
Archive
2023
2022
2021
2020
2019
2018
2017
2016
2015
2014
2013
2012
2011
2010
2009
2008
2007
2006