2010-06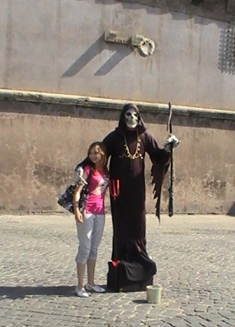 Timi,Lili and Dóri didn't know each other till June 2010. They only knew that all of them were fond of dolphins. It was a big surprise for them that they could travel together to get to know their favourite animals.


The journey began with a "preliminary" adventure, since Dóri lived in Felsőzsolca and that time this settlement was a floodplain, almost totally blocked from the outside world. We had some worries about how to "rescue" her from home but nothing could be impossible for her parents and relatives. With a long detour, but Dóri also arrived at the airport on time.

Timi had difficulties with the last medical checks but finally she got the permission. Her doctor was also of the opinion that dolphins could only help the girl.

Lili took swimming lessons in case if she would have an opportunity to swim together with the dolphins.

Our plane to Rome took off on Saturday morning.
Mothers of the children as well as I thought that kids would like to have a rest at the hotel because they had got up very early in the morning. Certainly we were wrong. After a few minutes – according to the request of the kids – we went to visit the capital.
We were walking to the Trevi Fountain and the Spanish Steps, we had lunch in a local restaurant, we went to the Pantheon and of course we couldn't miss a Disney Shop.
We were very happy but tired when we went to bed that evening.

On Sunday our destination was Torvalanica, where the Italian "Dolphinarium" was built in 2006. It is operated by the Portugees, trainers and dolphins arrived from Portugal. We also got to know the fact that dolphins didn't swim in the "sea" because its water became very cold in winter and the animals could get ill. Therefore pools should be permanently heated in winter-time.

Right after arriving we looked at the performances, we saw dolphins, seals, a lot of birds and the water slides of course. We didn't know where to run to see all attractions.

/ 7


Fortunately we were farseeing, so children could go even to swim. They asked us to stop at the beach on our way home since they had never seen the sea.
Unfortunately we had to postpone the "stroking of the dolphins", because the appointment when the kids could visit them alone was arranged by Tuesday.
We were delighted to see the incredible attractions of the animals and to take photos of them, to ride the roller-coaster (and to survive it), to have fun in the amusement park, to swim in the sea and to collect shells. Everybody was very tired in the evening - namely the mothers – but kids were talking till midnight, they were looking at the photos and preparing for the next day.

On Monday we left for a sightseeing tour again as requested by the children. We visited Piazza del Popolo where the sun was shining so strong early in the morning that Lili, Timi and Dóri began interested in the fancy parasols sold by the local vendors. Soon we made a bargain with them and ten minutes later all of us went on with a new parasol.
First we visited the Church of St. Pietro in Vincoli to see the statue of Moses. Everybody liked it. Then we went to the Colosseum and we had a walking-tour there.
We had a fantastic lunch. When the waiters saw the pretty girls with us, they served the dishes dancing to be in high spirit.
After refreshing ourselves we went to see Forum Romanum and Bocca della Verita, the so called Mouth of Truth. This sculpture can be found in Church Santa Maria in Cosmedin. It is believed that if one tells a lie with one's hand in the mouth of the sculpture, it will be bitten off. We dared to ask Lili, Timi and Dóri only innocent questions, as: "Did you have a good time here near by the dolphins?" The definite answer was: "Yes, we did." After leaving the spot we counted whether everybody had got both hands. Then we went downtown. Kids spent the evening with telling stories again and looking at photos.

On Tuesday morning, after a recreaction, our plan was to discover Castel Sant' Angelo, the Vatican City and St. Peter's Basilica and of course we had to drop in on the dolphins.
As time went by we came more and more excited. Finally our car arrived to take us to the Dolphinarium.

/ 5


After receiving a warm welcome, we had to place our packages and rings (not to hurt the skin of the dolphins) then our shoes were disinfected. A few minutes later we were squatting next to King. His name was a hit since he was the biggest dolphin. He playfully followed the instructions of his trainer. We got to know what the dolphins ate, how they were trained and cared for, how we could make difference between male and female, how they were taught when to jump and when to swim. Certainly, after a while King got bored of the long speech, he interrupted and provoked us. Soon it turned into such a discord that we had to send him away. He was offended at this and we had to offer him lots of fishes and pray for his return.
The girls were taught how to "instruct" the dolphins, so King could talk to them, he waved with his tail, he turned round and round, jumped and "laughed".
It was a great experience for me, too. It is hard to say whether I preferred the attractions of the dolphins or the joy of the children. It makes sense to see their excitement and their joy.
We also got a farewell gift. Large balls with Zoomarine sign on them were given us at the exit. We foresaw it would be a problem to take them home.
Playing with the dolphins was followed by a bit of sliding, skipping and running again. Then we returned to Rome, we went to St. Peter's Square again according to the request of the kids. Thanks to the kind security guard, we didn't have to stand in a queue for 3 hours, he allowed us to go to the church to see the Pieta. After that we had to go back to the Disney Shop to buy large bags to carry the ZooMarine balls.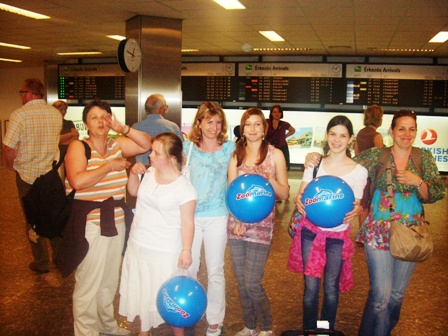 We asked the kids whether they would leave that large balls in Rome but the answer was a disapproval.

In the evening they wished to have dinner at Piazza Navona. Having big portions of spaghetti, tortellini and ice-creams, we were talking about the magnificent moments of the journey.
I think it must have been a long time ago when they enjoyed themselves so much.
Kids started up as they saw the illuminated fountain and the lights, they wanted to walk once again on the bank of the River Tevere. The adults were so tired but the children were still running. It is unbeliavable that we returned to our beautiful hotel as late as 23.00 o'clock.

Next day we said farewell to the hotel and the lovely employees who provided us with all the goodness and kindness during our stay. (We had a King-size beds. Might they name it after the dolphin?)
Our last adventure took place at the airport when raising a laugh the large balls caught in the X-ray-check box . Of course, the size was the problem.They asked me after the second ball: "How many else do you have?" I answered: "Just one more."
I think these kids haven't taken part in so many adventures for a long time.
Scientific researches prove that dolphins, like other animals can cure.
We wish Lili, Timi and Dóri to get well as soon as possible and once to have an opportunity to come back to their true friends with their own children.
Many thanks to them and our supporters to allow us this extraordinary experience.
Patzauer Éva
Wish Coordinator
Budapest, 2010.06.09.
This wish was fulfilled by the support of the following companies: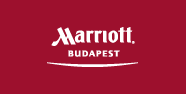 Archive
2023
2022
2021
2020
2019
2018
2017
2016
2015
2014
2013
2012
2011
2010
2009
2008
2007
2006
Archive
2023
2022
2021
2020
2019
2018
2017
2016
2015
2014
2013
2012
2011
2010
2009
2008
2007
2006