2008-12
Today Fanni came back just for medical check and she didn't expect that she'd have a surprise.

She opened the huge package excitedly, which had been packed by the sponsor carefully in order that the electric piano not gets injured.

As it turned out what hides the package, she gave us a little ad-lib concert very happily.

Her mother told us that since the treatments are over she has piano lessons and now she can exercise even at home and perhaps compose some music.
SZERSZÁMKER 95 BT, Debrecen, the Sponsor – Thank you very much the present!

Edit Túri and Andrea Lengyel
Coordinators
16th October 2008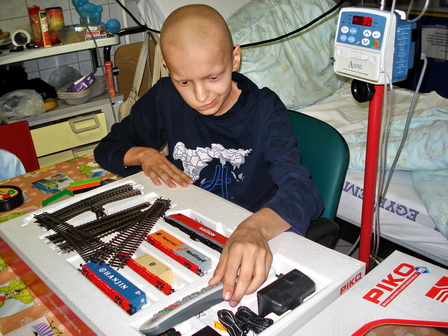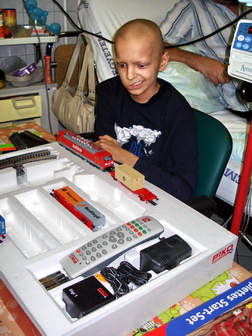 Acquiring the remote controlled railway started with serious constitution, in which the team of
Régió toy-shop
helped us a lot as we could obtain the toy by the help of them.
We had to select among more models – it caused quite a lot hesitating which one Laci thought of – then we selected one of them.

In the Tűzoltó Street Hospital the whole family was waiting for our arrival.

The huge box was opened during some moments and by the help of Laci's father they were building the tracks and assembled the remote control. Meanwhile Laci was looking the engine and the wagons.


-It's the railway what I've wanted! – shouted Laci happily.


His mother explained to us that Laci saw this railway at an exhibition and he really loved exactly this one.

Laci was so happy, he was pushing the remote control – this caused a little upset in the railway traffic but fortunately, everything was all right, the engine was rolling on the tracks and Laci was very happy.

We had a nice evening.




Tünde Flandera and Rita Titkos
Wish coordinators
14th October 2008.
Archive
2023
2022
2021
2020
2019
2018
2017
2016
2015
2014
2013
2012
2011
2010
2009
2008
2007
2006
Archive
2023
2022
2021
2020
2019
2018
2017
2016
2015
2014
2013
2012
2011
2010
2009
2008
2007
2006