2016-01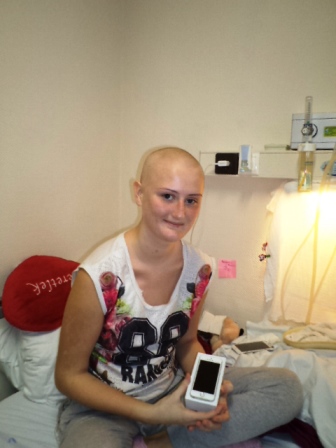 Regina is treated in the GYEK (Pediatric Center) in Miskolc.
We talk about many different subjects all the time. It's good to talk to her, as she is a nice, intelligent young girl. Regina is interested in everything and she has an opinion about everything. And what is very important: she has a positive attitude to everything.
When I asked her what would she ask from Magic Lamp, after a moment of thinking she firmly said: an IPhone5 white smart phone.
Then she was blushing and added, "if possible"...
Of course it is possible!
Me and Stella, one of the volunteers of the Magic Lamp Foundation from Debrecen, put on mouth masks and entered Regina's room.
The nurses and the doctors were peeking behind us because they also wanted to see Regina's face when she would see the "white magic" in the small box.
It was a great surprise and joy when we knocked at the door of Regina's hospital ward. Her mother burst into tears of delight and Regina could hardly believe that she got the iPhone as a Christmas present.
All she could utter was "WOW!!" And her face was shining, her eyes were bright with happiness.
Dear Regina,
We wish you a Merry Christmas in the name of all "Magic Lamp" volunteers! You got the IPhone because you deserved it.

We would like to thank the generous support of Xpatloop in the name of Regina too.

Zsuzsanna Csonka Tatárné and Stella Bobkó
wish-coordinators
Miskolc, December 18, 2015.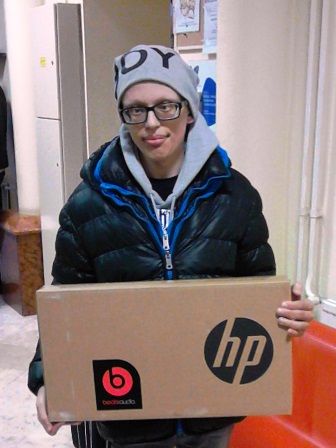 On Thursday, 17th December another gift was handed over in the 2nd Pediatric Clinic of the Semmelweiss Medical University in Tűzoltó Street.
Krisztián and his mother came back from the railway station for the present in order to be able to put it under the Christmas tree.
We could hear the Christmas concert in the background from the hall of the hospital, but Krisztián, and new owner of the HP laptop was really surprised...
We would like to thank the generous support of Xpatloop in the name of Krisztián too.

Tamás Tóth
wish-coordinator
Budapest, 17.12.2015.
Armand is a 13-year old teenager in 7th grade. Nowadays he has to come for medical treatment every other month but he has always been in a bad mood, he doesn't like to come here.
When Armand heard that he could wish for something, he felt better for a short time but he didn't really believe that his wish would ever come true...
That day Armand thought that only the usual treatment and the injection would come, and he didn't hope anything better...
Then we entered the room with two large boxes with the expected super Play Station in them.
Armand was very surprised, he could hardly believe that the wonderful gift was his and that his big wish was fulfilled for Christmas!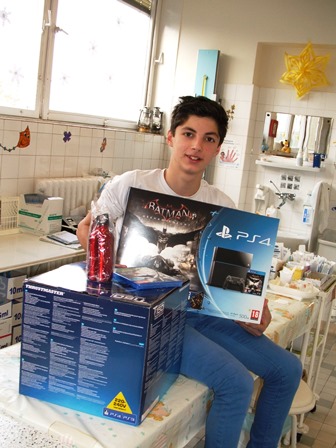 We would like to thank the generous support of Xpatloop in the name of Armand too.

Mrs Anna Pintér Gál
wish-coordinator
Miskolc, December 17, 2015
Archive
2023
2022
2021
2020
2019
2018
2017
2016
2015
2014
2013
2012
2011
2010
2009
2008
2007
2006
Archive
2023
2022
2021
2020
2019
2018
2017
2016
2015
2014
2013
2012
2011
2010
2009
2008
2007
2006