2012-06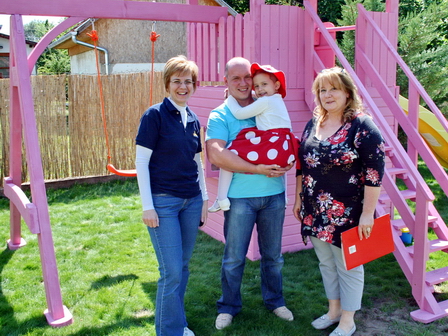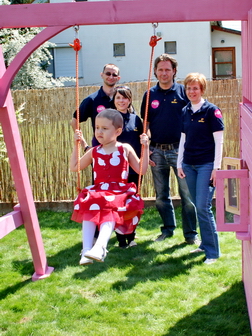 Brenda is only 4 years old, but she has to fight her illness, although she'd just like to play peacefully like any other little girls. Brenda had a definite idea what to ask from the foundation: she asked for a purple swing and a yellow slide with a small playhouse in their garden in Hetényegyháza, near Kecskemét.
It was Friday when we arrived at their house with the staff of Tchibo Ltd. In the garden there were many people waiting for the joy of Brenda. Mr. Norbert Szilágyi had already made many other small playgrounds on request of "wonder lamp kids", so we could be assured that Brenda got a game of a high quality.
Four colleagues of Tchibo Ltd and Ági Szijjártó communications manager were busy to put the parts together, so the playhouse was ready in a short time. First Brenda looked at it timidly, and then she started to explore the wonder game together with his father. A few minutes later the little girl cheerfully slipped down the yellow slide.
Brenda, we all wish you that you should get well soon to enjoy the new playground together with your friends from the kindergarten.
Many thanks to the management and employees of Tchibo Budapest Kft
to support us to make Brenda's dream come true.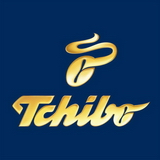 Márta Felkai and Erzsébet Zsombori
Wish Coordinators
Kecskemét – Hetényegyháza, May 17th 2012.
What could be a greater joy for a boy, who on his way to the hospital in Debrecen always admires the toy in the shop on the wayside, than finding the same one in his very own garden!
But to get there, Csodalámpa along with the parents had to use a lot of tricks. On the location Róbert Káré and István Soós, the co-workers of Tchibo were helping in the preparation!
In order to make it look like it has just grown out from the ground –the towery toy shown on the picture- also the grandmothers living in the near had to be involved. They were looking after little Balázs, while the toy was being set up in the backyard. When it was ready, the new Owner showed up! And like he couldn't believe his own eyes –but still keeping an eye on the towery wonder, being afraid that it might disappear – he exclaimed "I love you Dad!" and cuddled in his fathers loving arms.
From this calm position he inspected it thoroughly, then seized it...and shortly from the top of the slide he yelled "Watch everybody!" then slid down...and again..and again...
We left with a picture of a joyfully playing, happy little boy..."
We would like to thank the managers and co-workers of Tchibo Budapest Kft, for their help in making the dream of Balázs come true.
2012. 18th of May, Nyírbogát.
Nagy Olga
Wish Coordinator
Archive
2023
2022
2021
2020
2019
2018
2017
2016
2015
2014
2013
2012
2011
2010
2009
2008
2007
2006
Archive
2023
2022
2021
2020
2019
2018
2017
2016
2015
2014
2013
2012
2011
2010
2009
2008
2007
2006