2012-01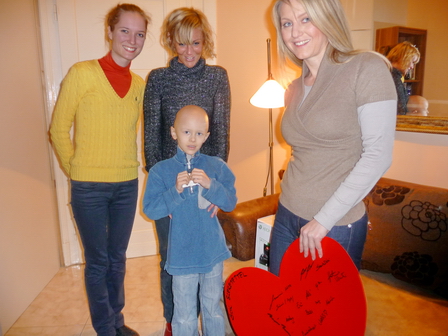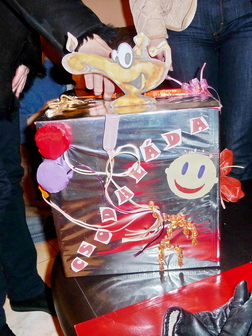 Two young ladies, Klaudia Sümeghy and Violetta Gerencsér have decided that on their joint birthday party, their wish would be that they get help to make a Csodalapa kid's wish come true instead of their own ones.
They had passed round a "magic box" to collect the price of an X-BOX that they would give to six year ol Mark.
They fulfilled this wish on the 20th of Januarry.
Mark –with a big smile on his face – immediately started to assemble the kit. It was not long before everyone realized that he was the most experienced from a "technical" point of view amongst everyone present.
The donators also gave Mark a signed red heart to make him remember who sent this present to him
This day was dominated by the youg, we volunteers were just witnessing what was going on and we were moved to see that the younger generation is just as helpful as we are.
There and then we all get a lot, not only Mark.
We would like to say thank you for our private sponsors.
/ 2


Mrs Tibor Jenei Dr. and Mrs Ákos Beöthy
Wish coordinators
Budapest, 20/01/2012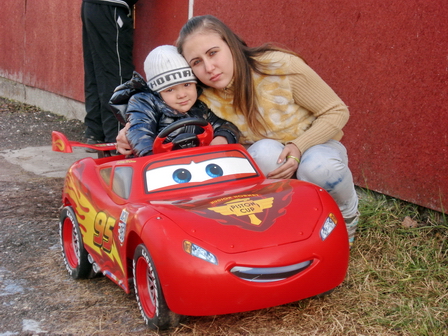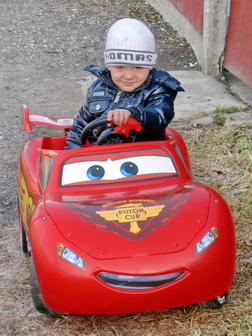 Sanyika is 3 years old and he is being treated at the Children's Medical Centre in Miskolc.
Since he saw that one of his friends got a red car from the Wonderlamp Foundation, he has longed for a same one. And the djinn of Wonderlamp made a miracle again.
Sanyika got the long-desired car and the whole family was very happy. I think the pictures speak for themselves.
Dear Sanyika,
Get well soon and enjoy playing with your nice red car.
Many thanks for the support of Videoton Holding Ltd.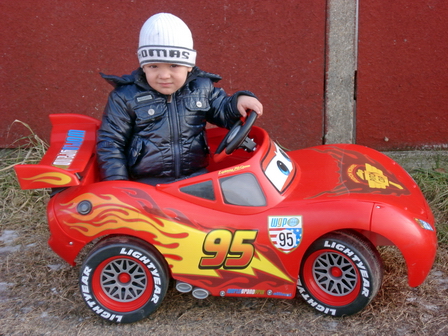 Zsuzsanna Tatárné Csonka
Wish-coordinator
Kazincbarcika, 14 January 2012.
It was a Wednesday early morning when Edina had to weak up again to be there for her check-ups at 8 o'clock at the clinic. Although this day went on a bit different from the usual. After her check-ups the family was heading to a shopping mall instead of just going home. We were already waiting for them.
Together we went to a shop to buy her that particular wonder phone, Samsung Galaxy Ace, that she really craved for. At first she was a bit overtaken and she didn't speak too much, but she was smiling a lot. Later on she became more relaxed. After she chose the right color and the phone number she liked the most from the available ones, she could finally hold and fondle her brand new phone. She couldn't stop speaking about it.
We spent another pleasant half an hour with the family. We talked about the obstacles in their lives as well as about this little girl, who handles her disease in such an adult way and successfully faces difficulties in life.
We wish you Edina to remain such a smiling and brave person as you are today!
We thank for Videoton Holding Zrt. for their support!

Ildikó Palásti
Wish Coordinator
2012.01.11.
/ 2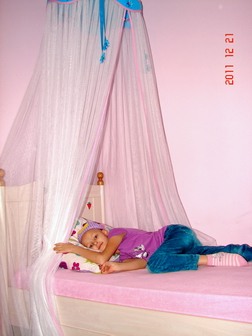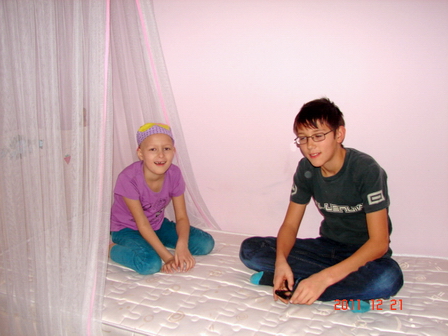 Linda is a little lady, therefore she wished to have her room made up nicely, so she requested from Csodalampa a bed with baldachine.
As soon as a kind supporter applied, we immediately started the discussions about the furniture.
We managed to find a beautiful bed and after purchase, we scheduled the delivery to be a complete surprise for Linda.
She was on control at the hospital, so her dad was able to assemble the bed in her room in total secret, so when Linda reached home in the evening, she was so much surprised seeing her room changed and jumped on her new bed, what became the jewel of her room too.
Thanks for the big help for our regular supporter Brigitta Tuboly.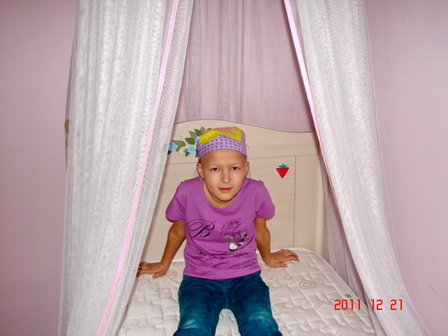 Péter Biczó
Wish coordinator
Budapest, 2011.12.21.
We would like to say thank you to our sponsor and Csodalampa Foundation, who made Linda's dream come true.
Her happyness was immense - the surprise was a complete success.
When we got home after the control, Linda was totally unsuspicious, so when she first saw the beautiful bed se only could say "This will be good"!
She immediatelly tried the bed, played in it for a long time. Since then every time she goes to bed is a happy time.
Thanks you again: Linda's parrents
Diana is 12 years old, and she lives in Tereske. She spends a lot of time on the kidney unit of the I. Pediatric Clinic.
Her wish was a laptop that she can use while she is in the hospital for her treatments, and during her long travels between her home and the hospital.
The generous donation of the students and teachers of the American International School of Budapest made it possible to grant Diana's wish.
We gave the laptop to Diana on November 25th. With the help of a teacher and 2 students of the American School we were able to surprise Diana and make her a very happy girl.
Many thanks for the support of AISB Walk-the-Wish program!
Zsófia Lángh
wish-coordinator
Budapest,2011.11.25.

Roland lives in a tiny village in Zala county with his parents and siblings. Since he really loves listening and playing music he asked the Csodalámpa Wish Fulfilling Foundation for a synthetisator.
On the quiet we arranged an appointment with his mother to grant his wish. At first Roland was surprised when I arrived, but when I told him that I was representing the Csodalámpa Wish Fulfilling Foundation, he started smiling. He was very excited when he opened his present. After the synthetisator was configured, he started playing right away. It was lovely listening to the music of this silent and nice boy while he was playing his new instrument.
We are grateful on Roland's behalf as well!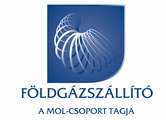 The Földgázszállító Zrt. helped granting Roland's wish.

Extra thanks to the Syncopa Hangszerbolt for the technical help and for Zita Hegyi for wrapping the gift!

We wish you Roland to get well as soon as possible!

Veress Ágota
Wish Coordinator
Murakeresztúr, 17.12.2011
/ 2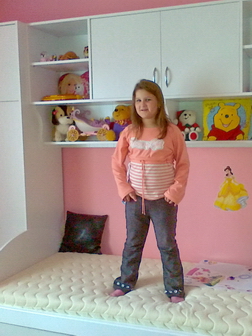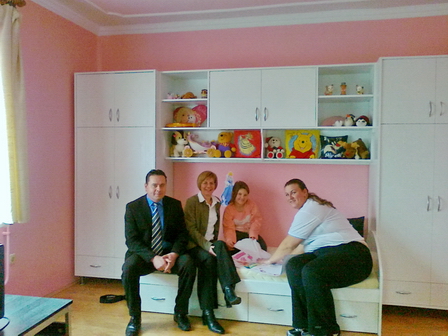 Viktória lives in Tiszavasvári. We prepared her wish in great secret.
By 1 in the afternoon, when unsuspecting Viki got home from school, the carpenter set up and assembled the beautiful white furniture in her room.
This wish was sponsored by
Tchibo
with the representatives of which,
Ms. Szijjártó Ágnes
and
Mr. Baricska Csaba
and with Viki's mom we were waiting for Viki to come home.
We were all so overwhelmed by the exultant joy of this kind and clever girl, that no eye remained dry. When she was over the first surprise, she kept hogging us, saying thank you, and she also told us some parts of the tale she presented at a school competition.
If happyness can heal, then Viki is just on the right path towards getting better, as she is so capable to embrace happyness.
Many thanks to the employees of Tchibo Budapest Kereskedelmi Kft.,
that they made this wish come true.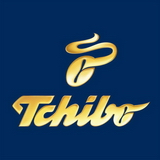 We'd like to say thank you to carpenter Kórik László for his help in transporting and assembling.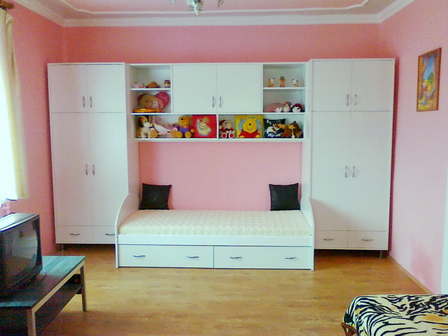 Olga Nagy
wish-coordinator
Tiszavasvári, 19/12/2011
Elizabet went through many treatments. Fortunately, nowadays she spends more time in her room, where she enjoys to play. She enjoys to pack and organize her things, but there was no wardrobe in her room. So she asked for a girlish wardrobe from Csodalámpa.
Then a really pretty piece was made for her that she started to use right away. She put every toy and book on the shelf, and the wardrobe part was big enough for all her clothes. Elizabet, we wish that you can use this furniture for many years.
We thank for the Deák Diák Kft. from Söjtör not only for making, but also for delivering and setting up this furniture.
Katalin Huszárné Török and Dénes Lampért
Wish coordinators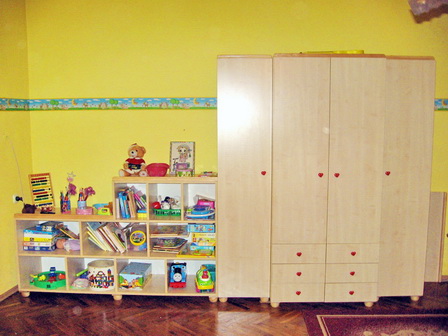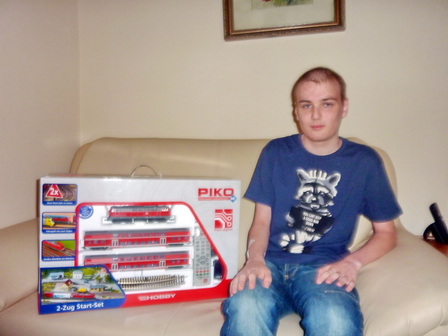 Balázs likes to spend his time modelling and have lately been working on a railway plotting board. Some of the railway lines have already been placed, buildings are being prepared but the train is missing.
Balázs had absolutely no idea why I visited him and was astonished to find the train model set. He was showing me with an expert's confidence what a locomotive is capable of.
We hope that the plotting board can now be finished soon so that the locomotive and it's carriages can set off.
We would like to say thank you to our private sponsor.
Ildikó Újfalusi
Wish coordinator
Budapest, 09/12/2011.
Archive
2023
2022
2021
2020
2019
2018
2017
2016
2015
2014
2013
2012
2011
2010
2009
2008
2007
2006
Archive
2023
2022
2021
2020
2019
2018
2017
2016
2015
2014
2013
2012
2011
2010
2009
2008
2007
2006