2012-02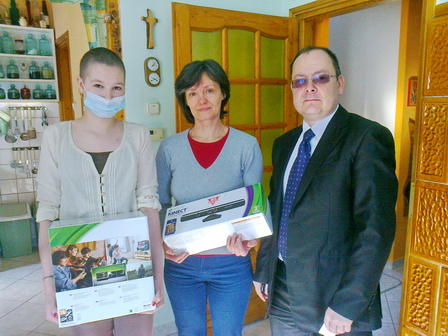 Dear Csodalámpa,
My wish was fulfilled at the beginning of February, since when I am a happy owner of an X-BOX KINECT.
Finally I can feel my muscles again, because since then I've been doing exercise, dancing with all the games. I would like to thank for the help of all the
FŐTAXI-employees
, who made it possible for me to spend the days of recreation with more fun and active excercise.
A million kisses to everyone and thanks !!!
Anna
We thank to the management and employers of FŐTAXI FŐTAXI for the help in fulfiling this wish.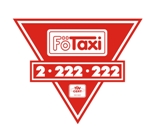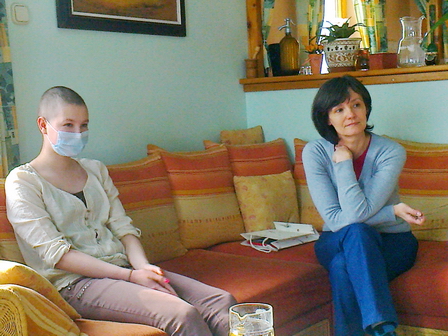 Tihanyi Sándor
Wish Coordinator
Budapest, 2012.02.10.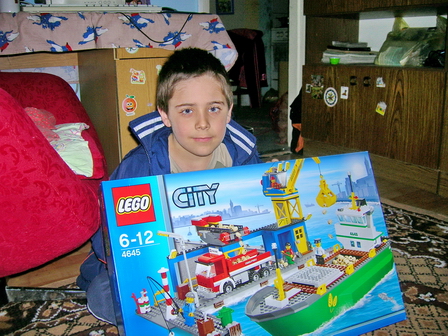 We arrived to Tibi and his Family one day before Christmas, therefore he got Csodalampa Foundation's surprise present under the Christmas Tree as well. Even though the trip went a bit haltingly due to the streets in Gyula, finally we arrived with kind cyclists showing us the way.
We surprised Tibi with a huge box of LEGO, who opened it immediately and started unpacking the content of the package and playing.
We did not stay to see how the millions of tiny little pieces came together to build the model of a really lively and bustling harbour.
We did stay long enough to see the heart of the matter on Tibi's face.
We wish Tibi to remain the happy boy he was whilst he was playing.
We thank LEGO Manufacturing Kft. For their assistance,
with their aid, another dream came true.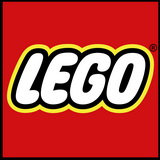 Ágnes Tatár and Andrea Zámbori
wish coordinators
Gyula, 22/12/2011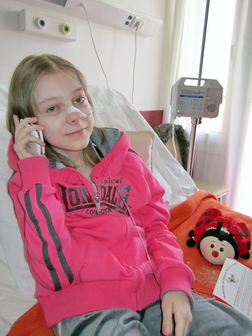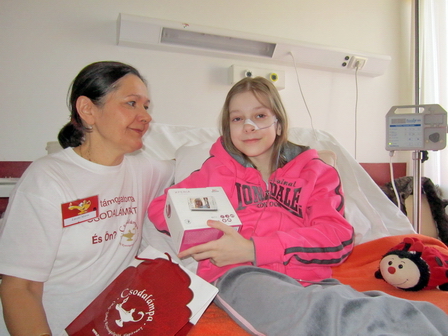 The 25th January will become a remarkable day for Noémi. This day me and aunt Lívia arrived at the hospital in her room as the volunteers of the Csodalámpa.
Noémi opened the little box with pleasure where she could glimpse at the white Sony XPERIA mini PRO mobile, which she has longed for for a long time. It was a great pleasure for us to see her beaming face!
After setting up the mobile Noncsi called the office of the Csodalámpa and said thanks for the present.
We hope you will get over your illness soon and our present also helps you in your recovery.
Noemi's wish has been realised with the help of the students of theBritish International School of Budapest! Many thanks!

/ 2


László Márta
wish-coordinátor
Budapest, January 25, 2012
Archive
2023
2022
2021
2020
2019
2018
2017
2016
2015
2014
2013
2012
2011
2010
2009
2008
2007
2006
Archive
2023
2022
2021
2020
2019
2018
2017
2016
2015
2014
2013
2012
2011
2010
2009
2008
2007
2006