2018-01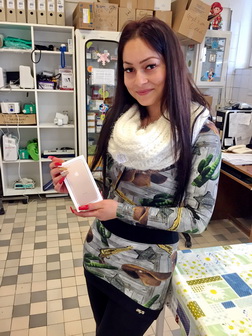 Natalia's wish was an Iphone 7. She lives in a dorm so this phone would make easier the communication with her parents. It could of course also help with her studies.

I told Natalia to come in to the hospital for a medical checkup for the 18th of December.
Natalia's mother knew everything, she helped me with the surprise by not telling anything to her daughter.
Nati was quite upset at the hospital. She seemed depressed and she wouldn't have thought that a surprise was waiting for her. But when she saw her present in my hand, she was immediately happy and cheerful.
We set up the smartphone quickly and she started playing with it like a little girl. She was incredibly happy that her Christmas wish came true in the end.


We would like to thank our private supporters,
especially the employees of the UNHCR Global Service Centre for their support.
Nagy Edina
wish-coordinator
Miskolc, December 18, 2017.
Archive
2023
2022
2021
2020
2019
2018
2017
2016
2015
2014
2013
2012
2011
2010
2009
2008
2007
2006
Archive
2023
2022
2021
2020
2019
2018
2017
2016
2015
2014
2013
2012
2011
2010
2009
2008
2007
2006