2018-08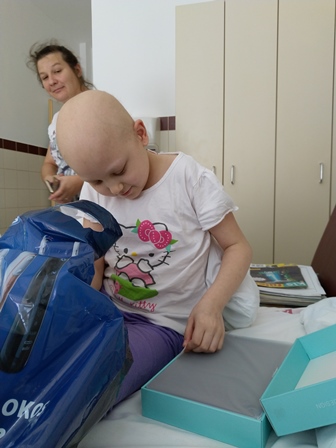 Yesterday morning a little girl's wish was fulfilled. It would be hard to define who was the Giver and who was the the Given as both of us got something and gave something very special.
In August I was surfing on the net and somehow I came across the Magic Lamp Foundation's homepage where I found a young girl, called Renáta who lives in Hajduböszörmeny. She wished for a tablet and I decided to get in touch with the genies of the foundation. The "Genie's centre" redirected me to Eva, one of the wish-coordinators.
She told me that Reni did not specified any need concerning the tablet so I asked myself the big question: If I were in her position what kind of tablet would I like to receive? So after I figured out my dream tablet I went in "Tabletcountry" where I asked whether they had the right gear with 32 Gb memory and a well-designed case.
After that I only had to wait for Reni's family to inform me about when will they be at the hospital in Debrecen where Reni would got the next treatment, so that I could jump on my magic carpet with my parents to deliver this present to it's new owner.
When we met Eva she told us that Reni is a shy girl who does not like to talk much. Can we imagine how hard was it the find out what she really wished for? So me and my family agreed on that I will go alone into her ward not to scare her too much with our unknown faces.
Stepping into her room we found Reni hiding under her blanket. We asked her mom, Gabi what was the matter and she replied that the doctors were afraid of letting Reni home today so they should stay here for a couple of days more. I recognised two little eyes observing us and looking at me uncomprehending and trying to figure out what was going on. Eva reminded her of the Genies of the Magic Lamp so she was surprised and was very curious about what was going to happen next.
I asked her whether she remembered what she wished for and her answer was a quiet yes.
Than I told her to look into my bag as maybe there will be something in it that she would like. She looked at me as I was a little crazy, which anyways was true as I was crazy to make her happy. When she touched the box of the tablet it was obvious that she didn't dare to believe that all of this was really, so we cheered her to open the box and look inside of it. So when she pulled out the 10 inch Huawei MediaPad T3 WiFi + 4G/LTE tablet, well that was the moment when her face lighted up. To make the machine work I tset up the tablet with the assistance of her mom, Gabi. So when it finally worked we gave it to Reni who fell in love with her little new friend - the brand new tablet. And from that specific moment she got into a brand new world we were not part of, well, at least not yet. 😉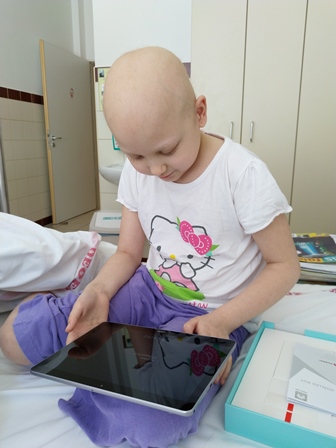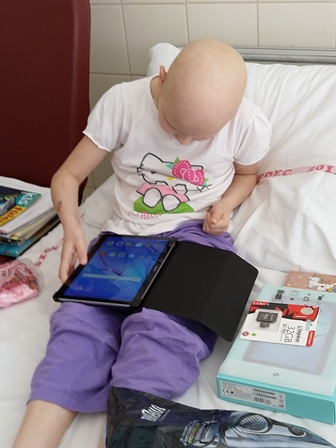 But there came my farewell. It was time to say goodbye. Reni raised her head on me and smiled at me with sparkling eyes. That was the nicest gift I could ever wish for.
For a bit of time in the hallway I was chatting with Eva when Gabi came to me with my bag which I left in Reni's room. And she didn't came empty handed, I mean obviously she had my backpack but in a metaphorical way she told us about some new miracles:
Reni was all smiles
Reni said to her that she was hungry - that has not happened for a long time...
Thank you very much for giving me the opportunity to be part of a miracle like this. I feel like I become addicted to one of the healthiest drugs in the world: the power of giving someone joy and I don't feel like I should ever let go of this kind of addiction. So this was not the last time you heard about me.
We hope with me parents that we were able to help Reni to her full- recovering.
Reni, I would like to wish you strength to hold on until a full recovery.
Keep up the good work, Magic Lamp foundation and do not hesitate for even a second to continue doing what you do and the spread the joy on the ill children's faces.
Much love,

Esther Thury
(practicing aunt and fairy godmother)
In Reni's anme also we would like to thank Eszter the support and the touching report.
Éva Nagy
wish-coordinator
Debrecen, August 18, 2018
Archive
2023
2022
2021
2020
2019
2018
2017
2016
2015
2014
2013
2012
2011
2010
2009
2008
2007
2006
Archive
2023
2022
2021
2020
2019
2018
2017
2016
2015
2014
2013
2012
2011
2010
2009
2008
2007
2006