2019-08
It is not easy to decide what to wish if you have only one choice ... Viktor and his family have been thinking a lot about how Magic Lamp could please the big boy with sincere joy.
Viktor has been playing guitar for a year, he is singing and music means everything for him, primarily Ed Sheeran's music.
It is not a wonder when he learnt that his favorite musician will perform at Sziget Festival, he said he would like to listen to the concert and maybe meet him ... Of course, he knew from the very beginning that this second wish was truly a dream.
We cut our axe into a big tree when we committed to fulfill this wish ...
Since HE Iain Lindsay, Ambassador of Great-Britain knows very well the mission of our foundation, and already helped in realizing several beautiful dreams, we have asked him and his colleagues' help to fulfill this wish. For a couple of weeks, we were very excited, doing lots of organization, waiting for the good news that it is going to work.
Viktor placed confidence in us all along the way that we will succeed. (We were also trusting, but we knew good luck is also needed to fulfill such a wish.)
The eagerly awaited meeting took place on 7th August, just before Ed Sheeran's concert.
Viktor was genuinely prepared, made a beautiful drawing for his favorite musician and he also wrote to him in English.
Mr. Sheeran, Ed greeted us very kindly and was talking to Victor after a couple of minutes as if he'd known him for a long time. The big boy's most important question he wanted to get an answer for was; how to compose music. Ed only replied that he doesn't even know, the music just coming from himself. This is called talent - I whispered to Viktor.
/ 4


Of course, the common photos could not be missed either, Viktor told that he also learns to play the guitar and said that Ed made him the happiest child in the world by letting his dream come true.
I tried to translate among them as well as possible. Honestly, sometimes it was difficult because I was swallowing my tears while seeing Victor's face and what this meeting meant to him, seeing his drawing and reading what he wrote on the back of the drawing in English.
I'm sure the meeting will contribute to Viktor's recovery, and he confirmed this to me as well. I hope one day he will be the star musician on the stage and we will be there among the fans.
I am very grateful for being part of another Magic Lamp miracle and getting known you, Viktor. Wishing you a full recovery as soon as possible!


On behalf of Viktor, we would like to thank for the support to Mr. Ed Sheeran and his manager, to HE Iain Lindsay, the Ambassador of Great Britain, to his colleagues at the British Embassy, and of course to the Sziget's management, and also to our private supporters, without whom this dream could not have come true.
Eva Patzauer
wish-coordinator
Budapest, August 7, 2019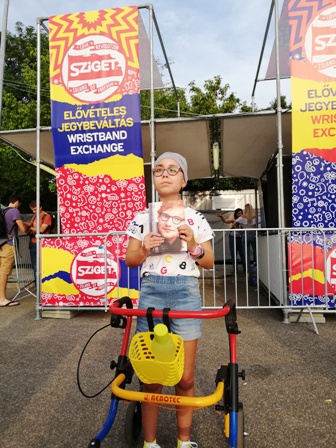 The seemingly simple question of what you wish for, asked by the Magic Lamp volunteers, is actually not that easy to answer when you can only make one wish.
Veronika also had to think about it for a bit who or what her wish would be. Naturally, the pondering did not last long, she wished to meet her favorite and role model, Ed Sheeran.
As His Excellency Ambassador Iain Lindsay knows the mission of our foundation well and has already helped turn several wishes into reality, we asked for his and his colleagues support with this wish. We organized and kept our fingers crossed for several weeks waiting to hear if it would be possible.
Prior to her serious medical condition, Veronika was an active gymnast and dancer on a high level. She has already liked Ed's music back then and kept listening to his songs during her treatments. She knows most lyrics by heart, which I was able to witness as I sat next to her during the concert.
She went into the meet up well prepared. She had her questions ready for Ed and practiced her English so she could talk with him.
The meet up took place on August 7 before the concert at the Sziget festival. I don't even know who was more excited, her or me. Roni had all her questions written down and practiced her English until the last minute so that everything would go smoothly. I was only worried if there would be enough time for her to ask all the questions. Needless to say, she spoke to the singer, who welcomed her warmly, with amazing confidence.
Veronika also made a blue bracelet as a gift, which Ed put on immediately and we saw that he kept on wearing it during his performance. For me, the most touching moment was not even when they took a picture together or hugged each other, but when Roni said goodbye with the following words:
- Meeting you was an experience for a lifetime and I will always remember it. I hope that it was the same for you and that you will remember me as well.
The reply was another hug from the bottom of his heart and a sincere smile.
/ 5


I believe that this experience will greatly help Roni to recover faster. I am grateful for having been part of another Magic Lamp wonder and for meeting you, Roni. Get well soon!


In Roni's name, we would like to thank Mr Ed Sheeran and his manager, His Excellency Iain Linday, the British Ambassador to Hungary, the staff at the British Embassy as well as the management of Sziget and our supporters, without whom this dream could not have become reality.
Eva Patzauer
wish-coordinator
Budapest, August 7, 2019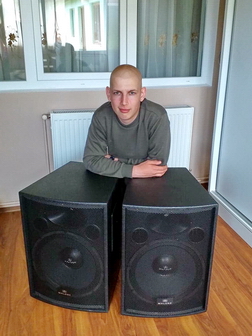 Nándi is a modest, decent boy. He comes from a cheerful musician family. He is also a talented musician performing with family members on weddings and other occasions. Understandably he wished for a pair of active speakers to exploit fully the capabilities of his synthethiser and enhance their performances.
He was all smiles when he got his present and of course plugged in and tried sount of the new speakers.
We wish Nandor a full recovery!
We would like to thank for the support of the CHARITIES AID FOUNDATION AMERICA CAF in the name of Nandor too!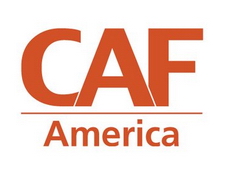 Ms. Éva Nagy
wish-coordinator
Debrecen, July 25, 2019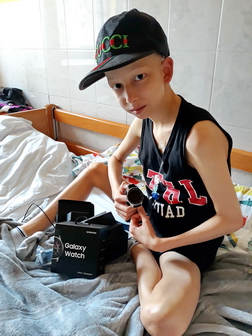 Krisztofer was at the clinic for his last treatment when his wish was fulfilled and he became the proud owner of a Samsung smart watch. He was asleep when we arrived, but his mother quickly woke him as he had been asleep for a while already. We waited for a little bit to allow him to wake up fully and for him to realize that his wish was about to become reality.
He was ecstatic when we gave him the watch. He opened the box, carefully inspected the watch from all sides, got it up and running and synced within moments. He started to explore the gadget with great interest and was surprised by the number of tasks it could perform.
Our long-time supporter Firstmed-FMC Kft. was able to bring happiness to yet another child. We thank them for their help!

Ms. Andrea Nagy &. Mrs Dóczi
wish-coordinators
Szeged, July 12, 2019
Archive
2023
2022
2021
2020
2019
2018
2017
2016
2015
2014
2013
2012
2011
2010
2009
2008
2007
2006
Archive
2023
2022
2021
2020
2019
2018
2017
2016
2015
2014
2013
2012
2011
2010
2009
2008
2007
2006