2016-07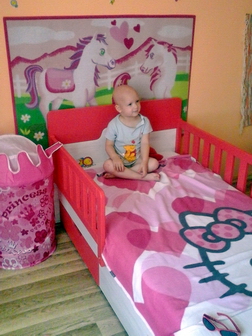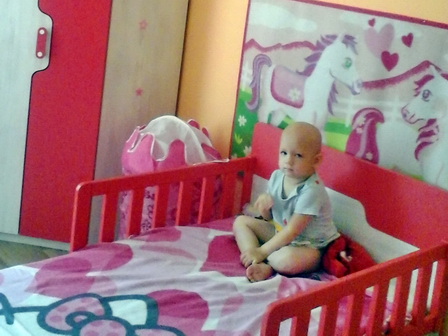 On a hot summer morning we had the opportunity to present a gift to a lovely little girl, making her wish come true.
From now on bringing comfort to Noemi, there is a little furniture, which has been conjured up by Csodalampa Foundation's jinn.
Get better soon, little Noemi!


We thank the Magyar Nemzeti Bank for the support.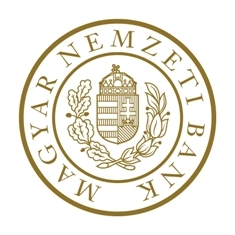 Márti Ligetvári és György Ligetvári
Wish coordinators
Csabrendek, 26.06.2016.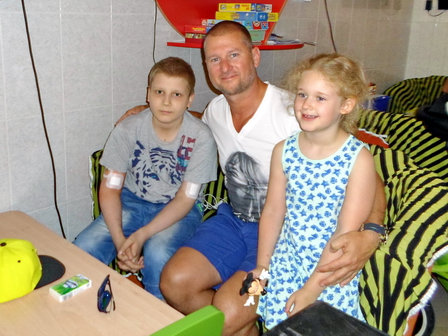 Mate is a 13 year old boy who is very much interested in computers similarly to many of his peers. He wished so much for a personal computer which he could use for so many things.
We were able to make his wish come true on the 24th of June with the help of one of our regular supporters Mr. Peter Gabriel who also brought along his daugther with him. We agreed to meet at the Clinique in Tuzolto Street where we handed over the giant box with the present to the surprised and very very happy Mate.
Mate thanked the present with a great simle and promised that after returning from his vacation he will boot the computer right away and send us some photos as well of the "magic machine".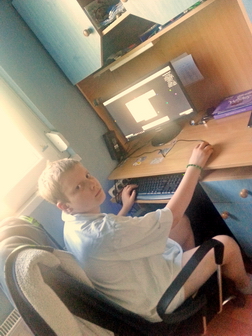 We would like to thank Mr. Peter Gabriel for making Mate's dream also come true.
Tiborné Dr. Jenei
Wish coordinator
Budapest, 24.06.2016.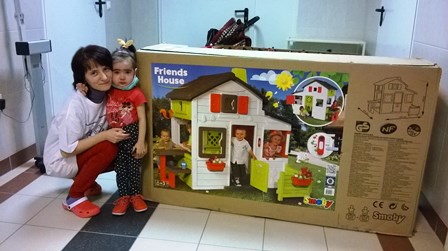 Ksenia is three years old girl who lives in Ukraine with her mother, father and nine years old sister. To theat her severe illness she is taken to Debrecen regularly. She asked for a baby house from Csodalámpa in which she could play with her sister.
Ksenia and her mother were very happy when on Wednesday, in the early afternoon her gift arrived to the hospital. Everybody was amazed by her amazing baby house, children, nurses, doctors alike.
Ksenia and her family are greatful to Csodalámpa and the Benefactors for fulfilling her wish!
We wish you a lot of joy with your little house Ksenia, wo hope you and your sister will play a lot in it!
We are greatful for the help of the students of the Thomas Mann Gymnasium-Deutsche Schule of Budapest.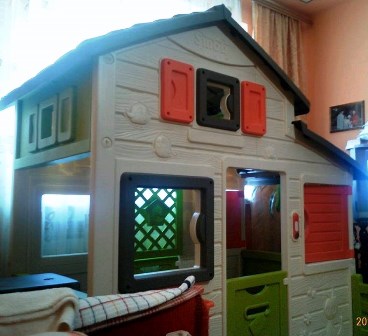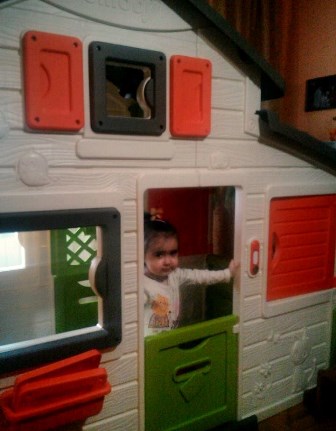 Judit Miholecz
Wish coordinator
Debrecen, 11.05.2016.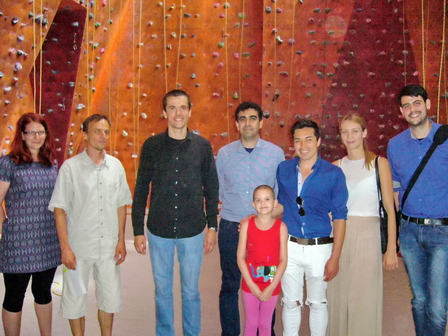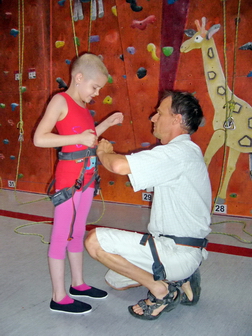 We had the opportunity to fulfil a very exciting and sporty wish in a good mood!
The 7 years old Gabriella asked for a wall climbing season-ticket combined with education from the Csodalámpa Foundation. Gabi tried wall climbing for the first time last year, and we can say that it was 'love for the first climb'. Because of her sickness, we had to wait with the fulfillment, but this way the joy was even greater.
On the day of the completion Gabi only knew that they are going to the wall climbing club. When the family walked in the door, a small enthusiastic group greeted them, and I can honestly say, that there was great excitement in them as well! Gabi listened to the TATA Consultancy Services' employees like an adult, as they explained how they fought through the Ultrabalaton competition to gather micro donations, so that her wish can come true! Gabi thanked every runner for the gift with a grown-up like handshake, while she had a big smile on her face.
After the conversation, Gábor Tasi the leader of Spider Club invited the group for a little wall climbing, and we all said yes, but at the end only Gabi and Jorge Rosas equipped themselves with the harness assembly. Despite this, the 'contest' could begin!
Gabi was climbing so dynamically and incredibly well, that the leader of the Club –who was supporting the climb from the ground- expressed his respect seeing her performance! Jorge managed to complete the distance as well, so Gabi decided to 'challenge' him to do the next section, which they've successfully covered!
We wish that Gabi will have the opportunity to participate in trainings through this one year period! We are waiting for the pictures to see what kind of challenges she could overcome...



/ 4


We are grateful for the TATA Consultancy Services' running team for putting the completion of Gabi's wish on their agenda, and thank you for the Spider Club for their support and very flexible attitude!

Csilla Mormer
Wish coordinator
Budapest, 27.06.2016.
Dorka was lying in her bed, closed in, like she is not present when I stepped in. She didn't look at me, so she didn't notce the huge box I was holding. When I greeted her and told, that I brought something she sat up immediately... and she knew it.
The laptop, she was so eager to get, finally arrived!
It is essential to her studies, especially since she became a private student. She wanted to finish the school and not lose a year. Keeping in touch with her friends is much easier too this way, of course.
The big girl opened the box, switched it on, named it, set up the password and then dived into the softwares.
Later, when I went back to the room she was still over the keyboard and was telling her loved ones at home how her wish came true.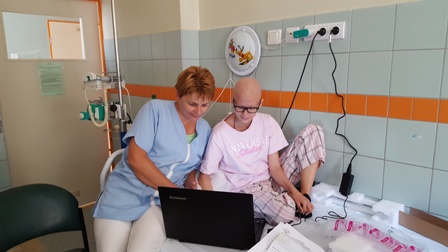 We would like to thank the support of Lenovo Technology B.V.
Szabolcsik Ildikó Russayné
Wish Coordinator
Pécs, 09.062016.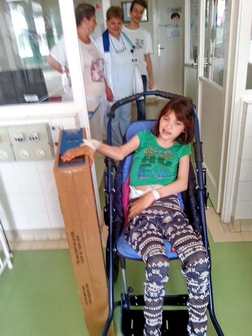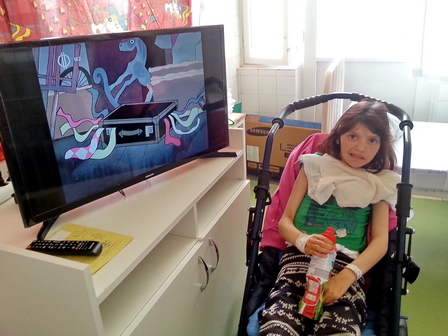 Bianka is spending significant amount of time in hospital. Prior to her latest trip home, we have discussed what her wish would be from Csodalampa. Unfortuntately she had to return to the hospital shortly, therefore we had to present her gift which was a TV, at her bed.
Since her latest hospitalization she didn't smile, didn't talk and hardly eat or drink. But today, when she saw me and the big box in my hand – to everyone's surprise – she said: 'TV!!!'
Since then, she started to consume her daily dose again, so the infusion is not necessary anymore. Seeing her big smile filled with happiness has been such a joyful moment, it also cheered up all the doctors and nurses working in our department.
We thank the jinn of Csodalampa for bringing smile to Bianka's face again.
We thank Gábor Döry for participating in the K&H Marathon as a 'Magic Bug' and together with his friends' donations, Bianka's dream could come true.
Tímea Kónyáné
Wish coordinator
Miskolc, 20.05.2016.
Archive
2023
2022
2021
2020
2019
2018
2017
2016
2015
2014
2013
2012
2011
2010
2009
2008
2007
2006
Archive
2023
2022
2021
2020
2019
2018
2017
2016
2015
2014
2013
2012
2011
2010
2009
2008
2007
2006