2008-11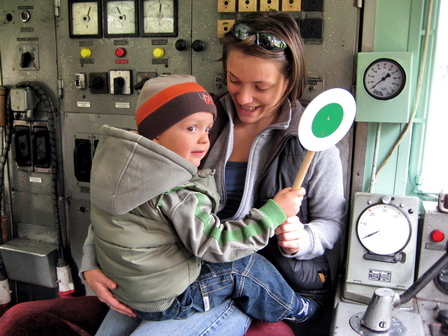 Little Máté adores trains and locomotives. We thought he would be happy to drive on with a little help.


When we arrived to Hűvösvölgy at the last stop of the "Children's Railway" Mate was curiously looking around. With his Grandpa they took on an old locomotive immediately. After they looked around in the erecting shop, meanwhile the motorman turned on the most beautiful locomotive for them.


Mate was a little bit afraid when they got on the locomotive with his Mummy, but he settled very easily with the help of Mr. Vinish who is one of the leader and trainer of "Children's Railway". Then they were off to go to Wonderland… When they got back from the journey, Marci got his second surprise. He had a chance to drive the railcar with a real professionalism now, taking his Mum and Grandpa with him.


So what could be the award for this little brilliant locomotive engineer? A Thomas locomotive and a suiting plotting board, because you can not drive a locomotive all the time, can you?





Thank you for the support of the Children's Railway, Mate's dream could not come true without them.
Zsuzsanna Sipos and Ildikó Tomaj
Whish coordinators
01.10.2008.
/ 4


Archive
2023
2022
2021
2020
2019
2018
2017
2016
2015
2014
2013
2012
2011
2010
2009
2008
2007
2006
Archive
2023
2022
2021
2020
2019
2018
2017
2016
2015
2014
2013
2012
2011
2010
2009
2008
2007
2006