2018-03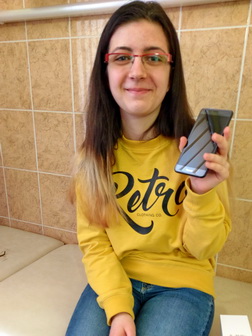 Kornélia wished for a mobile phone. But not just for any phone, but a beautiful Huawei smart phone.
She was very happy when we gave her the phone and excitedly opened the box right away.
"Wow, it's so beautiful" - she said when finally she held the phone in her hand.
In a few seconds she was completely absorbed in it.
We hope that Kornélia will enjoy her new phone a lot!
We would like to say a special thank in the name of Kornelia too to the leaders and members of XpatLoop, the largest Hungarian expat community, for organizing the Budapest Bonfire Night Party for Charity and for the donations raised at the event.

Andrea Molnár
wish-coordinator
Budapest, February 15, 2018
Archive
2023
2022
2021
2020
2019
2018
2017
2016
2015
2014
2013
2012
2011
2010
2009
2008
2007
2006
Archive
2023
2022
2021
2020
2019
2018
2017
2016
2015
2014
2013
2012
2011
2010
2009
2008
2007
2006