2010-01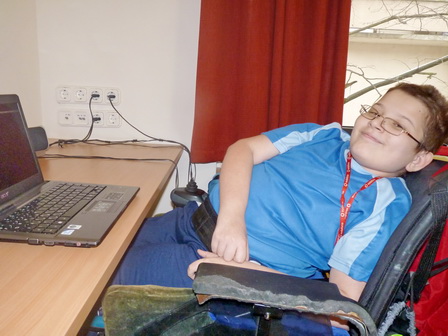 Laci is restricted in his movement which is caused by his disease, so his biggest dream came true with rubbing the wonderful lamp. He got a laptop that brings the world close to him. This lovely surprise was transported to Kőrösladány to their home with one of our supporting company's help.

We would like to thank the help of DIGI PIG Kft because we had very bad weather at that time and Christmas was just knocking at the door, so that's why it was so important for us to give this present to this little boy in time.

Laci said as the package had arrived in their flat he suddenly started to shout: "Can I have the laptop? Can I have the laptop?". He was really happy. Since then he's been holding the laptop in his hands.

We met him in the school yesterday when we were taking some photos of him. He ran to us with a big smile on his face and happily showed his miracle, his laptop.

Now the world is expanded for him.




Many thanks for one of our supporter to make a big smile on this little boy's face.
Judit Márk and Orsolya Tunyogi
Wish Coordinators
Budapest, 2010.01.20.
Archive
2023
2022
2021
2020
2019
2018
2017
2016
2015
2014
2013
2012
2011
2010
2009
2008
2007
2006
Archive
2023
2022
2021
2020
2019
2018
2017
2016
2015
2014
2013
2012
2011
2010
2009
2008
2007
2006