2018-04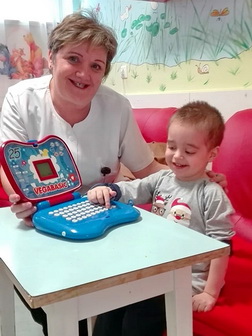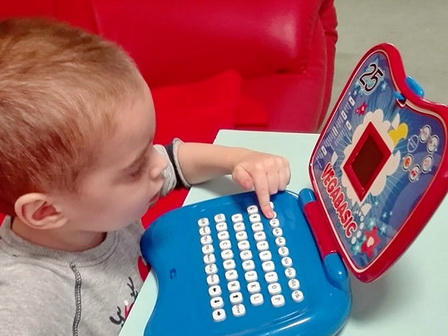 Tibike celebrated his 4th birthday just a few months ago. He is very smart and bright lad, who is always happy. He has been a "resident" of our hospital for a while , so everybody knows him and adores him. In spite of his young age he is expertly uses his mobile phone and his table, and he would love to use the laptops of the older kids if they allowed him. One day Tibike told me that he would be so happy if he had a laptop.
The genie of the Magic Lamp happened to hear his wish and brought him a laptop. It will be great because Tibike can use the laptop to learn the letters and numbers, and to listen to music. Tibike was elated when he received his new laptop and put it to use right away. But he was especially happy about the cute red mouse.
We hope that you will enjoy your laptop and we wish you a fast and easy recovery!
We would like to say a special thank in the name of Tibor too to the leaders and members of XpatLoop, the largest Hungarian expat community, for organizing the Budapest Bonfire Night Party for Charity and for the donations raised at the event.

Mrs. Zsuzsanna Tatárné Csonka
wish-coordinator
Miskolc, February 16, 2018 16.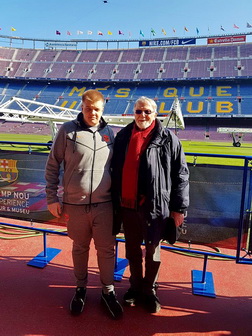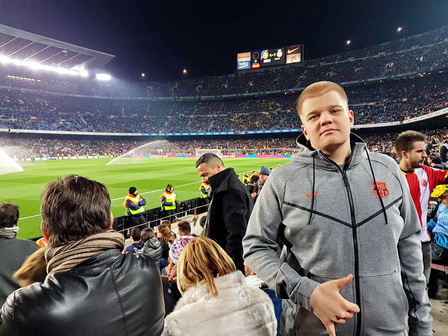 Bence sent us a kind letter about his wonderful trip to Barcelona:
Dear Magic Lamp!

I would like to thank you, your team, the staff of the kidney ward of the Children's Clinic, Dr. Peter Sallai, and nurse Kati for making my wish come true.
FC Barcelona has been my favourite football team since I was a little boy, and I always wanted to see them play at their home stadium. Last April I was given the opportunity to make a wish to Magic Lamp, and there was no doubt in my mind what it would be. Unfortunately, it had to be postponed due to my illness. But eventually, to my great surprise, I was given the green light thanks to Dr. Sallai, who took it upon himself to provide medical supervision on the trip.
Our flight to Barcelona left at 8 pm on February 23, 2018. My uncle Gergő also joined us. Flying was an amazing experience because this was the first time I traveled by plane.
We landed in Barcelona at 10.30 pm, had dinner at the airport, then took a cab to the Arenas Atiram hotel.
On Saturday the first thing we did was to go to Camp Nou to look around in the fan shop. After that, we visited La Rambla and had lunch at La Boqueria market. We were completely blown away by the staggering selection and variety of food, especially seafood.
Spanish people were so kind, happy, and friendly, and they always smiled. There was music everywhere, and everybody was speaking so fast. After lunch, we visited the Columbus monument, then went back to the hotel to prepare for the evening game.
The Barcelona- Girona game started at 8.45 pm. It was unbelievable to see it LIVE!!!!!
The mood was great in the stadium. There was a huge crowd, 75 thousand people wanted to see the game. It was an amazing experience, the fans created a fantastic atmosphere.
It was wonderful to see the team of Barca play live, especially Messi and Coutinho. We had really good seats, about 15 meters away from the field, so we were able to see everything. It was quite an exciting game, and Barca, of course, beat the opposition 6 to 1. Sunday morning after breakfast we set off again to attend a stadium tour. We spent 3 hours there and it was such a great experience seeing the empty stadium, the change rooms, the different trophies, and even walking onto the pitch and sitting on the first team bench.
After the Camp Nou experience, we visited La Sagrada Familia, which is a magnificent building. We also visited Catalunya, which was also a fantastic experience. After that, we returned to our hotel feeling very tired, but full of amazing experiences. Monday morning we headed to the airport and by noon we were back to Budapest.
I would like to thank Csodalámpa again for these unforgettable days, and the fantastic experience.I will cherish it for the rest of my life.
I would like to thank Dr. Peter Sallai again for accompanying me on this trip.
Thank you,
Bence

/ 2


We would like to express our sincere thanks also in the name of Bence to the manegments of the Hungarian National Bank, the Jet Travel LTD and the many private donors for realising Bence's wish.

We would also like to say a big "thank you" to the leaders and members of XpatLoop, the largest Hungarian expat community, for organizing the Budapest Bonfire Night Party for Charity and for the donations raised at the event that also helped us to grant this wish.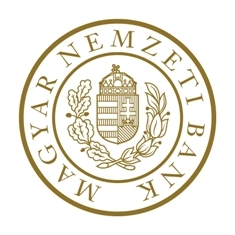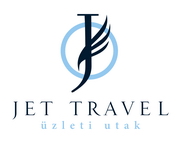 2018. 02.24.
Archive
2023
2022
2021
2020
2019
2018
2017
2016
2015
2014
2013
2012
2011
2010
2009
2008
2007
2006
Archive
2023
2022
2021
2020
2019
2018
2017
2016
2015
2014
2013
2012
2011
2010
2009
2008
2007
2006