2014-02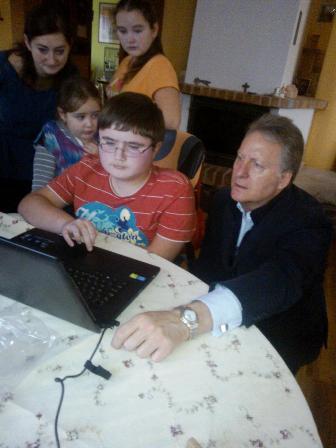 Marci is a very special young man. Although due to his illness it is not easy for him to keep up with his classmates in school, he still managed to achieve 82 per cent on his high school entry exam. That was almost double of the average score!
Fantastic! So we weren't surprised at all when he gave us a detailed description of the laptop he wanted. He wished for a laptop so he can surf the Internet and and learn more about the things he is interested in.
We had bought a special SW for for the brand new laptop too, and we had some trouble installing it .. so this wish granting did not go smoothly.
Luckily the managing director and her colleague were present, and quickly phoned for help. Soon the problem was solved and the laptop finally started up.
From that point Marci took over and soon the machine came alive. Magic happened once again, and the world suddenly opened up as he was finally surfing the net.
We would like to thank the Váci utcai Bevásárlónegyed Nonprofit Kft. for for organizing a fundraising campaign to collect the money for the laptop. We would also like extend our gratitude to Michael Carroll, managing director of the Váci utcai Bevásárlónegyed Nonprofit KFT and Viktória Figuly for their presence at the wish granting.
Marta Felkai
wish-coordinator
Budapest, February 11, 2014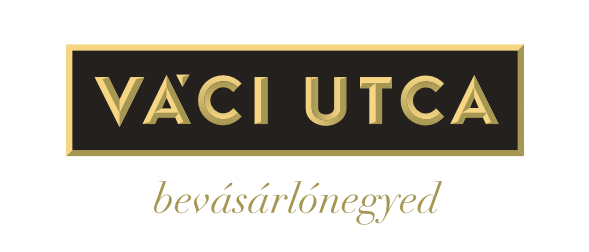 Tisztelt Csodalámpa Alapítvány!
Köszönetünket szeretnénk kifejezni Önök felé, hogy teljesítették kisfiam, Norbi kívánságát. Igaz nagyon nehezen tudta eldönteni, hogy igazából mit is szeretne, több vágya is volt, de úgy látom, hogy a táblagéppel igazán nagy örömet tudtak neki szerezni. Valóban nagy meglepetés volt, hiszen úgy tudta, hogy vizsgálatra kell mennünk a kórházba, csak amikor Zsuzsika néni mosolyát megpillantotta, akkor vált világossá előtte, hogy valójában most jött el a "Nagy Nap"! Határtalan örömmel fogadta a meglepetést, rögtön ki is próbálta és úgy vette birtokba, mintha mindig is ezt csinálta volna. Az örömét még fokozza az is, hogy nem kell otthon kompromisszumot kötni a tesóval, ha játszani akar.




Még egyszer nagyon köszönjük mindenkinek, aki hozzájárult kisfiam boldogságához!Munkájukhoz erőt, egészséget és kitartást kívánunk, hogy még sok rászoruló gyermeknek szerethessenek ilyen örömteli pillanatot.
Köszönettel: a T*** család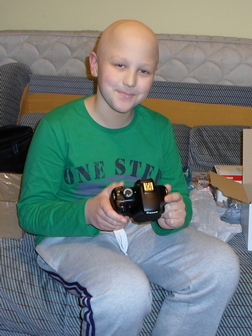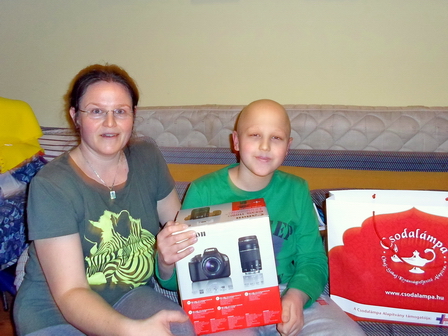 Máté is a sure footed "young man", who is planning his future. In order to work out his plan he wanted to get a specific camera from the Magic Lamp. He would like to make fantastic photos about the nature.
We could fulfil his wish from the help of one of our givers. It can be seen in the photos how happy Máté was when he opened the parcel, in which his present was. We wish you dear Máté to make beautiful pictures with your new camera.
Thank you Mr. Endre Frankl and Mr. Alexander Hemingway for your help!
Dr. Jenei Tiborné
wish-coordinator
Budapest, 06.02.2014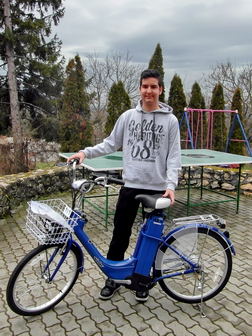 Áron is a very friendly boy who always played football with his elder brother since his childhood. Unfortunately he has been suffering from a terrible illness since last year as a result of this illness he cannot move.
Thanks to the medical treatments and Áron's positive attitude and the much training his condition is getting to be better and better. His wish was an electrical bike in order with its help to go by it to the playing field and to have training at home, as well.
We wish you dear Áron to get healthy in a short time and will be able to play again football!!
Áron' wish was fulfilled with the support of FIRSTMED-FMC KFT.

An extra thank to the workmates for the technical help of Velox Kft. in Székesfehérvár .
Ágota Veress
Wish coordinator
Várvölgy, 09.02.2014.
Archive
2023
2022
2021
2020
2019
2018
2017
2016
2015
2014
2013
2012
2011
2010
2009
2008
2007
2006
Archive
2023
2022
2021
2020
2019
2018
2017
2016
2015
2014
2013
2012
2011
2010
2009
2008
2007
2006