2012-10
Richard, a cute boy, wanted to meet with healing dogs.
When asked what kind of puppy, he said he wanted to meet with two dogs: one big one whom he could hug and a smaller one with whom he could play.
Quick organization was started. With the assistance of Richard's doctor, Dr. Garami, we have found the owners of Mazsola ("Raisins") and Sam in no time.
Gyorgyi and Silvia, who work for the Animal Therapy Foundation, were very pleased to offer their help. Mazsola is a beautiful golden retriever. Sam is a Shelti.
The moment we arrived, they both knew their task. They kindly approached Richard, played with him and completed different interesting exercises together: clothes had to be taken off and put on Sam 's back. Richard had to crawl under the belly of Mazsola. Snacks had to be put into colored rings from where the dogs were allowed to take them out with their masters' permission.
Richard soon forgot the initial shyness. He was crawling and climbing cheerfully between Sam and Mazsola.
Of course, after a while everyone got tired. So when Mazsola laid down, Richard was happy to go next to him and rest on him. It was a pleasure to see the joy and the tirelessness of Richard and dogs as they were solving more and more tasks together. After a while Richard obviously got a kiss from one or the other dogs. His mother, Orsi and us adults were smiling being touched by seeing and feeling all the love they gave each other. It was discussed as well that the "treatments" will continue. Richard chose Mazsola. He wants to meet with him as soon as possible. We hope that we can repeat our meeting soon.
/ 3


We received a fantastic brunch after the big game from a kind colleague of Art'Otel Budapest, Manuela, and even a cake with an image of a dog for Richard. He accepted the gift that looked like Mazsola with a huge smile. He was very happy to take it home.
The morning came to an end soon, Richard was half asleep with a smile waiting to go home as soon as possible, but of course all the while he kept his eyes on Mazsola and Sam. It is clear from what has happened that Sam and Mazsola contributed and will continue to contribute to Richard's rapid healing.
Thank you to the management and colleagues of Art'Otel Budapest and to the leaders of Animal Therapy Foundation for their assistance in fulfilling this wish. And thank you of course to Mazsola and Sam.

Patzauer Éva Felkai Márta
kívánságkoordinátorok
Budapest, 2012. október 4.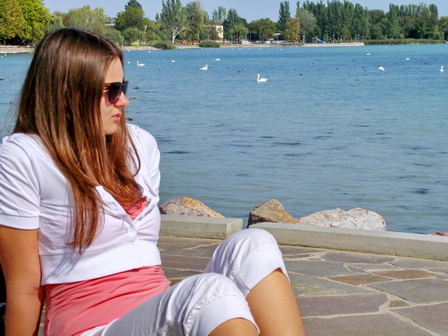 First of all thank you very much for the opportunity of spending these wonderful days here. I had a great time in the hotel, the food was amazing, the staff was kind and the wellness part was wonderful. The water could be shallower for my 160 centimetres, but it was an absolute blast anyway.
When I arrived on the first day, I met a lovely lady Edina Kovács. She gave us a tour around the hotel and showed us everything. In the afternoon, we went on a little walk around the hotel, before staying in for the rest of the day.
On the second day, we tried the wellness part. After that, we went to Balatonboglár to the Globe-lookout and we saw the amazing view – even better because it was sundown.
On the third day we went on a cruise to Balatonfüred, and the little train called 'Lili-put' was waiting for us at the harbour. The sight-seeing was great aswell, and after getting back, we spent some time at the Tagore promenade, we fed the ducks, swans and even the sparrows. Shortly our boat arrived and it took us back to Siófok. We got back to the hotel and even had time for the wellness.
On the fourth day we left the hotel after breakfast and went to Szántód where the ferry took us to Tihany. We saw the abbey and then we went to Örvényes to see the watermill. It was totally worth it! The miller was very kind; he showed us around and even turned on the mill-wheel.
Thank you very much again for this opportunity! I'm grateful for everyone who helped me to make my first family holiday come true. We had very good weather on all the four days. It was over too soon, but they say that 'time flies when you have a good time!'
Thank you again: Tifani.
And we are grateful for the kind help from Hotel Azúr Siofok!
/ 7


Andrea Mocsonoky
wish coordinator
15/09/2012
Archive
2023
2022
2021
2020
2019
2018
2017
2016
2015
2014
2013
2012
2011
2010
2009
2008
2007
2006
Archive
2023
2022
2021
2020
2019
2018
2017
2016
2015
2014
2013
2012
2011
2010
2009
2008
2007
2006