2014-12
Dear Magic Lamp,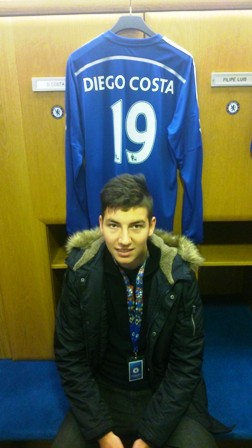 I'm Wenczel Gergő, a 17 year-old, simple guy, who had a huge dream. And one day this dream came true. I've been playing football since I was a little kid, it is my life.
Like everyone, I have my favourite team too, which is Chelsea. When the volunteers of Magic Lamp came to me I didn't believe that these kinds of things exist, but after that everything has changed.
In the beginning of the spring I said that my dream was to see a Chelsea match. I thought that it could come true 2 or 3 years later. However, they told us that the match will be on the 1st of November.
It felt amazing when my mom told me. The end of October came. We flew to London on the 31st of October. This was the first time I travelled on a plane, so it was a huge experience.
On the night of our arrival we went to the Shard, which is the highest building in Europe. The view of London at night was amazing.
The next day we got up early and we started the day at the British Museum, which is a huge building, full of interesting exhibitions, but we only saw the half of it with Miss Éva. After this came the best part of the trip.
We went to the match with the underground. This time Annamari accompanied us. The match started at 3 pm but we were there at 1 pm because I wanted to see the warm-up of the teams.
Watching the warm-up was amazing! You can't describe it what it feels like to be in a stadium, which was the dream of your life. It would be worth going just for the stadium.
But it was nothing compared to what I felt when the players came out. I can't describe it with another word, I was totally buzzed. It was unbelievable that until four days ago I had only seen them on television, and now they were playing 30 meters away from me.
The game started, the fans were ecstatic just like me. There is nothing similar to 41 842 fans cheering together. A game lasts for 90 minutes, but I felt it was 20 minutes. This was the best, most beautiful and greatest day of my life.
I can't find words for it. I was cheering for my team till the end and it wasn't for nothing. The result of the match: Chelsea Queens Park Rangers 2:1.
After the match we went for a walk in the centre of London. We visited the main squares, they were beautiful.
/ 4


On Sunday we went for a sightseeing tour with Brigi. It was raining but we didn't care. We went to the Big Ben, to Westminster Abbey, to Buckingham Palace. After that we went for a guided stadium tour.
It was amazing to see the locker room, where the players prepare for the matches every day. We learnt a lot of things, for example that Adidas gives 300 million fonts to the club every year.
I could sit into the chair of José Mourinho, where he holds his press conferences.
After the stadium tour we went back to the city to see the Tower and the Tower Bridge. It was awesome; I recommend it to everyone who goes to London.
I would like to say a big thank you to the Magic Lamp Foundation, and to the supporters for making this possible for me. I would also like to thank Miss Éva, Joli and the two volunteers, Annamari and Brigi.
I didn't think that this such good hearted people exist, who give up their free time for other people's happiness! Every time I think of this trip I feel excited, sometimes I even cry, it was so fantastic.
I hope they can help a lot of other kids. Thank you very much!
Gergő
Let us say thank you for helping to make the wish came true to Hinora Ferenc, Herdics Andrea and the managers and employees of the Canadian HollisWealth. And to our England based coordinators, Annamari and Brigi.

Éva Patzauer
wish-coordinator
Budapest, 2. November 2014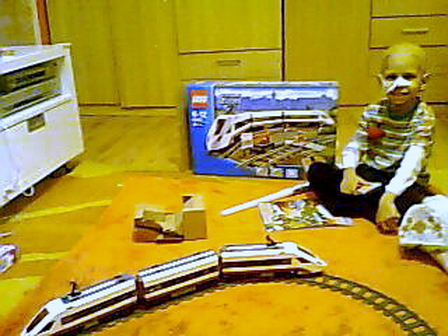 It was a grey Thursday afternoon when I arrived at the hospital in Madarász Street carrying a huge box. I knew that a very sweet little boy, Botond was waiting for the remote-controlled Lego train, which was hidden in my package.
Even though the treatment, Boti's face brightened up immediately when I said that I had something for him ... We opened the box on the spot, and we checked all the small parts. Finally his mother and I found out, that only boys should fit parts together.
And we were right. At night the train was magically put together (with a significant help of Dad), so next day when I went to visit him with Santa Claus, we could admire the running train.
It was amazing to see the enthusiasm and joy of Boti, and I wish him to play with the super train for a long time.



Many thanks for the support of the Embassy of Finland.
/ 3


Zsuzsa Keskeny
Wish-Coordinator
04.12.2014.
Archive
2023
2022
2021
2020
2019
2018
2017
2016
2015
2014
2013
2012
2011
2010
2009
2008
2007
2006
Archive
2023
2022
2021
2020
2019
2018
2017
2016
2015
2014
2013
2012
2011
2010
2009
2008
2007
2006