Diána (16, Balatonfenyves)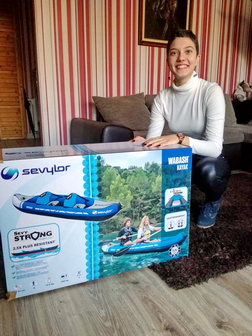 Diana loves nature and water, which is understandable, as she is living in a settlement nearby Lake Balaton. She was thinking about a lot what to wish from the Wonder Lamp Foundation and finally she decided to ask for an inflatable kayak that she can enjoy with her family.
At this time the photo was taken by the kayak's box, but Diana can hardly wait for spring, for the good weather to test the double kayak.
We wish her a wonderful time in advance!
We thank our private sponsors, including the teachers, students and parents of the American International School of Budapest, for making Diana's wish come true.

Joli Bakonyi
Wish-Coordinator
18. 11. 2019.
Archive
2020
2019
2018
2017
2016
2015
2014
2013
2012
2011
2010
2009
2008
2007
2006