Milán (3 years old, Budapest)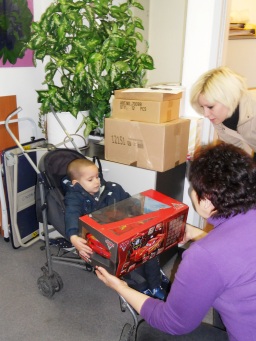 The 3 years old Milán's favourite passtime is naturally playing with cars. He loves to watch the cartoon "Cars" and his favourite character turned out to be "Lightning McQueen".
His face lighted up as soon as he saw the big Csodalampa package, that contained the miniature version of a "Lightning McQueen" red racing car, that he can steer with a controller even from the far end of his room.
We wish him a wonderful time with his new red toy car!
This wish ha been granted with the support of the colleagues of the ENSZ Menekültügyi Főbiztossága, Globális Szolgáltató Központ (United Nations High Commissioner for Refugees, Global Service Centre in Budapest). Many thanks for your kind help in the name of Milan too.
Bakonyi Joli
kívánság-koordinátor
Budapest, 2012.12.18.
Archive
2020
2019
2018
2017
2016
2015
2014
2013
2012
2011
2010
2009
2008
2007
2006