Kristóf (17 years old, Penészlek)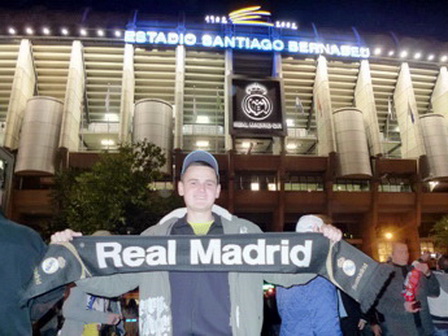 My wish was to see a Real Madrid match live and it has come true!!!
I could watch a match live between Real Madrid and AC Milan, it was the League of Champions!!! It was on 19.10 in Madrid
My mother came with me to Madrid but two kind people
Mr. Balogh Ákos
and his brother
Mr. Balogh Zsolt
were there, as well. Tell the true, I am very grateful them because they realized the greatest dream of my life. They promised me at the airport on Monday morning to go to watch the famous Santiago Bernabeu Stadion that day. We met
Mr. Vincze Otto
who came with us to the training of AC Milan. Later we went to have dinner and went to bed
We went to the city next day to see the Spanish Royal Palace. We admired this beautiful building. After visiting the Palace I went to do some shopping with my mother. She is great in shopping, so I became soon tired and we returned to the hotel. I went to the match in the previous day bought scarf and cap with Ákos and Zsolt. The match was great! I have been a fan of Real Madrid since 8 years. They scored two goals. Later the match was not so exciting but I enjoyed it.. After the football match we returned to the hotel.
We went for a walk to the City on the third day morning. Then we packed our luggage and went to the airport. We were at home within some hours. It was a little difficult for me to say good-bye to Ákos and Zsolt because I loved them during this short time.
Thank you Balogh brothers and of course Magic Lamp to organize me this unforgettable journey.
xxxxx Kristóf
Penészlek, 29.10.2010.
Many thanks Mr. Ákos and Zsolt Balogh the private offer.
We could realize the dream of a boy with their help again!
Thank Mr. Vincze Ottó to help in the visiting of the training.
/ 8


Archive
2020
2019
2018
2017
2016
2015
2014
2013
2012
2011
2010
2009
2008
2007
2006