Dániel ( 5 years old, Budapest )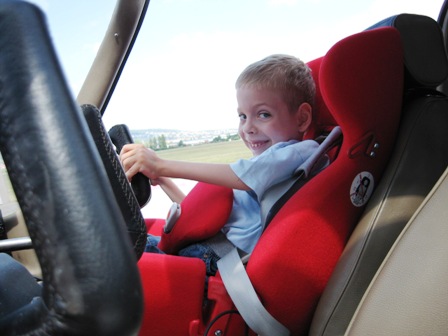 Dani's sparkly eyes and happy smile immediately enchanted me. As soon as he arrived at the airport with his mum he claimed to have seen real planes in his life which apparently had flown unbelievably high. When I suggested that perhaps we could take a look at some planes and go on a sightseeing tour - provided that we'd find a super plane with an even more super pilot - all he said was: 'I'm ready. Let's fly!'

Uncle Gabi had already been waiting for us in front of the hangar with a shining clean, super helicopter which was ready for making Dani's dream come true. Firstly, we of course had to admire all the planes in the hangar and, to my greatest surprise, Dani proved to be a real expert in naming some of the plane types. Finally we agreed that a red helicopter would best match with the red child seat of our new co-pilot. We didn't hesitate for a moment and took off straight. It was a beautifully sunny day and the view was stunning. Obviously our little co-pilot was promoted to captain by the end of the trip as he was quickly able to imitate uncle Gabi's moves and Dani shortly became an expert in flying. He even helped us landing by giving directions.

After our landing I asked him if he had liked flying to which I got back an excited but short 'YESSS!!' as a reply. Dani then turned to his mum and whispered something in her ear. We only got to learn what that might have been when he gave a big kiss on Uncle Gabi's cheeks and asked about his next availability for flying. Oh well… what else could he have asked being overly excited about flying and totally touched by Uncle Gabi's kindness and professionalism.

I knew that Dani not only liked flying but also appreciated rather 'earthy possessions' such as Kinder Surprise eggs, so on behalf of 'Csodalapma' I gave him some chocolate eggs to the brave little pilot. He immediately opened one of them to distress after such excitement.

My Dear Dani, we wish that you'll always remember this wonderful day and when you hear a plane passing by please think of Uncle Gabor Kovats and the 'Csodalampa' Foundation how happy they all were to be able to make your dream come true.

Special thanks to Mr. Gabor Kovats, the owner of Skylux Ltd., for helping us again making a child's wish come true.

Sipos Zsuzsanna
kívánság-koordinátor
2009.augusztus 07.
/ 3


Archive
2021
2020
2019
2018
2017
2016
2015
2014
2013
2012
2011
2010
2009
2008
2007
2006