LIZA (18, BAJA)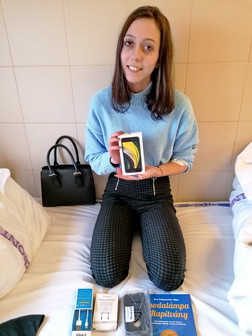 Liza arrived at the clinic for a medical treatment on Monday, so it was a perfect time to fulfill her wish.
She was really surprised when we met and I gave her a gift box, containing the desired new phone.
Liza was very happy with the gift. As a secondary school student, she has already had an idea how to continue her studies. Her aim is to find a creative job.
Many thanks for the support of Henkel Magyarország Kft., they helped us to make the dream of lovely and ambitious girl come true.
Andrea Nagy
wish-coordinator
Szeged, 08 February, 2021.
Archive
2021
2020
2019
2018
2017
2016
2015
2014
2013
2012
2011
2010
2009
2008
2007
2006