Péter (11 years old, Székesfehérvár)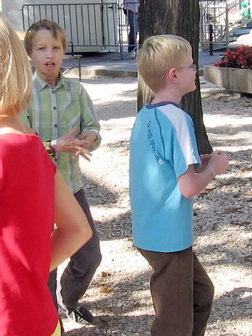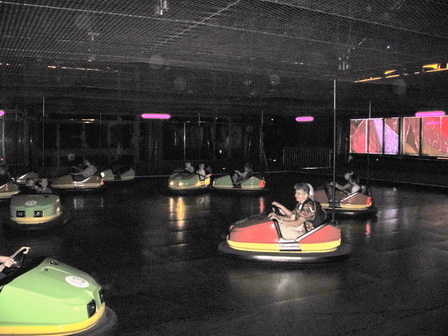 Peter is a 11 years old boy from Székesfehérvár and his wish was to spend a day in the
Amusement Park of Budapest
together with his friends.
I was touched by his wish: sometimes – but not so often – it happens that a kid also wants to make his /her friends happy with the opportunity provided by Wonderlamp. The reason is more touching: Peti was suffering from burns and he spent 8 months in hospital. Although he was an excellent student, the family - against his will - had to look for a new school. Luckily his new classmates don't care for his face, which unfortunately cautions them forever that fire is an extremely dangerous thing.
On Monday, 27th September 2009 a joyful, decent and a little bit reserved but excited team arrived to the 8th platform of the South Railway Station. After a quick introduction, we left for the Amusement Park. The weather also knew that this date was important, so the smiling Sun was on duty and fortunately clouds, rain and wind had a day off.
At the entrance we had to wait for a while as certainly we were not the only people waiting for admission this nice autumn day. After getting the arm-bands at the entrance (in different colors according to our height), kids had only difficulties to decide where to go first and how many times to sit on the roller coaster, to wobble in the barrel, to jostle with the dodgems, to have fun in the mirror room and to enjoy the other interesting attractions.
Around at 1.00 pm kids felt empty, so we took a rest in the restaurant of the Amusement Park to have a pizza lunch. After the tasty food I got decorous thanks from the children and the team runs away. I could hardly find each ones by the moment of the farewell. Instead of the cloudless joy, even more the excitement of the eventful day reflected on the face of Peti, but it goes without saying in this situation.
I hope that part of the day we didn't spend together was as enjoyable as the time the children spent with me.
We wish all of you good health.
/ 3


Eszter Németh
Wish coordinator
Budapest, 27.09.2009.
Archive
2021
2020
2019
2018
2017
2016
2015
2014
2013
2012
2011
2010
2009
2008
2007
2006