She, who lights the Magic Lamp
A smile and a few minutes of joy: that alone gives Mrs. Éva Patzauer enormous strength. She is the originator and driving force behind the Csodalámpa (Magic Lamp) Foundation, an organization that fulfills the dreams of children who are very ill. She might not know it, but in doing so, she has taken revenge on life…

From personal experience, Patzauer Éva has learned that children who are terminally ill often realize they are going to die, before their parents do. In the last week before her death Dóri, her eight and a half year old daughter said to her: "I want to get better ... but I can't ... can you understand?" As a mother, Éva found this very hard to accept.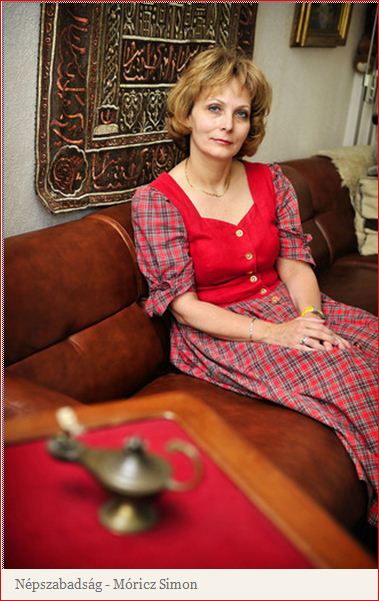 Now, as the managing director of the Csodalámpa Foundation she says, "In that one hour or day when a gravely ill child experiences happiness because their wish came true, the joy stays with them forever, even when inevitably we lose some of these children".
Éva knows exactly why most children wish for specific objects. They spend so much time in a hospital ward or at home, they almost forget there is life outside those walls. Looking after such children is a full time job for their parents and often the mother has also to give up work making difficult their financial situation too.
Many children ask for laptops to keep in touch with the outside world. Others often wish to meet famous people and celebrities, sportsmen and -women; to travel to a specific destination; to swim with dolphins; collect shells at the seaside; or even to drive an armoured car!
All these wishes are made by children who suffer from serious, life threatening illnesses (cancer, leukemia, heart disease, etc.), wishes that the Csodalámpa Foundation has helped to fulfil 1506 times in the past eight years.
Éva Patzauer remembers with clarity all the wishes that have been granted. "Children often ask for beautiful things", she says. "For example, one girl, Szonja, asked for a book personally endorsed by Erzsébet Kertész. Unfortunately, the authoress had died a few years before and although our volunteers searched day and night to find such a book, they were unsuccessful.
In the end we bought the whole print run and contacted the son and daughter of Erzsébet Kertész who live in London and asked them to give it as present to the girl. They both came to Hungary and there was much surprise to find out that the name of the child was the same as the authoress's daughter's who was delivering the present. After the meeting, Szonja (Kertész) went back to London and searched her home for a book in which her mother had written "to Szonja" and not "for my daughter Szonja". She personally brought this special book back to Budapest to make the girl's dream complete.
After her second daughter was born in July 2000, Éva Patzauer planned to return to work in 2001 to the bank where she held the position as Deputy Manager of the International Department.
However, when she learned that her 7 year old daughter Dóri was seriously ill, she gave up the idea immediately. Her prime focus became Dóri; to help her fight the illness. Between September, 2001 and February 2003, her daughter underwent drastic treatments for a most severe form of brain tumour (medulloblastoma). Unfortunately, the fight could not be won and Dóri died when she was eight and a half. As Éva and her husband found out more about the illness, they were shocked to discover that over 90 per cent of people who suffer from brain tumour are children between the ages of five and seven.
After the tragic death of her daughter, Éva decided to go back to work but another problem arose. Her second daughter Laura could not stop crying every night because of the loss of her sister. Psychiatrists advised Éva to stay at home with her daughter because they reasoned that in her subconscious mind, her daughter believed that she soon would lose her mother too.
Éva and her husband, Gábor heard about an American foundation which fulfilled the dreams and wishes of life threateningly ill children. As the Foundation was unwilling to start a "branch" in Hungary, the couple decided to establish a similar organization under a different name. With a couple of friends, they started the Csodalámpa Foundation in 2003 never suspecting how large the project would soon become. They envisioned the fulfilling of only ten or twenty wishes a year.
Instead, they found themselves regularly fulfilling 260-270 dreams every year and this has remained the same since the Foundation began.
Éva was constantly torn between her wish to return to work and her desire to continue with the work of the Foundation. Gábor, her husband, recommended that she talk privately to senior bank managers at her former place of employment about her dilemma and seek their advice.
The Managing Director and Deputy Director asked, "Which would you choose, the foundation or your job at the bank - and why?" She answered without hesitation, "The Csodalámpa Foundation". She gave two compelling reasons: If she returned to work she would be unable to attend to the needs of her daughter, and secondly cited her own personal experience with the death of her first daughter which gave her no other option but to carry on with the work of the Foundation.
They thanked her for her direct answer and the following day, the Bank decided to support her work by donating to the Foundation Éva's next three year's salary to help give her the opportunity and time to start the Csodalámpa Foundation on a full-time basis.
Suddenly she recalls another wish. One girl said that she would like a poem by Sándor Kányádi to be written by himself personally in her diary. When oncle Sándor's grandchildren heard about the wish they drew little apples and trees around the page so their grandpa had not only to write a poem on a special subject but even the space for it was defined.
Because of the scepticism in Hungary about the use of donations, the functioning of the Foundation is kept completely transparent. On their website each wish-granting is documented with text and photos, and the donors, supporters of the wish, whether a company or a private person, are also listed. Every donation is accounted for and the Foundation is regularly audited by an international auditing organization.
Fulfilling a child's dream gives Éva an overwhelming sense of achievement. "These children smile in a totally different way; their joy is somehow different as well", says Éva, her eyes brimming with tears. When she talks with us about children's wishes, for a moment it is forgotten that they are often very ill.
Sometimes wishes can only partly become true. One girl wanted to meet Grégori Baquet, the French actor (who played a leading role in the musical 'Romeo and Juliet'). When the wish was made, the doctor knew she only had a few days of life left. The Csodalámpa Foundation called the actor's French production office and Éva's husband explained the need and the urgency of the situation. Although they managed to contact Grégori Baquet, he was in America and unfortunately unable to visit the girl in the time allowed. He signed a photograph and wrote a letter to the girl personally and sent it by fax in order to reach her in time.
The death of about one child in ten has a deep personal impact on Éva. She is sure though, that she gets back far more joy from the children than she is capable to give them by fulfilling their dreams.
Translated from Hungarian : Csodalámpagyújtogató
Edited by pspbe – paul st pierre business english www.pspbe.hungary4.com